20 Best simple red ball gown dress ideas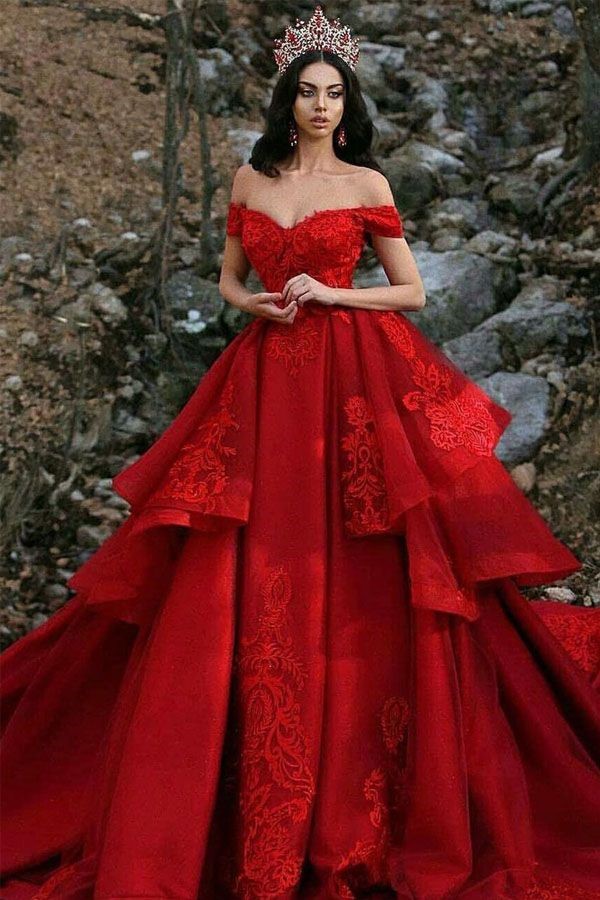 Red is not just a color but a statement in itself, especially in clothing. It doesn't matter what season is approaching fall, summer, winters red is the go-to color to get your best look with red attire you require minimal accessories possible and you look elegant. While we talk about a red ball gown dress then we barely even need to describe how amazing it would look for your royal appearance at the next party and also for your valentines look.
Why ball gown? Well to get that flinched waist with the corset-like upper part of your gown and then flared skirt altogether is a lethal combination and to achieve this look what else you would wear if not a ball gown and that too in red color we need no more explanation I guess. Let's have a glance at the 20 best yet simple red gown dress ideas that you can pull off.
Simple Ball Gown Square Neck V Back Red Satin Prom Dress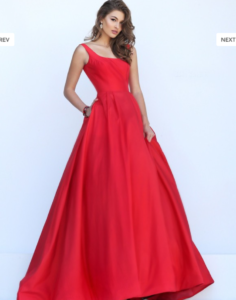 This square neck pattern dress has been ruling lately and if you are someone who loves to keep your styling minimal yet elegant then this has to be your favorite dress. The best part is its red color that allows you to wear little to no accessories but doesn't forget to wear your nude brown makeup as it will look fantastic with this dress.
Also Read: 6 DIFFERENCES BETWEEN NORTH AND SOUTH INDIA CLOTHING STYLES
Princess Ball Gown Prom Dress Red Wedding Party Dress With Beaded Lace Appliques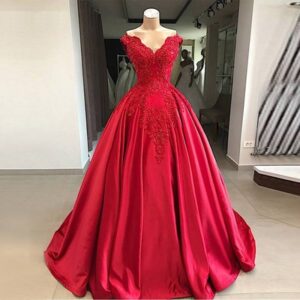 Just a little lace and your dress look prettier than ever and this dress defines that completely have a look at its floral V neck it will give beautiful definition to your collar bones. You should try this if you like lace dresses. Although you don't need any jewels with it statement earrings would not harm you.
Simple A-line V-neck Satin Long Cheap Red Prom Dresses with Pocket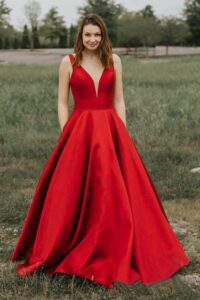 Hands down for this dress I mean every girl dreams of pockets in her every dress and this dress meets all your expectations look at the neck design how sensual and beautiful it is and pockets in this dress that is too invisible are just above our thinking. If you love pockets too just get your hands on this pretty dress.
Simple Red Satin Long Prom Dresses in High Slit, Red Formal Graduation Evening Dresses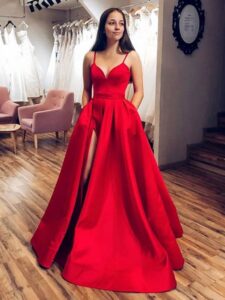 A simple deep V-neck dress in the satin fabric is too shiny and this long slit in it is making it too appealing in appearance if you want to look a little extra with the simple dress then this should be your ideal choice also not to forget that it got pockets too. There is no point in not liking this gown.
V Inset Red Ball Gown dress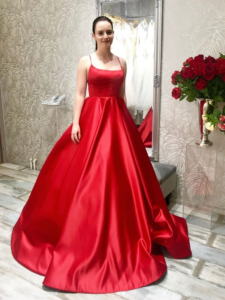 Beautiful gauze shoulder long simple ball gown wine red, wine red formal dresses, formal dresses, evening dress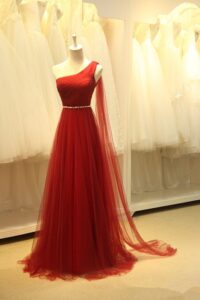 Simple Ball Gown Sweetheart Red Satin Prom Dress With Straps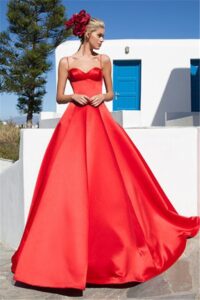 If you love wearing a strappy dress and want to flaunt your collar bones along with a thin waist then this is perfects for you just a little work on top and it looks too pretty with beautifully design pleats in it you can try this dress especially if you are tall and skinny.
Red Ball Gown Prom Dress, Princess Off The Shoulder Quinceanera Dress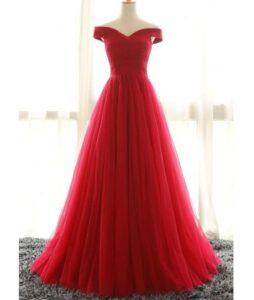 Also Read: THE 12 BEST ANKLETS TO WEAR ALL SEASON
Net dresses are just so pretty in themselves as it gives a flowy appearance and looks beautiful even while walking also very light weighted. One thing is off-shoulder design it gives such a princess kind of vibe you must try this on your prom night. Red and this pattern is just the perfect blend to make you look prettiest.
Red netted ball gown dress with an embellished belt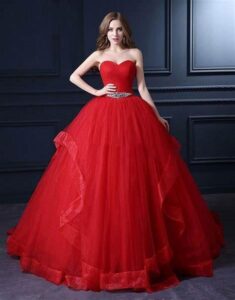 This dress is a mix of ruffles and network also not to forget this embellished belt which is the highlight of this dress. Whenever you add a belt to your gown it gives a beautiful flare to your gown. This complete off-shoulder look gives stylish look to your complete look.
Red Ball Gown one shoulder sequins floor-length dress
If you want a gown for your wedding then sequins are supposed to be an integrated part of your dress as they look so shimmery and compliment your look also look at this flare isn't it perfect to give you that queen vibe on your big day and if you are not a fan of heavy accessories then just go for this as it barely needs any extra work just light makeup and pretty hairdo that's it.
Red Lace Beaded off-shoulder dress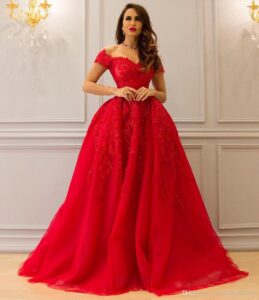 A beaded lace dress with off shoulders and fake sleeves is a lovely dress for your big day be it your wedding or engagement you will look perfect. Just add a minimal emerald necklace and that's it.
Sheer cut out a princess ball gown
Sheer cutout dress in the net fabric is just so pretty for any bridesmaid such a vibe little work on top makes it elegant enough. Also, the design of this dress is very unique. You should try this for your prom night or as a bridesmaid.
Ruffled overall floor-length ball gown dress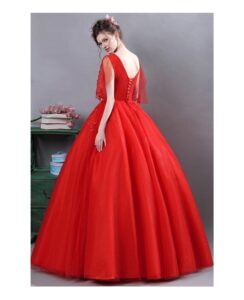 Ruffled dresses have been trending lately they look a little extra and make your simplest looks amazing. Alike this dress you can also try a ruffled dress with the embellished or sequined top as per your choice. If you are okay with deep necks then go for it otherwise you can customize as per your comfort.
Dark wine ball gown with detachable sleeves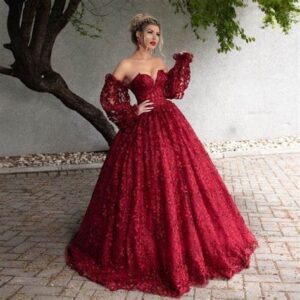 The wine red color is too royal and these detachable sleeves are something we are loving quite so much. You can either wear it without sleeves or with sleeves as per your desire lately such dresses came into light and we are simply over them. You must try this dress for your D day. Complete lace network along with tube top work is just perfect for you to get the best look ever.
Red lace ball gown with cap sleeves and pattern back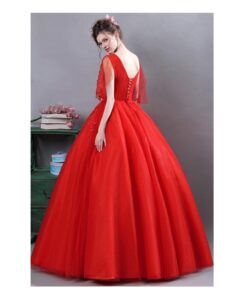 For the love of back patterns, you can try such a dress with a sheer cape. This pretty flare with back design is too elegant also you can make it as deep as you feel like. The backless or back design is evergreen. You must pair such a dress with a hair updo so that you could flaunt your back pattern perfectly. It will look perfect for your special date night, wedding, or prom night.
Also Read: 12 TYPES OF HOT PANTS SHORTS FOR WOMENS AND GIRLS
Red Long Sleeve Ball Gown V Neck Floor Length Dress
If you are petite or you are not comfortable in showing your arms then this is the perfect design for your puffed sleeves detailed gown with extra flare on the waist to give a fuller appearance to your gown. This dress won't make you appear skinny at all. Also, this deep V-neck is a plus point of this dress. You can try this dress on your prom or for the party as it isn't too extra for any such celebration and even if it was seen then why does it even matter. If you are loving yourself then just wear it rest everything is nothing.
High neck floor length organza red ball gown
All kind of design comes and goes away but this turtle neck is just evergreen and will always be the best. For no accessory, this is the best dress ever. For your celebration eve, you can wear also organza fabric is perfect as it shines too bright. Which will enhance the beauty of your dress and your off course. Don't forget to wear your confidence as this dress would look even better if you wear your confidence to get that bossy vibe.
Red Ball Gown Long Satin Prom Dresses, Red Prom Dresses, Red Party Gowns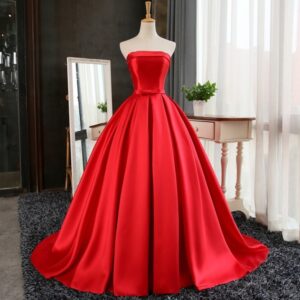 Satin is the perfect fabric for any kind of celebration just get box pleats on it and a little pretty bow. For your formal celebration or prom night, you will look like a princess for sure. This off-shoulder designed top gives aesthetic vibes and this gown is more like a 90's gown and in today's era wherein everybody is loving and donning Y2K attires you must try this to get all eyes on you. You can pair it with diamond studs and also sheer red gloves to get a pretty princess look. Black pointed heels would look perfect with this gown so do add them.
Red Long Sleeve Ball Gown Prom Dress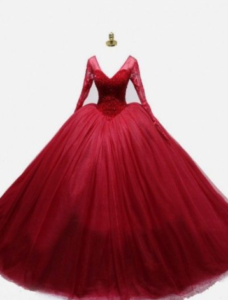 Long lace sleeves in a ball gown that too with a V0 neck design is the best possible thing to try. As arms look too long and elegant in long sleeves. Also, have a look at the flinched waist of this ball gown you can try this if you got a thin waist as it would make your flared gown too classy and you as well. This gown is the perfect choice for a wedding or an engagement evening. You will surely ace the look in this attire.
Red Ball Gown Wedding Dresses in Cape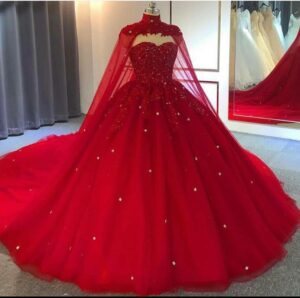 Walking down the aisle and your cape is flowing on the carpet behind following you is the best thing ever and if you have imagined it too just add a cape to your sequined gown and be the most beautiful bride ever.
Please follow and like us: