You Should Try These 14 Cool Eyeliner Wearing Styles!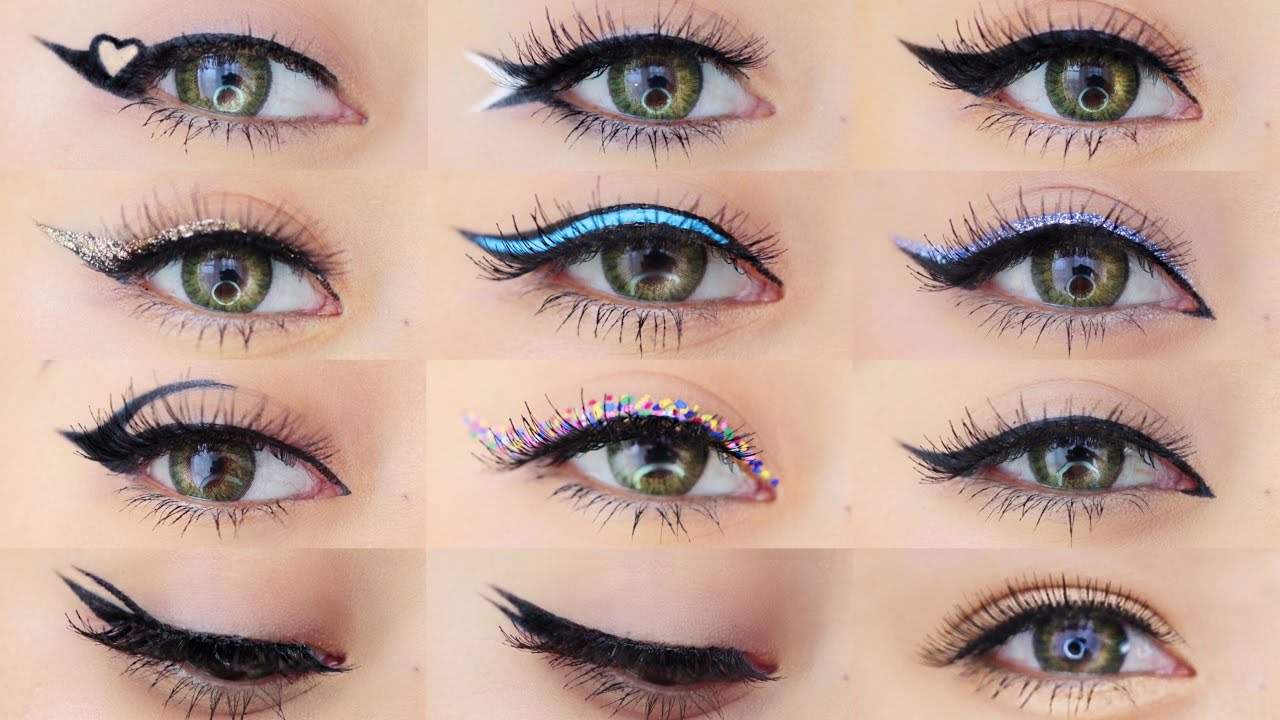 Eyeliner is one of the most popular and adaptable beauty items found in everyone's makeup kit, with looks ranging from liquid to smoldering and smeared. The problem is that so many of us have been so accustomed to a certain style of applying eyeliner that we're missing out on some significant creativity when it comes to utilizing our eyeliners to their best potential. Keep scrolling for a round-up of all the numerous ways you may (and will want to) wear eyeliner looks from here on out, whether you want to wear a different colored pencil or finally get the form of your wing just so.
The Neon Flick
Neon eyeliner may not be the first thing that comes to mind, but after seeing this liner look, we're sure it'll be driving our creativity from now on. To achieve this look, use a slanted brush with a liquid or gel eyeliner to produce a precise flick at the end. Take note of how the eyeliner begins at the inner lash line and then picks up again at the outer lash line for a very beautiful abstract look.
Muse in Various Colors
Wear contrasting colors on the top and bottom of your eyes to show off your preferred liner colors. This allows you to experiment with different color combinations and can make the eyes pop. If you set the liner with a bold shadow color on top if you want a more vibrant color payoff.
Strike of Red
Red eyeliner is an unusual color, but it looks great on the eyes and can quickly boost any cosmetic look. For a more pleasant application tip, draw the wing first on the outer corners using a pencil or cream formula.
Enhance the Waterline
Using a white or flesh-toned eyeliner on the inner waterline will instantly brighten the eyes and help to reduce the appearance of redness. Applying eyeliner here is a great trick for anyone who has overslept or stayed up late and needs to seem awake as quickly as possible. This Marc Jacobs Beauty Highliner Gel Eye Crayon is a great shade for the waterline.
Little Wings
Connecting your top and bottom eyeliner with the smallest flick on the outer corners provides a different take on the classic winged liner look but maybe just as dramatic. Wear a long-lasting eyeliner pencil with a creamy consistency that you can simply apply to the top and bottom lash line for this look.
Smudged Smoky Frame
When applied to frame the eye form, eyeliner is a terrific method to make your eyes stand out, and this chocolate brown color looks lovely on both the top and bottom lash lines. If you want to jazz up your eyeliner look just a little, smudging the product with a brush or your fingertips provides a more dramatic appearance.
The Stiletto Wing
This wing, like a slender stiletto heel, isn't as thick as the normal forms we see, yet it nevertheless gives enough drama to the eyes without requiring much else. A fine, angled eyeliner brush or liquid liner—Ilia Beauty's Clean Line Liquid Liner has a precise tip that can aid with this—is the best method to obtain a thin line like this on the outer corners. Applying the liner in an outward motion toward the end of the eye will assist in creating the desired width.
Only the Best
Applying eyeliner only to the upper lash line helps to define the eye and is also useful if eyeliner on the bottom is too much for you or tends to smudge. This liner is just thick enough to enhance the shape of Ayesha Curry's eyes while also complementing the chosen eyeshadow colors.
Royal Blue Waterline Eyeliner
Looks come in a variety of colours, and we especially like this royal blue variant. Blue is an excellent hue to use as a liner because many individuals avoid using full-on eyeshadow when they first start experimenting with colour. Make the line as thin or thick as you like, then finish with a generous amount of your favourite mascara for thick, long lashes—we love how Lupita Nyong'o layered on the colour here.
Two-Toned Team
By placing it under the bottom lashes for contrast, you can add the surprise of a second colour to your typical black eyeliner. The splash of pink and traditional black complement each other nicely here, producing a beautiful contrast that may be matched to your lipstick for a polished look If you want the bottom liner to seem crisp and thin, use an angled liner brush to apply it.
Thin and thick
Change the thickness of your eyeliner between thick and thin by drawing a packed line above the eyes and leaving the bottom line light. This method adds definition all around while allowing you to experiment with different widths.
Almost No Eyeliner
If you don't want your eyeliner to be too obvious, use the slightest amount to define your eyes and call it a day. Applying a long-lasting gel eyeliner in between the lashes, such as Armani Beauty's Eyes to Kill Waterproof Eyeliner Pencil, will stay all day and into the night. This style demonstrates that a little goes a long way when it comes to natural eye makeup, and we love it.
Wings with graphics
This blue eyeliner catches the light perfectly when applied and may transform any ordinary makeup look into something stunning. For a dimensional effect that truly pops out, apply a precise line along your crease with black liner where you'd put a conventional wing.
The Brighter, the Better 
Bold, fresh colour coupled with a little sparkle on the eyelids is stunning, particularly the brilliant peach tone shown here. Apply your glitter shadow on the lids and up to the brow, then finish with your desired liner colour.
Please follow and like us: