The Best Fashion Trends of the Year Are the Boldest Ones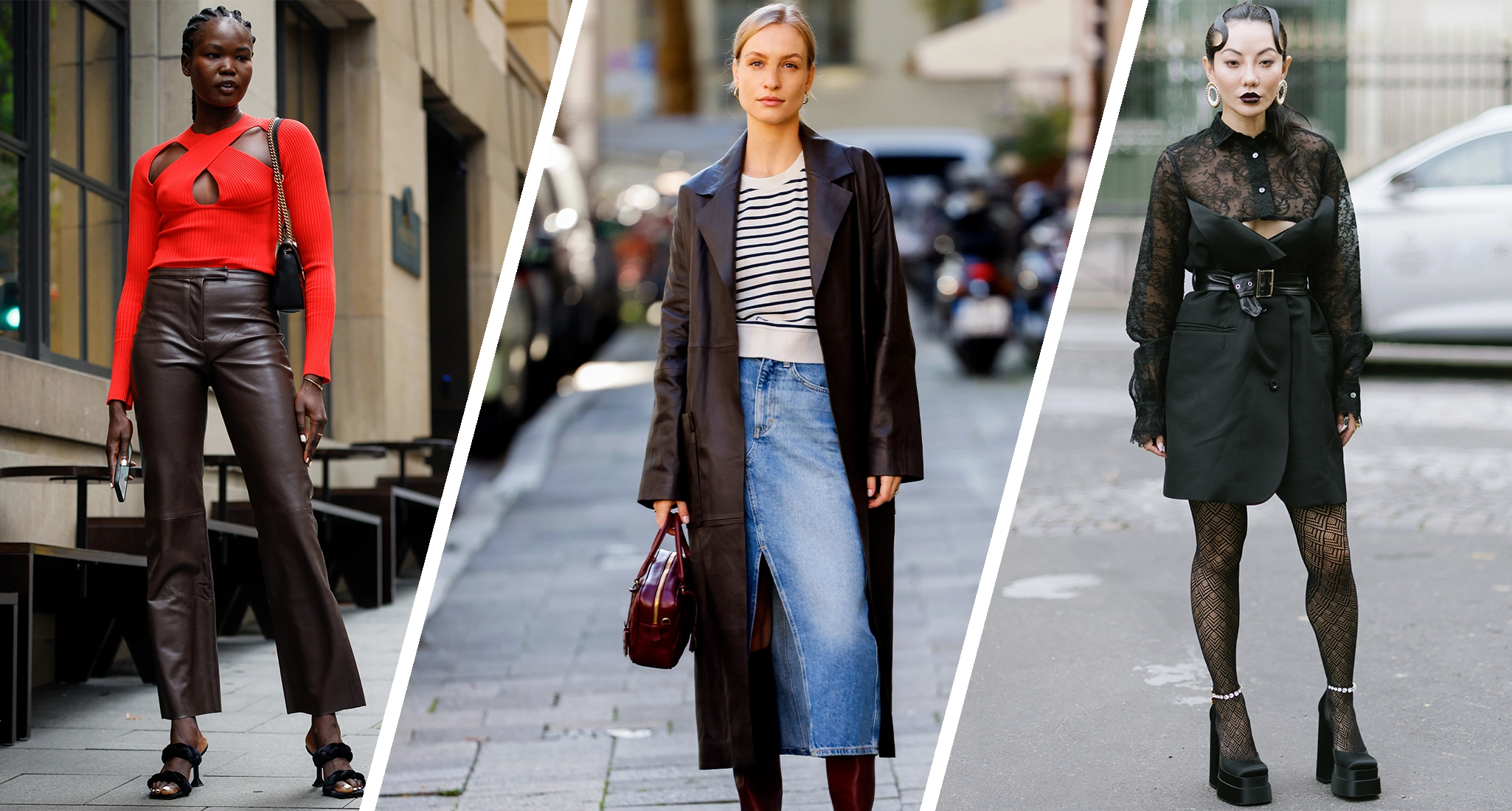 The SS22 season is bringing sexy back, and while 2021 was all about hot pink, logomania, color blocking, and the "hot goth" trend, we couldn't be more excited to give our working-from-home clothes a fresh start.
The year's desire for complete escapism has been replaced with an all-out celebration, and SS22 is about dressing accordingly. Lockdown constraints are gradually starting to be lifted and the future is starting to look a little better. Think short, sheer, or second-skin as it's time to expose the bodies that lockdowns kept concealed at home for far too long. The tempo? More flesh, less fashion.
Hence, it stands to reason that this season's collections featured a plethora of Nineties and Y2K throwbacks, with micro-mini skirts, extremely high heels, flashy tops, and low-slung waistlines all making a comeback. On the opposite end of the fashion spectrum, Bridgerton fever has seen designers draw inspiration for their dramatic post-pandemic styles from the 18th and 19th centuries.
Vibrant stripes, solar shades, and swimsuits all became popular trends, reaffirming the SS22 season's focus on optimism. We are prepared for you in 2022, and we will be appropriately attired.
Youthquake
Hemlines are getting hotter and higher as they go from small to micro. A barely-there interpretation of the trend that is both low-rises (see Miu Miu, whose skirts barely skimmed the hip bones) and high-rises was created on the catwalks when the 1960s insurrection and 2000s exuberance clashed (see everyone else).
Making Haute More "Hot"
Here's how the grown-ups do it if decadence is the spring/summer season's central theme—a flashy, brilliant take on sexual attire for the Y2K age. This is subversive seduction that is both about provocation and body confidence. The time to unbutton is now.
Time Travel
Louis Vuitton, where Nicolas Ghesquière demonstrated a masterclass in making the gothic fashionable by styling old with new, is the source of the dramatic post-pandemic clothing. For their designs, other designers also looked to the past, reinterpreting 18th- and 19th-century fashion in wild, inventive ways. Historically significant.
Disco Utility
It's time to revisit the year 2000 with cargo trousers, glittery shirts, low-slung waistlines, and Grecian drapery. This utilitarian has an outrageously gorgeous edge, so channel your inner Beyoncé from the Destiny's Child "Survivor" era. It is everything but simple.
The Sun Is Coming
Beachwear transitioned to ready-to-wear for SS22, which may be because we're all in need of a warm vacation. Although Rejina Pyo took things a step further by showcasing her collection by the water at London's Aquatics Centre, Virginie Viard sent stylish swimsuits down the Chanel catwalk.
Very striped
There is a straightforward formula for creating a statement, so you don't have to read between the lines. With clothes becoming more two-toned and graphic, the bigger, bolder, and more overt the better. Get rid of the Breton and replace it with striped dresses, suits, and shirts.
From Dawn to Sunset
The retina-searing palette for this season is all about solar colors, which are so bright you'll need SPF. Consider this visual vitamin D, which ranges in color from gold to amber to burned orange and blazing red.
Color contrasting
Mix punchy pop colors with vibrant greens to bring classic suits and romantic ruffles into 2021. Clash rainbow brights to stand out. One of the most unexpected methods to make a statement is color blocking, which involves matching contrasting or unusually paired colors to create eye-catching focus areas. Sticking to basic silhouettes, such as classic shifts, maxis, and pencil skirts, and picking colors that are directly opposite each other on the color wheel are the keys to pulling it off. Also, there are a lot of color stories in street style right now that will astound you. The most vivid shades of Pantone are combined with main and secondary colors like kelly green, fire-engine red, and brown to create the current fashion trends.
Monochrome matrix
The color combination of black and white makes perfect sense. There is no more timeless combination than a white button-down and black jeans, so when in doubt, go with black and white. Yet, as the newest fashion trends for 2021 demonstrate, just because something is black and white doesn't mean you can't experiment with it. There is a monochromatic fashion technique for everyone, whether it be layered and textural like Prada's circle cut-out knitwear or basic color-blocking at Louis Vuitton. Just decide which. The most vivid shades of Pantone are combined with main and secondary colors like kelly green, fire-engine red, and brown to create the current fashion trends.
Sickly sweets pastels
Short lengths gain romanticism from fluffy frills and sheer tulle, while longer versions become more sensual. Sherbet lemon chiffon is a bold statement when everyone else is wearing pajamas. Contemporary pastel outfits will transform your 1990s Barbie girl into a contentious fashion juggernaut that crushes everything in its path. Pastel colors have historically been quite popular in pajamas and loungewear. Matching outfits and sweatsuits are still acceptable to wear around the house, but the look is more appropriate for odd social situations.
Please follow and like us: