15 Wedding hairstyles for women that easy to maintain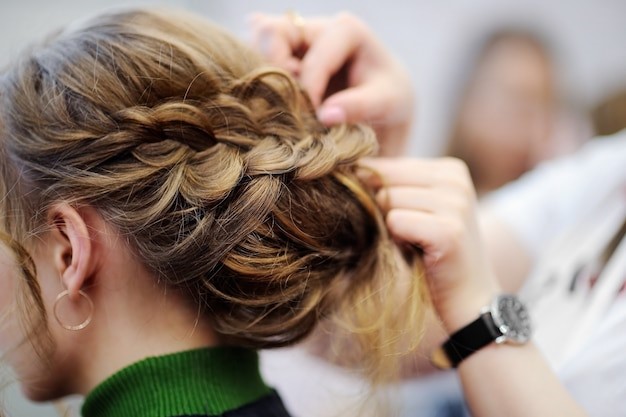 A wedding is a once-in-a-lifetime event for the groom and bride, as well as their respective families. It offers both families a great deal of delight to enjoy, laugh, and celebrate the unique celebration, as well as the opportunity to dress up in the best clothes to seem the most elegant and attractive. The way women style their hair could also make a substantial difference in the bride's appearance. Whether your hair is naturally straight or curled, silky or coarse, there is a bridal hairstyle for you that will make you appear great on your big day.
Here we have enlisted the 15 best wedding hairstyles for you that are easy to maintain and you will love them too:-
Floral Braid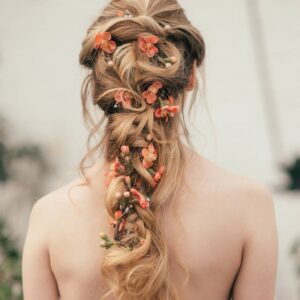 You've probably seen several brides with braids completely wrapped in flowers. It's a terrific look for brides who aren't sure about wearing a bun because it doesn't draw attention to your face as much as a bun might. While the flowers give texture, the swish of the droplet can lend movement to your outfit. It will make you look bright and airy, and it will complement your attractiveness and cosmetics. This hairstyle will provide fullness to your face, especially if it is too small.
Gajra Bun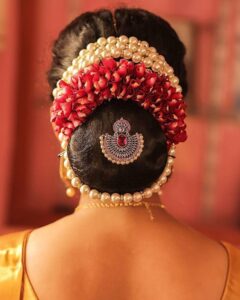 When it comes to wedding hairstyles for women, gajra hairstyles are not uncommon; nonetheless, arranging these flowers in a tight configuration and emphasizing the breadth of black hair on the scalp alone with bridal jewelry can create a striking appearance. If you wish to wear mattha pati instead of elegant mang tikka on your wedding day, this bun is ideal. This outfit gives off a royal vibe.
Braided Half-Up Hairstyle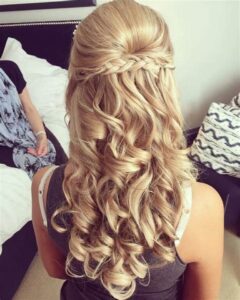 The Half Up Braided Hairstyle can make you look opulent. Take a few layers of hair from both sides and place them in the middle of your head, then pin them in the back for a half-up look. After that, just make sure the remaining hair has a curling texture. It provides you with a really elegant and attractive appearance.
Crown Braid
All you have to do to look like a bohemian queen on your marriage day is request the Boho Braided Crown. This hairstyle is suitable for both long and medium hair lengths. To achieve this lovely hairdo, make a braid out of your hair and gently tie it on the other side of your head as well. This look will result in a lovely head-ring fashioned of your hair.
Curly Hair with a Flower Headband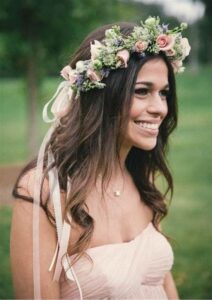 This is a great example of a slightly uneven yet lovely appearance, and if you want to go for a more natural look, Loose Curls with Flower Headband is the way to go. Make a side part with your blonde, thick hair, and then let the rest of it fall over your shoulder. However, wearing an eye-catching Flower Headband with your loose curls will be the main focus. On your bridal day, the heavy and slightly unkempt look adds to the charm.
The Messy Thick Pony 
If you have thick, dense hair that you want to show off, this is the style for you. We like how this looks overall, with the sloppy braid at the crown and deep wavy texture beneath. This haircut and makeover can be worn with ethnic and Indian clothes, as well as western party wear and reception styles.
Edgy curls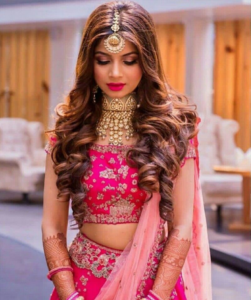 This hairstyle begins with a precise brushing and blow-drying of the full head of hair, followed by the creation of curls and waves only at the edges. This Indian bridal hairstyle for reception is a classic and classy hairstyle trend and look that is perfect for those who don't want a lot of bold looks but rather a soft yet captivating tone.
Braid with Puffy Fishtails
This is one of the most popular Indian wedding and marital hairstyles. We like the pattern and general appealing aspect with the chaotic and puffy braided style and floral embellishments and decorations all around. This is edgy, sleek, and has vintage and classic undertones. This one may be worn with a variety of ensembles, including lehengas and gowns.
Updo with twisted braids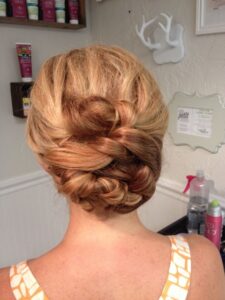 Another hairstyle twist that not only looks trendy but also adds volume to your locks. Twists give your strands more volume, and a bun or braid makes them appear nice and comfy. It's one of the best wedding hairstyles for people with thin hair. You could add flowers or pearls whatever is cordial with the dress it will look more beautiful.
Makeover for Wavy Loose Hair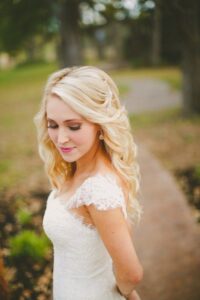 If you have long, thick hair, this attractive loose hairstyle is for you. We adore this beautiful and flexible makeover, which has loose hair and waves built around the hair structure. This hairdo is edgy and may be worn with sarees, gowns, or even lehengas for a night out.
Hairstyle with Pearls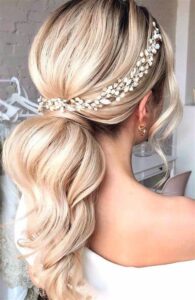 This is one of the most natural wedding hairstyles for thin hair, and it works with practically any theme or occasion. This style is easier to make than others, so if you don't mind a stress-free makeover, you should try it.
Soft Waves in the Middle Parted
To look classy, elegant, and beautiful on their big day, brides always choose the smooth, lustrous, and silky Middle Parted Soft Waves. This is the appropriate hairstyle for you if your hair is mostly shoulder length. To achieve this lovely hairdo, start by splitting your hair in the middle and then loosely tying little strands from both sides. The remainder of your hair should be left alone and curled to fall along the side of your head.
Bun on the side
All it takes is a little extra curling before winding the dishevelled strands into a loose low bun on the side to achieve this classy bridal hairdo.
Side braid bun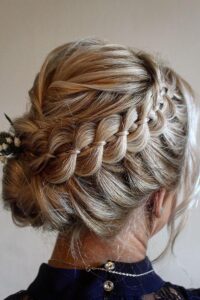 Braid your hair if you want a completely straightforward look. If you want a clean, neat, and conventional look, a braided style will be your first pick. Put a little messiness into your hairstyle if you want to up the trend factor of your look. Make a side braid with your entire hair and then tie it up nicely with bobby pins at the side of your head.
Please follow and like us: