Punjabi sharara suits for wedding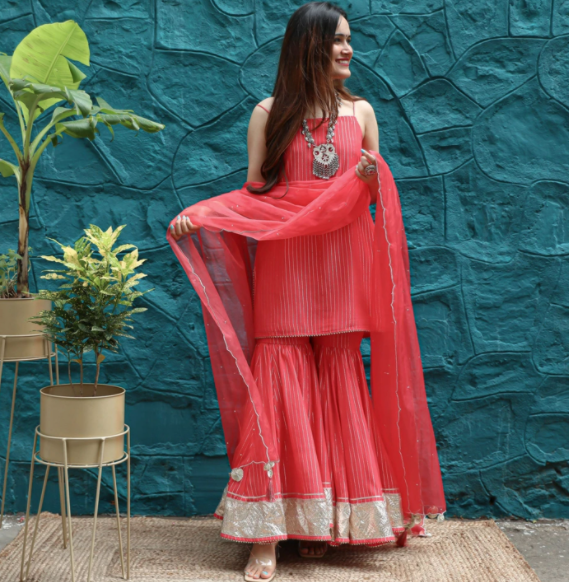 A traditional sharara outfit consists of a short embellished kurta and flared pants. A sharara suit resembles but is not identical to, a gharara. Sharara is more than an outfit; it's a way of life. It's traditional yet modern, and it's a lot easier to manage than other ethnic outfits. Shararas were popular a few years ago, and you may recall the tune "sharara." Now, shararas are making a comeback with literal stunning changes, and you can see them at every other wedding. Punjabis, including the bride, frequently wear shararas at weddings.
If you need to attend a wedding anytime soon and you have been looking for a perfect sharara suit. We got you and here we have enlisted the best sharara suits that you can try as per the wedding function and look stunning.
Let's have a look at some of the most stunning Punjabi shararas so you may pick the ideal one.
Heavy Rayon Printed Kurti With Flared Sharara And Dupatta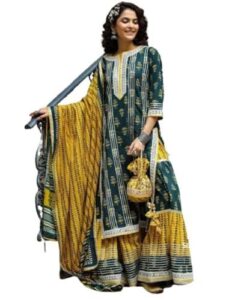 Rayon Gold Printed Fabric Kurti With Gotta Lace and Gotta Detailing On Yoke Sleeves & Rayon Flared Sharara Malmal Dupatta on the Bottom. When paired with matching jewelry and classic flats, this set is a stylish option for a nice family function or an event.
Gotta Lace & Detailing: Heavy Lace & Detailing This suit is ideal for an early wedding function when you want to wear a sharara. Because it has gorgeous details, it won't seem too dull, but you may also wear it on every day days because it isn't too extravagant.
The best thing about these prints is that they appear breezy, and rayon feels excellent in the summer as well, so you can enjoy them in complete comfort.
Net Sharara Suit with Dupatta
This blood-red sharara suit is suitable for the bride herself, not only at the wedding but also at the post-wedding parties. The brilliant hue of this suit will make you appear like a doll, and the gorgeous golden work on it will be the icing on the cake.
It has a Santoon Inner and is composed of net fabric with beautiful codding embroidery work and heavy stone. To achieve a complete ethnic and festive look, pair the salwar suit with a pair of ethnic jewelry such as jhumkas and ethnic footwear such as jutis and mojaris.
Pink nude georgette sharara suit for a party or festive season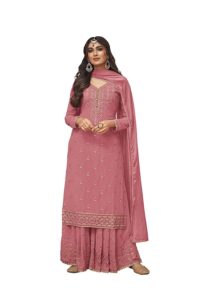 Such light nude colors, in my opinion, are only appropriate for bridesmaids. Following the guideline of not outdoing the bride's style, you must wear something subtle yet glittering and exquisite to the wedding, and pastels take precedence with such constraints. Isn't this the nicest suit you've ever seen?
It also has a beautiful color scheme that adds to its appeal. Furthermore, it is made of high-quality georgette fabric, which promises to keep you comfortable throughout the day. You can wear it with juttis or heels if you are short enough to carry on sharar comfortably.
Emerald green faux georgette embroidered sharara suit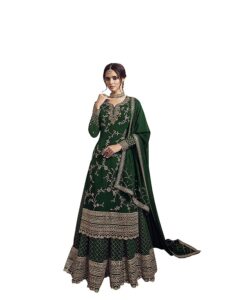 The color emerald green can be used instead of royal blue. If you are attending a lavish wedding, this sharara suit will give you an extreme riyal look in no time. With this heavily embroidered suit, you won't need to invest in any hefty jewelry.
It has a decorative embroidery pattern that is attractive to the sight. It also has an attractive finish thanks to the high-quality fake georgette fabric.
The dress is appropriate for a variety of situations, including housewarming parties, birthday celebrations, pre-or post-wedding activities, and formal occasions. These dresses look well with sandals, high heels, or flats.
Pastel shade of pink in net sharer suit with heavy thread work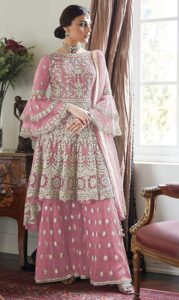 With this net Sharara by Anjani Lifestyle, you can add a splash of color to any season. Butterfly net has a crisp, clean texture with soft silk inside that makes it simple to wear and gives it an air of regal elegance, making it the perfect clothing for any significant ethical event.
Wear it with a gold clutch and large, loud earrings, or high heels and a bold nose pin. It allows you to float around in the soft fabric while also giving you a lovely pink appearance.
You can wear it to your engagement party or after-wedding events. This is also ideal for bridesmaids who want to look their best.
Rayon kurta Sharara Dupatta Full Set for Women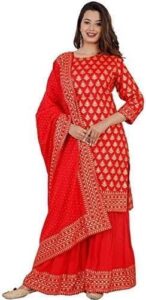 Gold The lovely All-Season Outfit in eye-pleasing pastel hues is ideal for women's casual and festive wear. This clothing is a must-have for every girl or woman, as the eye-catching prints and colors make it a year-round trend.
Wear the Beautiful Attire to amplify your fashion sense. In this garment, you'll look smart and stylish while also enjoying the comfort of the fabric. Some clothing provides excellent breathability and comfort.
Attractive Dress will undoubtedly earn you praise for your refined sense of style. The scent is a contemporary ethnic apparel collection.
The outfit blends ethnic and contemporary elements, making you stand out from the crowd. The print on the set is gorgeous and elegant.
Satin Georgette Semi-stitched Sharara Suit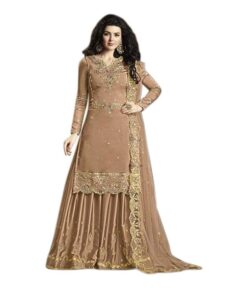 This suit set doesn't require any further explanation because it is just stunning, particularly because the color is so distinctive. Anyone who wears it will be aware of her beauty.
This is the one for you if you've been looking for something truly unique.
In addition, the satin material is eye-catching, and you won't need many accessories to complete the look.
Top is made of a soft SATIN fabric with elegant embroidery. Use a Santoon bottom and lining, as well as a NET dupatta.
This INFOTECH Party Wear Salwar Suit will make you the center of attention at any social gathering. To finish the look, add a pair of metallic-toned heels and a metallic-toned clutch.
Please follow and like us: