11 Ways to Add Value to Your Wardrobe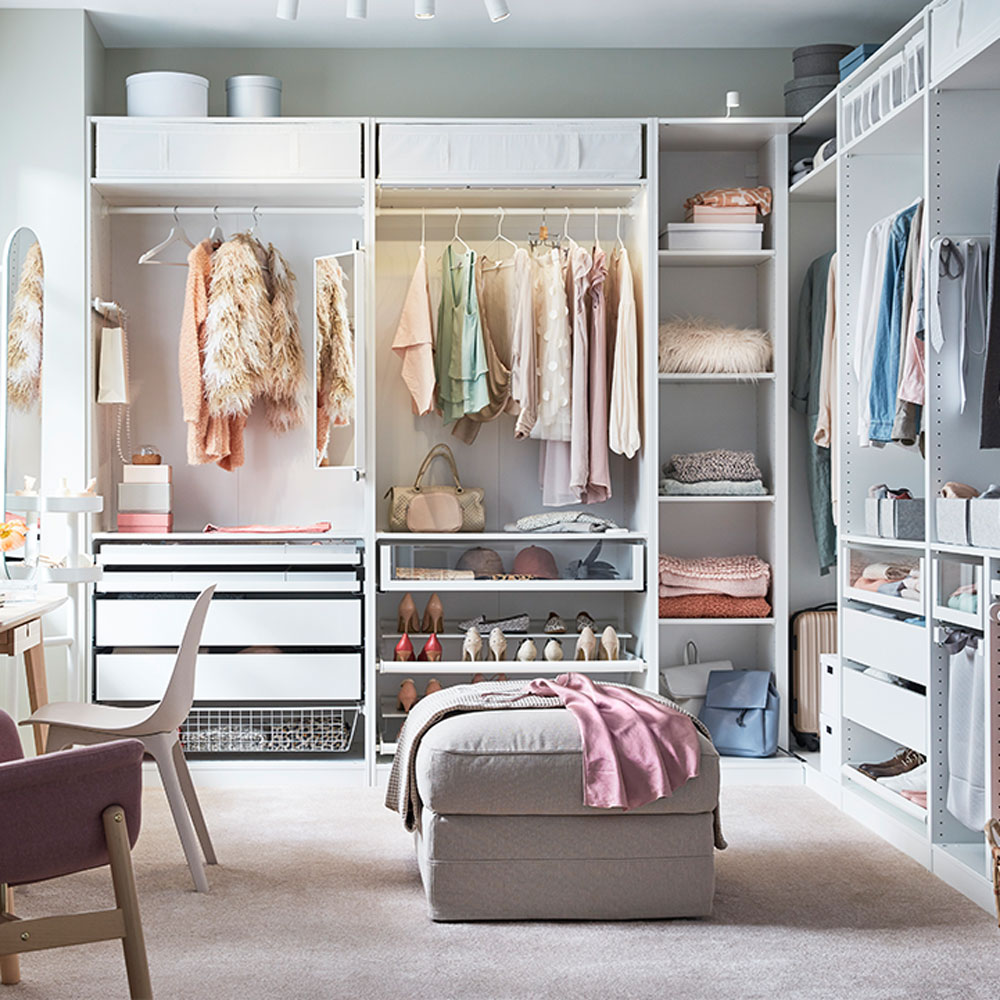 Be it getting ready for a business meeting, dressing up to catch up with friends, or putting up your favorite casuals for a walkabout town, your wardrobe plays a huge role in every occasion. And with an overflowing wardrobe, it might take hours to dress the way you had planned to. An overstocked wardrobe might not be found in every home, but it eventually happens with changing seasons and regular shopping.
That's why having a well-organized wardrobe is of huge importance. And not just a sorted wardrobe, it pays to have space-saving furniture in your bedroom. Because, once you have a wardrobe with expandable storage, you can easily cut the clutter and keep your favorites within reach.
Mirrored wardrobes add drama, value, and light
A wardrobe with mirrors may change the ambience and add usefulness to both a little or a large bedroom, depending on the lighting situation. You can save money and space by using mirrors on wardrobe doors rather than purchasing a dressing or wall mirror separately. By reflecting both natural and artificial light, it will add volume and bathe the area in light.
Doors that slide out of wardrobes
A sliding door wardrobe is a terrific piece of smart furniture to have in bedrooms with limited area for movement. If the doors of these clever wardrobe designs have mirrors, they can serve several purposes.
Wardrobe Collapsible Racks
If you're looking to get a new wardrobe, choose one with foldable components like racks and drawers. You may always enjoy rearranging and gaining extra room with these adaptable modules, making it simple to accommodate new items in your closet.
Utilize a colorful wardrobe to add a splash of color to your bedroom.
No other piece of furniture in your bedroom takes up as much visual space as a closet. The proper wardrobe color offers a fantastic opportunity to style the bedroom and the interior design of the entire house.
Get rid of the outdated items in your closet.
You tend to forget to part with once-loved but now-rarely-worn apparel and accessories, which leads to overflowing closets. Therefore, we advise you to evaluate your complete collection and get rid of anything you don't use anymore.
Maximize Your Wardrobe's Floor Space
It is not unusual for the enormous hanging garments to eventually take up the entire floor area in your wardrobe. Keeping the bulky components on one side and the foldable ones on the other is the key in this situation. You may save space on the floor by strategically hanging your clothes, and you can use that space to put your other favorites close at hand.
Light Up Your Closet to Easily Find Items
Consider the importance of lighting in your closet when preparing to acquire a new one or have one custom-made. You can instantly locate a specific color or style in the wardrobe with the help of strategically placed light sources will help.
Make Use of the Upper Wardrobe Space
Many wardrobes either don't have any upper storage space or are too tall to use for storing anything. So, think about getting a wardrobe with top storage so you may use it to store heavy or seasonal items there.
Storage for doors in wardrobes
The main goal of a wardrobe is to offer the most space possible. This can also be accomplished by installing storage hooks and fixings on the wardrobe doors in addition to collapsible racks. The most frequently used minor accessories that can get buried under large parts can be stored in these small wardrobes.
Occasionally, rearrange your wardrobe
The wardrobe can be rearranged for numerous benefits. Once you attempt different combinations to put your clothes and accessories, it will naturally create more room and give the closet a fresh look.
Avoid purchasing something for single use.
We're all accountable for it. a wedding, a birthday celebration, or a meal with friends on a Friday night. When we are going somewhere interesting, we inevitably feel as though we need to wear something exceptional, and hence something new. Even though we may appreciate the object we purchase, it rarely receives more than one use. Try to have a few dressier pieces in your closet that can be worn for a variety of occasions rather than buying specific items for particular occasions. You can wear it r=epeatedly if you choose something straightforward and more classic than trend-driven. With the right accessories, it will never feel like the same outfit.
You can always avoid cluttered, stuffed wardrobes by using these simple tips. Use these amusing tips to keep your wardrobe arranged so you can quickly change from one look to the next. These practical suggestions will also be very helpful if you're planning to move into a new home or give the area in your current home a new look.
Please follow and like us: