Top 15 Summer Fashion Trends for Women in 2023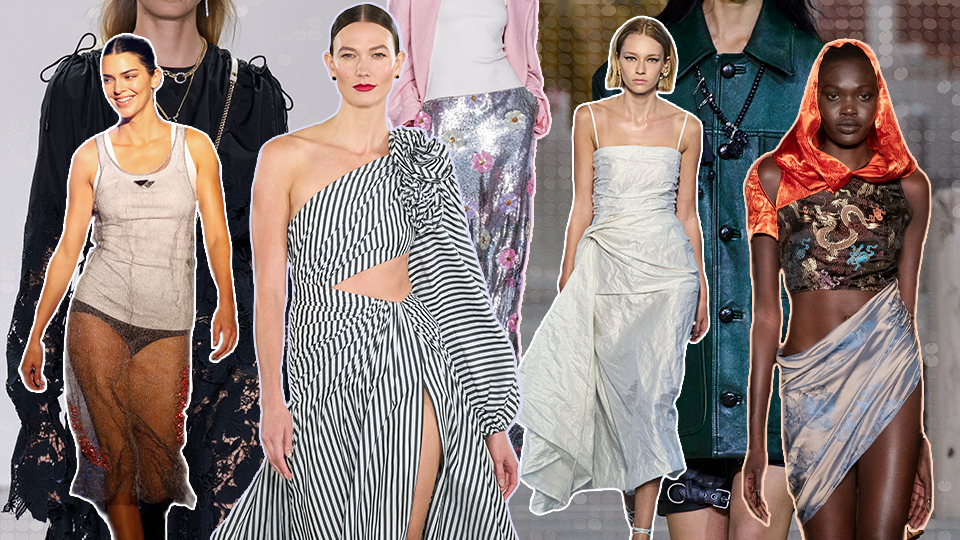 PINK HUES
One of the biggest color trends from the previous year is expected to continue to be a strong contender for the 2023 fashion color trends. Everything from everyday clothes to special event attire has been decorated with lilac, and it appears that purple tones across the spectrum are here to stay. Even though the pastel version of the color was by far the most popular during New York Fashion Week, richer and deeper shades made a comeback at Ulla Johnson and looked particularly stylish when paired with lighter, lavender-colored pieces for a tonal ensemble. The lightest variations, so gentle they might be mistaken for cream, were from Tory Burch and Adam Lippes, giving the now-standard palette a fresh spin for spring 2023.
TASSEL INFORMATION
Tassel detailing was another style that would continue till 2023. The greatest dresses and party wear were given a fully fringed makeover for a look that would be difficult to resist. This is one of our favorite summer trends. Given that it doesn't go well with coats in the summer and that you want the tassel detailing to be visible at all times, fringe is a great trend to wear. Fringe adds dimension and motion to any outfit, making it perfect for dancing or sunny breaks. Different designers used different levels of fringing on their runways, with PatBo and Bronx & Banco featuring sweeping, dramatic full fringing and Proenza Schouler and Ulla Johnson featuring softer, more laid-back renditions.
LASER CUTTING AND LACE
Since the lighter fabric and cut-out detailing are perfect for the gorgeously warm weather, lace detailing is a great choice for a spring/summer dress. The combination of luxurious lace and delicate laser cutting pays attention to workmanship. In recent years, we have witnessed an increased trend towards artisan detailing combined with contemporary technologies. This 2023 spring fashion trend may have originated with lace fabric, but brand-to-brand variations on the style were seen. For example, Naeem Khan offered a dramatic cape combo, while Proenza Schouler and Bibhu Mohapatra displayed more wearable blouse variations.
FEATHERY AND FROTHY
With silky and frothy tulle and feathers decorating several styles throughout New York's eight-day fashion extravaganza, the fashion trends 2023 made it abundantly obvious that romance was on the agenda. The volume theme from this season was carried on in full tulle dresses at Siriano and Molly Goddard, and statement hemlines added drama to dresses at Herrera. With nearly meringue-like peaks of silky fabric, this style is the perfect way to pirouette into a summer evening. It is the icing on the occasionwear cake. Equally opulent, feather detailing was utilized to bring further opulence to maxi dresses with thigh-skimming hems, while a feathered jacket in the style of the Roaring Twenties was emphasized as something to put over a dress next summer.
RAYS OF SUNSHINE
The return of spring or summer is never more apparent than when the sun breaks through the clouds, and New York Fashion Week certainly had that feeling, even though rain clouds were always nearby. As we eagerly await the return of rising temperatures to our lives, the fashion trends for 2023 predict that the season will be heralded by a sizable amount of yellow. The bright and cheerful look might not be the simplest to pull off, but when February 2023 arrives, it is certain to provide everyone with a much-needed dose of dopamine clothing, from crisp suits at Gabriela Hearst to the greatest wedding guest gowns at Badgley Mischka.
ATHLETIC LUXE
The adage "no pain, no gain" is untrue in this instance since Sports Luxe, the upcoming fashion trend for 2023, ensures that you can look beautiful and feel comfortable in one chic motion. But make no mistake, this style is still considerably more put together than donning your favorite hoodie and your favorite pair of old leggings, even though it is "relaxed" in the fashion sense. While the designs are sporty, the textiles add a touch of luxury. Tibi offers silky sweatshirts that are simply combined with matching skirts. With its high-low combination of embroidered slip skirts, paired with sporty jackets, and what is expected to be some of the best sweatshirts of the season, Fendi evoked '90s grunge.
RUFFLES
Ruffles of various sizes made an appearance on many runways, making them the most feminine trend we saw. Volume continues to be a major factor in how designers interpreted apparel for 2023, signaling a return to glamour for both day and evening attire. It's time to let your style shine. A trend that has been prominent over the past few seasons, from big skirts to huge sleeves, the explosion of ruffles feels like an extension of a desire to be more present and conspicuous. Ruffles sat vertically, horizontally, and diagonally over the torso, adding decadence at each turn and giving skirts a party-ready vibe. Statement evening attire may be found at Halpern and Badgley Mischka, while Carolina Herrera offers exquisite chiffon ruffles.
FLORALS
Groundbreaking: "Florals for spring." Although it may be one of the most well-known fashion aphorisms ever, florals are back and bigger than ever for the spring fashion trends of 2023. At London Fashion Week, brands like Richard Quinn, Paul & Joe, and Rixo all featured large-scale blossom prints prominently on the runway. While everyone put their unique touch on the look, the key was to use vibrant, dramatic colors to make the biggest effect. When it comes to wedding guest dresses and knowing what to wear to a wedding, florals are the go-to print for spring and summer.
AS OUTERWEAR, UNDERWEAR
Another lingering fashion fad is underwear as outerwear, which varies in popularity. Since the appearance doesn't offer much warmth, it is more suited to spring and summer seasons. However, for fashion trends in 2023, you can expect a more vintage-inspired take on the look. In contrast to earlier renditions, Erdem's version included spectacular corset details and long, crinoline-style skirts. Expect 2023 to give a more delicate take on the trend, paying homage to a time when corsets were the norm and dressing them up for the following season as dress bodices, whereas lingerie as outerwear was previously reserved for one of many ways to design a blazer. Christopher Kane provided an alternative as Erdem perused the fashion archives.
Bow specifics
The bigger, the better when it comes to bows for spring/summer 2023. The trend was popularised by designers Susan Fang, Richard Quinn, BMUET (TE), Erdem, and Klamby, who led the way with oversized, statement pieces on the runways of London Fashion Week. Due to their femininity and inherently romantic nature, bows, like florals, are a consistent trend during the warmer months and are therefore perfect for special occasion clothing. Scaled-up neck bows, delicate decoration styles, and abstract silhouettes that were changed into shoulder strap accents for a daring but elegant finish were all interpreted in silks, tulles, and cotton.
Bluish tones
Although pastel colors are frequently included in spring/summer trend reports, we anticipate a stronger tendency towards them in 2023, including in eyeglass trends and sunglasses frames. This cool ice shade was everywhere on the runway during the New York and London Fashion Weeks, appearing on everything from lovely day dresses to dazzling evening wear, casual items, and more.Incorporating a number of the other trends on the list, such as the delicate ruffles at Hai, the gorgeous floral prints at Emilia Wickstead, the fluffy, frothy coats at 16Arlington, and the stunning sequined gowns at Badgley Mischka, soft blue hues have been one of the season's dominant colors thus far, acting as the antidote to the brighter hues.
THE PERFECT PINK
This year, one of the most popular color trends for 2022 is expected to persist. Fuchsia was once a component of the Dopamine Dressing trend, which saw us embrace upbeat brights, but it quickly distinguished itself as a striking color for both designer and mass-market businesses. We were thrilled to see pink make a strong comeback on the catwalk at the spring/summer 2023 fashion shows because the best pink dresses were the trend to be seen over the summer. indicating a revival of this style. Pink was shown in all the main fashion cities, ranging from bright pink hues that continue to explore Barbiecore style and place it up and center to softer pastel and coral interpretations. If you invested last season, keep onto those crucial pink pieces.
SUMMARY STRIPES
Stripes are a fashion staple that is almost always 'on-trend' in some way. While you may still include the traditional Breton stripes in your capsule wardrobe, the ultra-bold stripes are set to become more popular in 2023. From Moschino to Luisa Spagnoli, striped patterns were louder and thicker, advocating a style that was almost deckchair-like. No hue is off-limits in this trend, which is perfect for the summer. Multicolored variations are predicted to be a particular favorite for direct-to-consumer firms. Although Moschino used the pattern as a chance to give androgynous tailoring a modern air, you can easily translate this look into simpler and more understated pieces like a chunky striped t-shirt,
LEATHER LOOKS
Fall fashion frequently includes leather pieces, and for fall 2022 in particular, leather goods have witnessed a dramatic spike in popularity. These are the key things to invest in for a minimalist capsule wardrobe for this season and to wear for years to come, from the best leather jackets to nailing how to dress a leather skirt. We saw leather coats and jackets on the runway at brands like Versace, Tod's, and Prada, where styles continued to push towards the current Biker Chic trend, which was an unexpected hit for spring/summer. The key to this look is structured leather jackets, with belted versions of the trend being one of the most often adopted. The timeless hues of black, brown, and oxblood.
PACKS FOR CARGO
How many times have you shouted, "And it has pockets!" in response to someone saying, "Nice dress! "? We have a long-standing interest in pockets, in large part because women's clothing has rarely regarded them to be necessary. However, this useful addition is unquestionably front and center when it comes to fashion trends for 2023. Statement pockets adorned everything from pants to jackets on the catwalk, including Louis Vuitton, Fendi, and Christian Dior. If you buy one item next season, make it the Y2K cargo pant as a reference to the style. The look had a certain utility aspect to it and may have been an outgrowth of the Gorpcore movement.
Please follow and like us: