Top 10 gifts to make the day of your Valentine special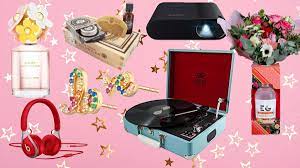 As Valentine comes close by the pressure is on, from how to make it unique to wonderful, We all are struggling with one question – what matters she loves or she doesn't? So in order to support you, we come with the list of amazing top 10 valentine gifts for someone that will definitely make your valentine's day feel special. Maybe you've only been dating for the month or you've been dating for three years a gift on valentine's day always make her feel really special. If you still confusing about what to gift her on this valentine, then pick one of the gift ideas from these top 10 special valentine gift ideas for special one and show your inner love and care that you do from the heart core. 
JBL XTREME Portable Bluetooth Speaker:
If your soulmate is a loud music lover, we have the righteous pick for you. A high bass portable speaker which is appropriate with almost everything to the point makes your party lit more than ever before. Being waterproof this can be the righteous buddy from traveling to workouts for your loved one.
Seagate Backup Plus 1TB Hard Drive: 
Is your soulmate in the creative industry or in a corporate one? Then here is the good choice of gift you must be investing in; A mega capacity hard drive. From all the data to files, everything is safely securing here. So be greatful, you are giving them back up supportting in their profession!
MI 20000 mAh Power Bank 
Is your loved one lazy enough not to sit near by to the charging socket? Fair! Happens with most of us! But you do relax as there's nothing to fret about as you could gift your partner, something that can keep them charged up all the timeline. The MI 20000 mAh do charge two phones in one go? What more can you really expect?
Rose Champagne or Red Wine
Simply add sparkle in your relationship by gifting a bottle of sparkling champagne and wine to your beloved. We all understand that red is the colour of love. So , gifting a bottle of wine makes for a awesome gifting idea. Rose is itself a pleasing symbol of love so, Rose Champagne can be a ideal drink to celebrate the Valentine's evening.
A box of Red Raspberry Whoopies
If your loved one is someone who has a sweet-tooth, then we are certain that she or he would love this luscious present. Raspberries have a sour and sweet taste, and so is one's relationship with his or her beloved, which makes this Raspberry macarons the best gifting alternative for Valentine's Day. You might also bake this scrumptious dessert for your beloved one and surprise her or him with your creativity.
A pair of Heart-Shaped Mugs
A pair of Heart-Shaped Mugs for the 2 of you would be a great alternative to gift. What makes this a ideal gift is that whenever you will have a hot cup of tea or coffee, this mug would remind you of the positive connection and bond of love that you both sharing with each other. Mugs are something which one usually used to drink their best loved beverage. Hence, it makes for a productive alternative to go for.
Heart-Shaped Utensils
Are you someone whose loved one is a cooking enthusiast? Then, you must definitely gift him or her this beautiful heart-shaped set of kitchen utensils and simply get a smile to their faces. The set involves measuring spoons, serving tray, baking moulds, ice moulds and bottle opener, each of them in a shape of red and heart in colour.
A mini-pack of Red Coloured Fruits
Is she or he too conscious about the health? Then, you must gift her or him a mini-pack of red coloured fruits. Not just that red is the symbol of care or love too. This healthy set of red coloured fruits will always remind her or him that how much you love about each others long and healthy life. The set can include fruits like cherries, cranberries, strawberries, and apples etc. Also, these tiny round berries are romantic and healthy both at a same time.
A bouquet of Heart-Shaped Chocolates
A bouquet of Heart-Shaped Chocolates is something that could make your loved one simply blush. Almost everyone loves to have chocolates because of their soft and sweet texture. But instead of gifting heart-shaped chocolates in a regular manner, gift your beloved with a graceful and huge bouquet of heart-shaped chocolates and impress her or him with your creativity.
A jar of small 365 messages with toffees
Gift your beloved with a jar full of toffees and 365 heartfelt messages in it and ask her or him to read each message on every new sunshine. This will definitely make her or him falling in love with your more and more till infinity.
Please follow and like us: