The Most Popular Organza Saree: Everything You Need To Know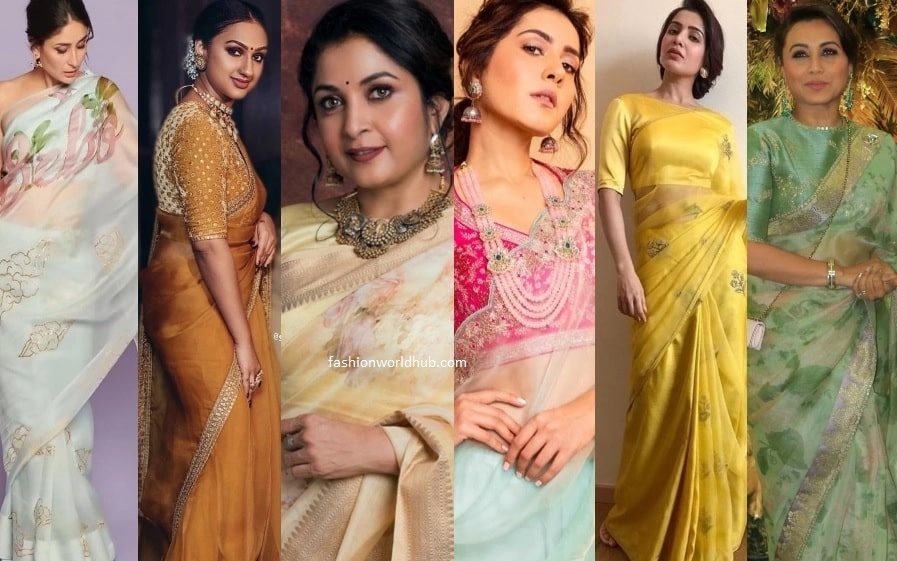 The Saree is an established truth that it is all a woman's wardrobe requires: feminine, ageless, and graceful. It is not only revered as an heirloom piece in India but it is adored and welcomed by every lady of every age. One of the many versions of this timeless icon that designers have produced is the organza saree, which feels as light as air while striking the perfect combination of sensual and beautiful. These sarees have acquired appeal among young ladies who want to wear the drape but not one that is excessively heavy or includes embroidery, thanks to Bollywood. We all adore saris. Do we not? Furthermore, we can't get enough if it's a hand-painted saree! Sarees are a favorite of all women, regardless of height, age, or body type. It is appropriate for any occasion or performance. If you require a great saree selection, you don't have to think about what to wear.
This saree is ideal for destination weddings when being fuss-free yet stylish is the ultimate objective, or for intimate festivities where you want to impress your guests while remaining relaxed. It's the ideal pick for millennial and Gen Z ladies, and they won't have to seek far styling ideas! We've compiled a list of our favorite ways to wear an organza saree. But first, let's define organza about other types of sarees, and why we adore this fabric so much!
What exactly is organza fabric?
This single-weave fabric, often known as organzine, is popular among women of all ages and tastes. It is not only breathable, but it also creates lovely drapes! Organza is both flowy and fuss-free at the same time. It is mostly utilized in India to make dupattas and sarees, both of which are wardrobe staples for ladies. An organza saree appears to be ideal. An organza saree looks equally good on a young woman in her early twenties as it does on a woman in her late fifties! It may not be as finely constructed as the classic Banarasi saree or other traditional styles, but it is just as heart-warming. Organza fabric is lightweight and sheer. Because of its flimsiness, it is utilized as an overlay for tops, dresses, and other garments. Organza has come a long way, from being made only with silk to currently being constructed using different synthetic materials as the base, and has carved a permanent niche for itself among modern-day dress rules. This lovely artwork is well-known throughout the world, and we adore it as well! Let's have a look at some organza saree styling ideas.
Keep it lighthearted!
Rumor has it that ruffled sarees are making a comeback, and we'd like to join in. The industry is infatuated with the fun, feminine version, especially when it's made of organza! While a plain, printed organza saree is stunning, the effervescent ones benefit more from ruffles and volume.
Because organza is a delicate fabric, you may want to tone it down with a bejeweled saree belt, which can be custom-stitched or purchased from any online shopping app. We can assure you that you will be the center of attention when you wear this look!
Surreal and sensual
Nothing says 'chic' like a beautiful bralette and nothing says'sensual' like an organza saree! Styling an organza saree by combining the two to produce a style that will be remembered forever. If you consider yourself a desi diva, there's nothing better than swapping your blouse for a bralette and enjoying the best of both worlds. Bralettes have taken over the fashion world, and we can see ladies of all shapes and sizes wearing them with a variety of outfits. You, too, may put your spin on this outfit. If you're wondering where to acquire the best bralette, go no further than websites popular for online shopping in India!
Elegance with an Edge
When it comes to millennial fashion, everyone is seeking something Instagram-worthy. The same is true for Generation Z! As a result, we believe that teaming your organza saree with western wear essentials, such as a turtleneck top, would be an instant success with both your in-person and virtual acquaintances. This not only makes for a beautiful destination wedding appearance, but it also allows you to wear both contemporary and traditional jewelry, which we like! Because organza sarees are among the most popular silk sarees in India, you can be sure to find hundreds of accessories that complement your selected drape! If not, simply put on a pair of sunglasses and you'll be fine.
Increase the Effort!
Organza sarees are already known for being one of the most fun drapes, thanks to their lightweight nature. Make the most of this feature by experimenting with blouses. Dramatic sleeves are a popular choice. You can even go overboard with the frills if that's your thing! For maximum impact, wear this with layers upon layers of organza drapes. Make sure you bind every end tightly, as this fabric is prone to slipping out of control at any time. If you're looking for tips on how to wear a saree, we've got you covered.
Please follow and like us: