The greatest white T-shirts to complete your look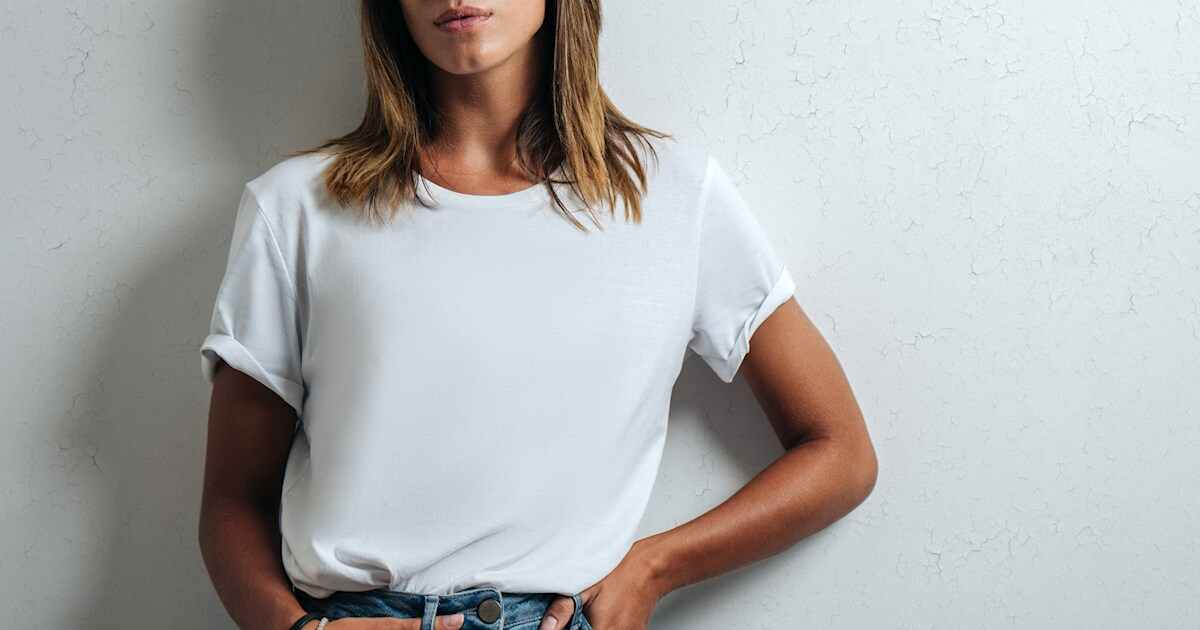 The most basic yet classic and an evergreen staple of all the wardrobes be it men or women is a white t-shirt. It can be worn with anything literally and anywhere from the beach to the office to a late-night party. All you need is to find the perfect white t-shirt as per your comfort desire and also consider the quality of the fabric. White t-shirts have a distinct appearance and give a fantastic appearance to anyone who enjoys wearing glittering white t-shirts to make themselves appear more handsome and beautiful.
The most dynamic aspect of clothing is that it can appear incredibly attractive or attractive when paired with the appropriate bottoms and footwear.You can try different looks with a white t-shirt by pairing with colored trousers, skirts, jumpers and of course a good pair of jeans for your most classic look as white looks gorgeous on every other person. There are times when you are unsure of what to dress. And it's only in these conditions that you can wear a white t-shirt with nearly anything and seem put-together.
Let's have a look at the greatest white t-shirts that will complete your look perfectly:
V-neckline t-shirt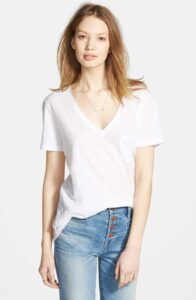 The simple white t-shirts with a V neckline and little sleeves are great for showing off your sharp collar bones and may be worn to university and even to nighttime gatherings. This is an ideal costume for any woman because it gives you a stunning and striking appearance and could be paired with just about any bottoms and footwear to make you appear like a pixie. Also, you could add minimal accessories for a classic look.  And to get a boho look pair it with a skirt and silver oxidized accessories.
Squareneck t-shirt
Square necks are trending lately and it looks amazing as it shows off your torso area beautifully. You must add it to your wardrobe as you can style such t-shirts in numerous ways. It gives such a retro vibe you can pair it with casual wide-legged jeans or slouchy jeans. Also contrast bottoms will give a Y2K look just don't forget to pair charms accessories with your outfit for 80's vibes.
Round neck t-shirt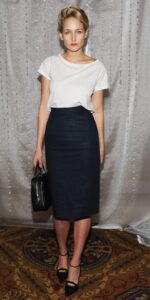 Basics are best when it comes to office wear as you want to be comfortable enough while sitting in the office for a whole long day. You probably don't want to wear something too tight like skinny jeans or wide-legged jeans as they are too casual. So for a moderate formal look, it is best to pair your round neck t-shirt with a pencil skirt as it will make you feel comfortable. You must pair it with heels.
Printed white t-shirts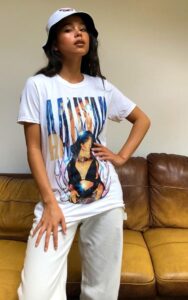 Printed t-shirts are just the best and the most amazing thing is that you can get a print of your desire on white t-shirts as there are many stores which offer to customize. You could keep it minimal or go a little extra as per your choice. Printed shirts have always been in trend. The best way to wear them is with a fine pair of jeans. If you choose skinny jeans then pair them with heels and with wide-legged jeans paired with sneakers for a vintage look.
Turtle neck t-shirt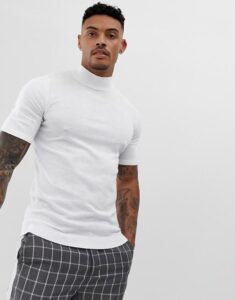 Turtle neck white t-shirts are just perfect especially for boys as they make you appear like a gentleman you can pair them with overcoats and blazers for a sophisticated look and even solely with pattern trousers for a lunch date. For a formal look, you can pair this t-shirt with plain trousers. Also, don't forget to add accessories with your look for a funky look add charms jewels and for the office, look wear your watch and that's it you are good to go and impress the ladies out there.
Oversized t-shirt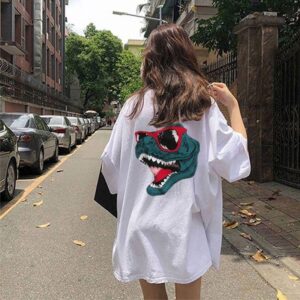 For a breezy summer look, nothing could beat an oversized white t-shirt ever. This is the most amazing color to be worn during summers and on top of that, you can beat the extreme summer heat with your cool look. You can pair oversized jeans with slouchy jeans or colored wide-legged jeans for a casual look. For a beach look, pair your printed oversized t-shirt with shorts or bicycle tights. It is just the perfect outfit for vacation and nothing could beat this outfit. And for footwear go for crocs or sneakers depending on the place you will be visiting.
Full sleeved t-shirt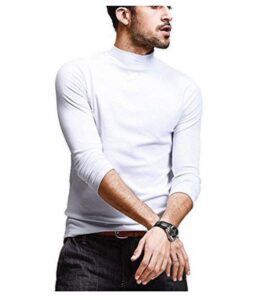 We all know that nothing could be better than white top wear in summers but what about the free tan we get along with the heat of summers. Well if you are someone who gets tanned too early and that too severely. Just go for full-sleeved t-shirts that will help you shield your sensitive arms from the scorching sun and also give you a comfortable and classy look. You must have observed that arms in full sleeves look good and look good in appearance be it, men or women.
Cowl neck t-shirt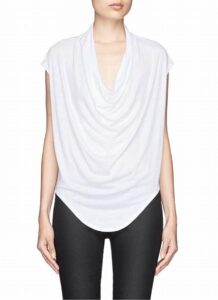 If you want to wear a basic but not so basic white t-shirt then just opt for this cowl neck white t-shirt not too basic you will love this look and you could pair it either with jeans or skirts. Cowl neck design has been trending lately and you should not stay behind while it concerns fashion and styling just modify your basics by adding the latest trends modification.
3/4th sleeves t-shirts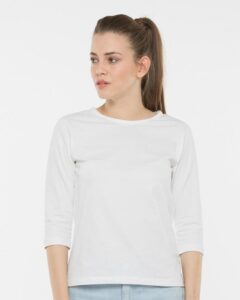 For office wear, nothing could beat 3/4th sleeve t-shirts as they come in handy for formal looks. You can pair them while layering for fall for a monochrome look or any other blazer for office meetings.  And the best part is that with 3/4th sleeves you can try any neck design you want as a stylish neck design with sleeves will balance the formal design of your attire to not make it appear extra.
Ruffled t-shirt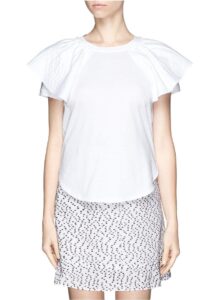 Last but not least comes this ruffled t-shirt little ruffles never hurt. If someone is throwing a theme party and the theme is white you cannot just wear a basic white t-shirt because you will end up matching with someone else and it might look boring so pair your ruffled tee on such parties to get a not-so-basic look.
Please follow and like us: