The Best Summer Outfits For Men & Women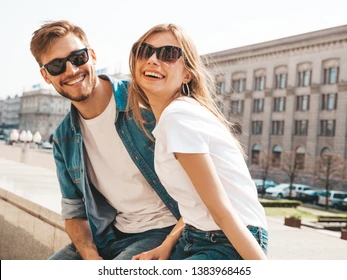 Shorts and Floral Shirts
One of the nicest aspects of summer is blooming flowers, whether they are in a field or on your clothing. Men should wear cotton shorts and a half-sleeved flowery shirt for an unassuming yet eye-catching ensemble. The flower motifs might be little patterns or large ones that cover the entire garment. Additionally, this appearance is fantastic for vacations. Our standard hue for the shorts is still khaki/beige.
Men's T-Shirts with Shorts and Sneakers
If you're not a fan of earthy or vibrant color schemes, make neutrals your best buddy for the season. An excellent smart casual summer outfit for men is an off-white or white tee layered over a pair of light-colored shorts, white sneakers, and a black laptop bag. You can do this for casual meetings or just to appear professional while working from a Starbucks by selecting some of the brands like Joven!
Color blocking in solids and prints
The colors are for summer! We're not advocating mixing up every random color in your closet, but we are suggesting sticking to a specific color scheme. Give in to designs like stripes, mini-florals, etc. to counteract the blue hues with a neutral element. Avoiding excess is the greatest approach to mastering summer attire for men.
Shirt in White and Espadrilles
Not all summertime footwear is as heroic as canvas sneakers! Espadrilles are unquestionably one of the most underappreciated shoe styles. They match the majority of your clothing because they are made of cloth rather than more conventional materials. This holiday season, we suggest wearing them with a loose-fitting white shirt and slim-fit cotton slacks for a lunch date. If you'd like, you could leave the top button unlocked!
Baseball cap, vest, tee, and shorts
The baseball cap has got to be the one accessory that always comes through, no matter the season! Baseball caps are quite stylish and functional, and they work with practically any casual outfit. They look great when worn with a vest or a simple tee. As one of the more summer-appropriate styles of shorts for guys, trade in your chinos for some shorts. The final step is to add eyewear.
Using An Outer Shirt to Style
Want to dress stylishly this summer? Here's a smart way to dress up your laid-back summer shorts ensemble. To see the magic, simply layer a cotton button-down shirt over your ordinary summer t-shirt. Look at how cute this boy looks wearing a white basic t-shirt, cotton shorts, and a button-down jacket!
Printed midi with high-low tiers and a white tee as a base top
To welcome summer, midi skirts with lovely flower prints are the ideal bottoms to wear. This skirt looks fantastic with a simple t-shirt in a solid color and has an asymmetrical high-low hem with lovely tiers. Put your tee in a front knot that hangs just above the waistline of the skirt, and accessorize simply with a simple pair of hoops or a modern rose gold necklace with a pendant.
Cycle shorts, an oversized graphic top, and sneakers
Cycling shorts are now popular, and given the continued popularity of athleisure clothing, we don't see them going out of style anytime soon. So to get the most out of this look, team it with an oversized graphic t-shirt and a pair of white athletic sneakers. Congratulations, you are now prepared for summer.
Gold link chain and a muscle tee with paper bag denim shorts
Combining a sturdy muscle tee with a pair of denim shorts is one of the trendiest casual summer looks. We'd advise teaming paper bag denim shorts with a tightened high waist to inject some 2022 fashion aspects into the scene. Unlocking summer's casual, hipster, and laid-back looks.
Shirts with no sleeves and polka dots
There have been other variations of this top and bottom look using coordinates, which is another recent rage. If you ask us, there is nothing better than a light pair of coordinated clothing to wear to celebrate the return of summer. One of the classiest casual summer outfit ideas that we've pinned has a bralette top with ruffles at the sleeves and tie-up details complementing the polka-dot hem of the miniskirt.
Maxi Dress without Sleeves
On hot summer days, all you need is a maxi that doesn't cling to your body and pulls away from it. Add modern touches to your evening attire, like this light blue Rosher dress by Nuon. This item, which has a maxi silhouette and a tiered base for more elegance, features delicate flower designs for a stylish look. The bodice's ruched detailing ensures the right fit.
Dress in a Solid Sheath
Talk about loving the summer. This sheath dress is designed to make you stand out whether you're in a formal situation or a casual one. The dress adds a touch of luxury to your appearance with its solid color, three-quarter sleeves, and straight hemline. For events like brunches or dates, wear yours with flat sandals, gold jewelry, and a straw bag.
Please follow and like us: