The 15 Best American-Made Watch Brands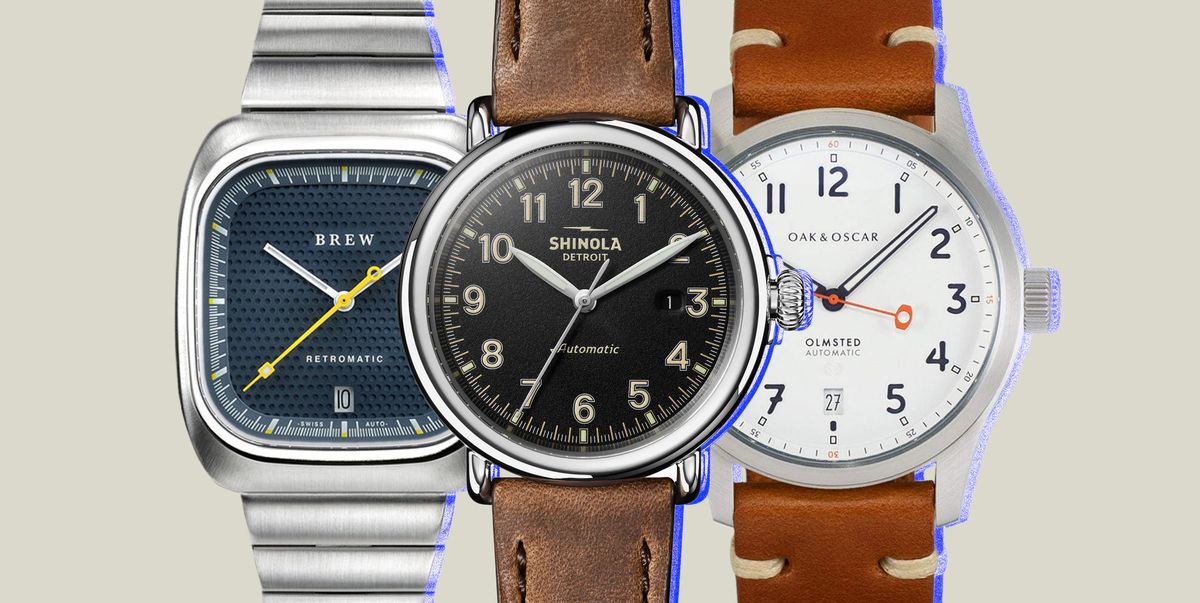 Vortic 
By restoring vintage watches with American-made straps, cases, spacers, and crystals, Vortic adds a clever twist to the history of American watchmaking. The creators decided to concentrate on giving worn items a new life after being inspired by the millions of American-made timepieces that were once produced on US soil and passed down to younger generations. Vortic is available if you want to sell an heirloom or are wanting to buy a unique and locally crafted timepiece.
DuFrane
The motto of DuFrane Timepieces is "History Remembers Those Who Are A Little Bit Different," and it only takes a few seconds of website browsing to realize how distinctive these limited edition watches are. Each DuFrane watch is named after a famous person or iconic Austin, Texas location. For instance, the business's most recent model, The Travis, is named for the Lake Travis reservoir. Additionally, the company offers free US shipping, worldwide shipping, and GMT watches for travellers.
Weiss Watch Company
California native Cameron Weiss started the Weiss Watch Company in 2013. He returned to Los Angeles after receiving instruction from Swiss watchmakers to hand-design luxury timepieces and revitalize watchmaking as an American craft. Each piece from Weiss features cases, dials, spring bar tools, straps, and packaging created in the USA. The concepts, traditions, and craftsmanship that go into creating a wristwatch that lasts a lifetime are championed by Cameron and his colleagues in addition to their work as watchmakers. Made specifically for you, taking into account every last detail.
RGM
Since 1992, RGM has been laying the groundwork for the resurgence of watches made in the United States. The business was started by Roland G. Murphy out of a love for the long history of American watchmaking. The movements and finishes of RGM watches are modest but elegant. Start your search at Mount Joy, Pennsylvania, if you're looking for a fantastic timepiece that was made in America. (And RGM does have alternatives for custom and trade-in items.)
VAER
The ability of founders Ryan Torres and Reagan Cook to collaborate directly with assembly workers for design comments that might be overlooked in offshore production is crucial to VAER's dedication to outstanding design. The company's culture is centered on power, heritage, and craftsmanship, but its primary driving concept is sustainability: Early prototypes were subjected to rigorous testing, such as immersion in boiling water and exposure to high altitudes, to ensure a durable and sustainable design.
Shinola 
Trendy bicycles, denim, leather, and other products have helped Shinola become an empire. Even President Barack Obama has backed the company, and the watches have gained the open endorsement of magazines like GQ and Vogue, creating something of a cult following outside of Detroit. Shinola watches are more American-built than American-manufactured, but the company makes the list for generating more than 500 employment, employing eco-friendly materials like plastic waste from the ocean, and producing lovely watches at reasonable prices.
Pelton
Pelton was established in 2016 to introduce high-end watchmaking to the USA. The cases and bracelets are produced in-house with the aid of precise machinery before being hand-finished using age-old methods. The components are also made to order, therefore the wait was well worth it due to the high quality of the craftsmanship. Choose from three different styles of leather or the company's trademark stainless steel band. Whatever you decide, you'll undoubtedly look e
Kobold 
Since the company's mission is to "embrace adventure," these primarily American-made timepieces are engineered to withstand the elements. To collect money for the Navy Seals Fund, founder Mike Kobold and his wife scaled Mount Everest in 2009 and 2010. It now produces watches and watches straps in its own US workshops, and in 2012 it also partnered with a German business and created an atelier in Kathmandu. Only a few of each model are left, so order yours right away!
Detroit Watch Company 
Detroit Watch Company creates contemporary, American-made timepieces and is renowned for its swagger and work ethic. Since Amy is a native of Detroit, the brand was formed by a husband-and-wife design partnership. Each watch in the collection pays homage to Motor City. While these watches are made in the USA, the movements are sourced from several international suppliers. Browse this collection for a timeless piece that pays homage to the Midwest.
Talley & Twine 
The team behind Talley & Twine, a Black-owned watch company, thought that other watch firms merely copied one another. So it set out to make attractive, high-quality timepieces that were also reasonably priced. You may match your wrist to your outfit by selecting from a variety of leather, canvas, and metal bands with faces that range from subtle pearlescent to silver and gold. The number "7" on the faces stands for the seven days of the week as an inspiration to finish what you begin.
Autodromo
Autodromo connects the worlds of horology and motorsport, much like a number of its European competitors. These watches don't have any gimmicks and are less expensive than some of their European competitors. Each of them, which takes its cues from the 1960s and 1970s dashboard gauges, keeps to the fundamentals to great success. If you choose a quartz-powered model, you can purchase a recognizable timepiece for less than $1000.
Devon
Devon is your American watch brand if you value utmost distinctiveness. This US-based brand, which falls on the pricier end of the scale, goes all out in terms of form and functionality. The company doesn't even name some of its own goods "watches," instead referring to them as "time belts." As a result, devices like the Tread 1D resemble and function like miniature conveyer belts. From then, things just grow stranger.
Martenero
John Tarantino, the founder of Martenero, quit his job in real estate in 2014 to start this prestigious American watch company. Tarantino was successful in obtaining the funds he need with the help of the crowd-funding website SeedInvest. Five years later, the company is still growing thanks to its minimalistic design.
Lüm-Tec
True to its name, Lüm-Tec watches cram sturdy mechanisms and brilliant displays into surgical-grade stainless steel cases. This family-owned business is a division of Wiegand Custom Watch, LLC, which has been making watches by hand in Ohio for more than ten years.
Brew
Brew creates watches based on commercial coffee makers, as their name suggests.From the more conventional inspirations, such automotive sports and diving gear, this is unquestionably a creative departure. But I appreciate the coffee link since it gives guys more options when looking for watches that complement their personalities. After all, not all of us are "rugged adventurers."
Please follow and like us: