Polki pearls jewellery ideas for royal look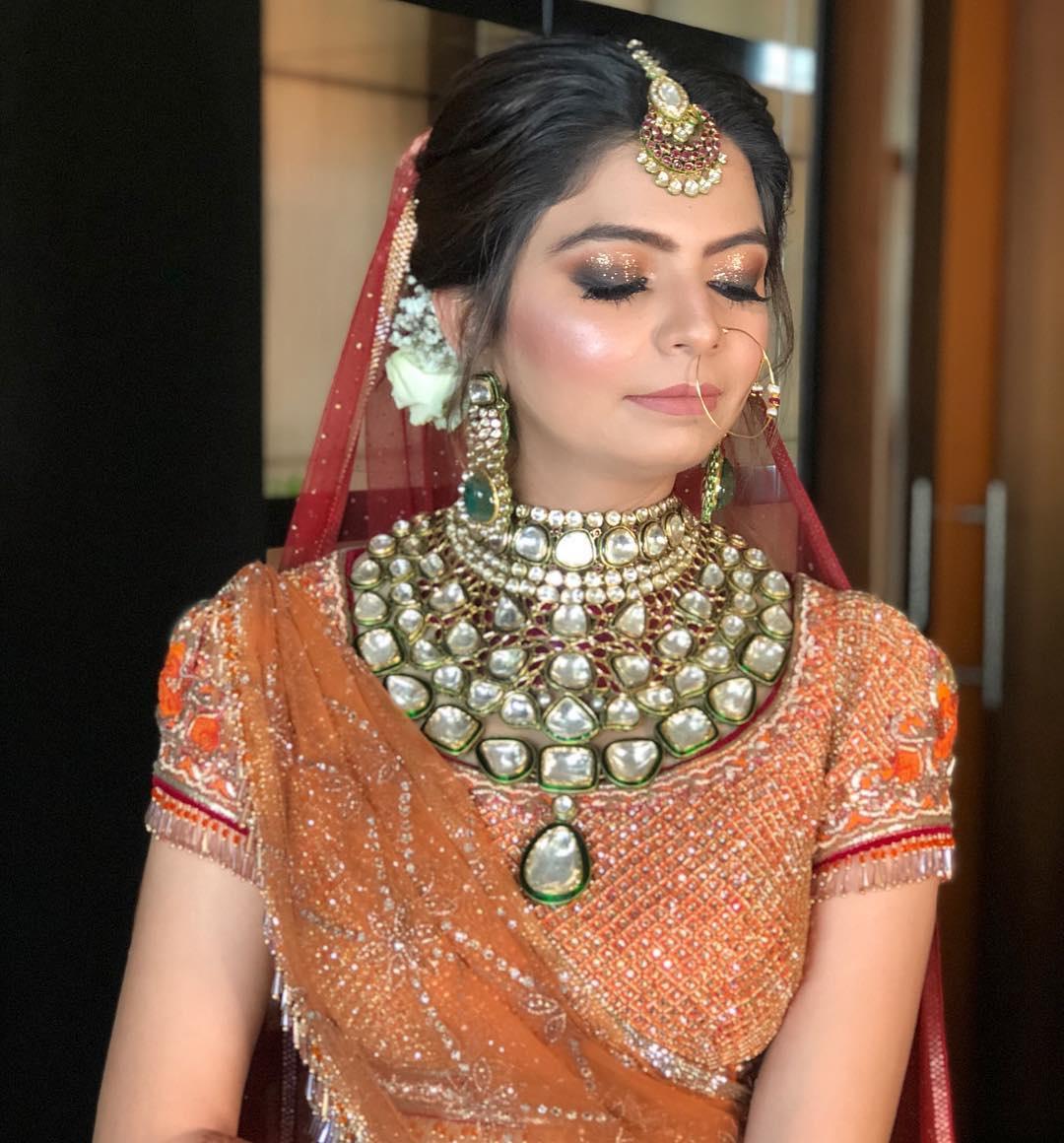 A wedding is a special occasion for everyone and calls for the use of the most expensive jewellery with rare stones and pearls. The most lovely addition you can make to your bridal trousseau is a pearl wedding necklace. Genuine pearls are the epitome of brilliance, and their radiant lustre makes them a stunning addition to your carefully chosen bridal attire. With these seductive pearl wedding necklaces in your jewellery box, you may add a touch of nobility to your outfit.
Pearl and Ruby Mesh Necklace Set
This pearl bridal necklace's exquisite design and carefully selected pearl stringing are what give it its attractiveness. The brilliant stones on the pearl wedding necklace are meticulously hand-selected and fashioned, resulting in a necklace fit for a bride's outfit. To give your outfit a finished look, pair it with the matching earrings that go with the necklace, as well as beautiful bangles and a maang tikka.
Gold necklace set with pearl drops in a mango design
Here is a delicate pearl wedding necklace with the most amazing pattern and embellishments on it if you're looking for something special and exciting to match your bridal outfit. Under the beauty of polished pearls, the bright base of gold radiates with brilliance, completing the aesthetic of this necklace. This pearl wedding necklace completes the style of your clothing on its own and looks lovely paired with diamond bangles.
Gold Necklace with Kakamoti Pearl String
If you're looking for something traditional, consider this lovely pearl wedding necklace with a detailed carving of lords on a sizable piece of gold. The pearls and gold beads are strung together on delicate strings. You can wear this pearl wedding necklace alone, depending on your taste, or pair it with a choker for a more opulent appearance.
Pearl and Multicolored Stone Polki Haram Necklace
This pearl wedding necklace is made up of priceless gems, pearls, and a brilliant gold foundation. This necklace's captivating and classic style features dexterous carvings and embellishments that give your attire a royal appearance. This necklace is everything you need on your wedding day on its own. To complete the appearance and shine brilliantly like a goddess, add a set of gold bangles and maang tikka.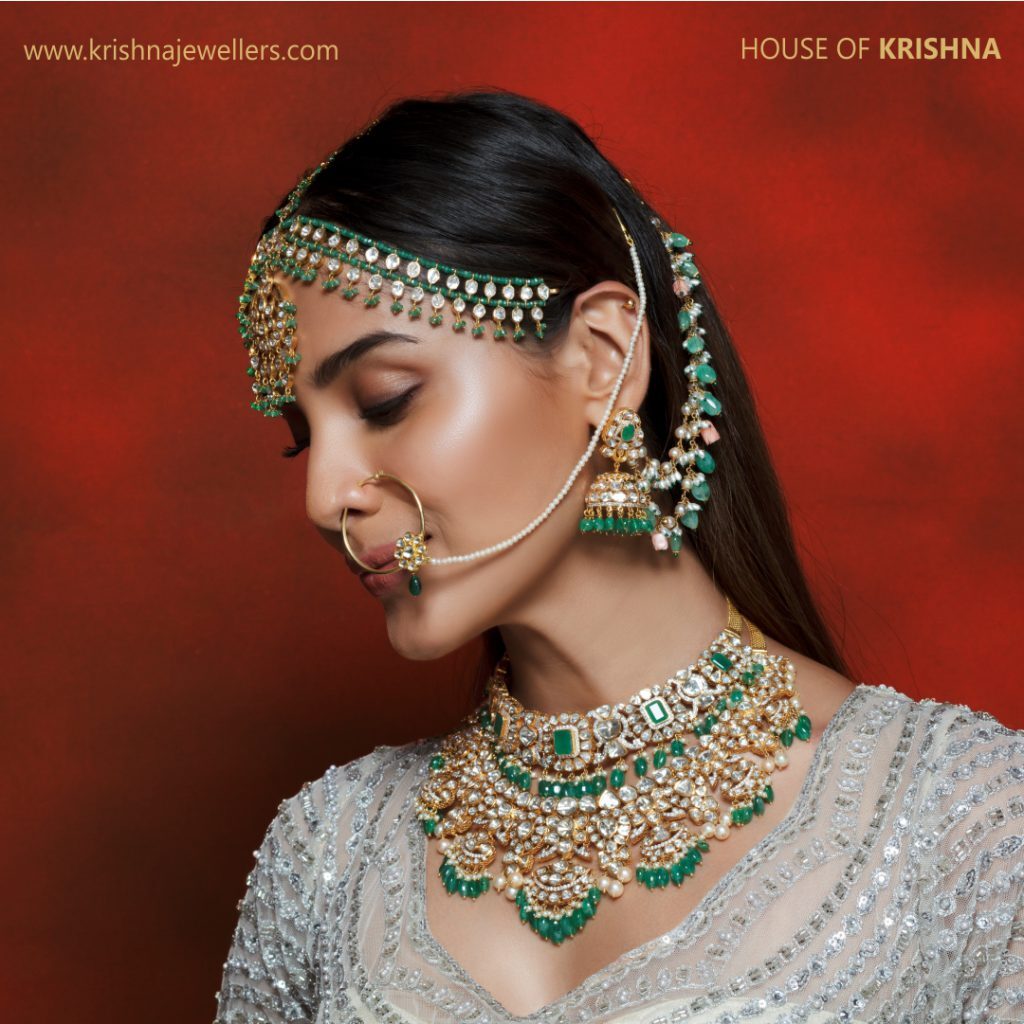 Polkis in a Polki Set: Types
Three popular types of Polki jewellery are Kilwas Polki, Syndicate Polki, and Zimbabwe Polki. Any bride, bride's mother, or bridesmaid who likes the classic, old-world charm will look beautiful wearing any of the three styles of Polki set. Additionally, if you're seeking viral trends, you can learn the Hyderabadi Polki and open Polki styles:
Bangalore Polki
The silver version of the regal jadau jewellery is the Hyderabadi Polki set. The Hyderabadi Polki is far cheaper than gold jewelry and has a unique style all its own.
Open polka
Diamonds or other valuable stones are used in an open Polki set without an enamel backing. The way the gold frame is designed to contain the diamonds while allowing light to pass through adds a special touch to the Polki set's retro appeal. Observe the impact of the longer necklace in the photo above.
Jewelry by Jadau Polki
The most recent additions to bridal jadau Polki jewelry include rubies and green stones in addition to the Polki set and stone variations mentioned above. On Instagram, you could see several celebs wearing these Polki set looks. Even though Kundan is far more expensive and valuable, the jadau Polki sets stand out due to their subdued brilliance.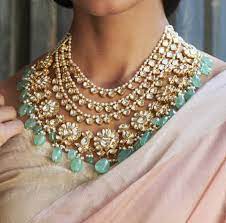 Choker in Polki Kundan
The primary distinction between Polki jewellery and Kundan sets is that Polki jewellery uses large uncut diamonds or precious stones that are in their natural, unprocessed state. Kundan uses machine-made, flawlessly cut, and highly polished glass pieces, as opposed to Polki. Kundan lacks that rawness and priceless essence since it reflects light like a mirror.
Diamond Polki
The newest additions to bridal Polki jewellery include diamond polki, rubies, and green stones in addition to the set and stone variations mentioned above. On Instagram, you might see several celebs wearing these diamond Polki set types.
Genuine Polki jewellery
Choose the extravagant real Polki jewellery and chokers in diamonds, rubies, or even pearls if you wish to keep your wedding attire basic while still adding a regal touch.
Please follow and like us: