Leather Dress Pants- 10 Ways to Rock These Bottoms This Season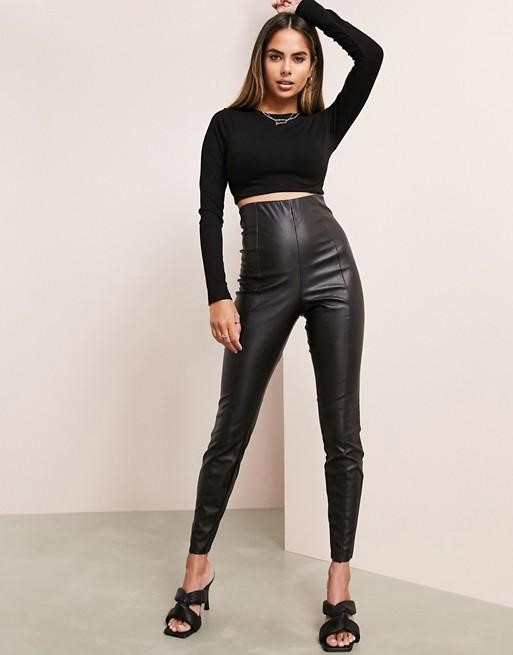 Leather Dress Pants- 10 Ways to Rock These Bottoms This Season
It isn't an over-exaggeration if we call leather pants an evergreen trend right? You could wear them anytime of the year and for all possible occasions. Leather pants can be difficult to style, especially if you aren't used to wearing them. We understand your frustration because we've been there when we want to try out new trendy goods but are unsure if they are right for us. The point is, the item will almost certainly be ideal for you. You only need a little help with the styling. That's when we arrived to assist you. In this post, we'll show you how to wear leather trousers in the most stylish way possible. We guarantee that you will not be unhappy and that you will be able to style any leather pants like an expert.
The most important thing is to choose the fit of your leather bottoms as the wrong fit and style could ruin your complete look. You can choose any cut be it straight, bell bottom, skinny as per your comfort and desire. Although, we would suggest you buy a straight fit as it seems comfortable and can be styled in so many ways.
10 ways to rock these bottoms this season:
White shirt and black leather pant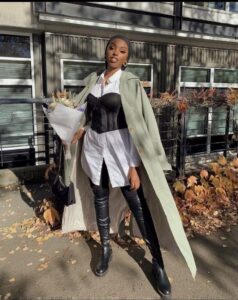 Nothing could ever beat the classic white shirt as it gives such a feminine and bossy vibe. If you want to get a sharp and boss lady kind of look, pair your black leather pants with a white t-shirt. You can choose any crop or long shirt as per your body type and comfort. Now accessories play a major role so you can add chunky gold earrings and boots that too black high heels or high heeled boots will complement your look ideally.
One more trending thing you could do is wear a corset or corset belt over your shirt as it defines your waistline beautifully and accent your look elegantly. You must try this look for your next appearance.
Vibrant sweater with leather pants
A slouchy sweater with leather pants is just bestest ever combination for winter parties. High neck sweaters have been trending lately so you must try pairing your sweater with pants and do open yours with this look. Also, boots look perfect with such looks but heeled ones as your height has a major impact on your looks.
Monochromatic look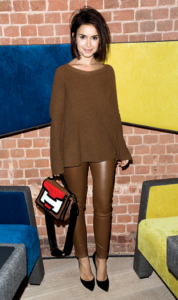 The attractiveness and minimalism of a monochromatic ensemble should never be underestimated. This easy-to-wear yet bold combination never fails to catch the eye and draw attention, and for good cause. Sometimes the most straightforward fashion choice is the most effective. Also while we say monochrome that doesn't mean just black or white try any color you like. Although we would suggest brown tones as they look rich and classic.
Leather pants with cut-out tops.
You can pair your high waist leather pants with cut-out crop tops for a chic look. It looks perfect and feminine. Especially if you are petite, then this look will suit you perfectly. High waist pants are perfect even if you got belly fat as your pants will hide that for you.
Add some colors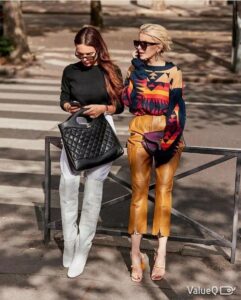 As we are totally against boring styling so we insist you add a pop of colors to your attires. Wear your black leather pants with complementing sweaters and boots to add some color to your ensemble. Pick a red sweater and match it with a pair of gray suede shoes, and you've got yourself a go-to winter ensemble. You can complete your style with additional winter accoutrements, such as a scarf or a hat.
Blazer with leather pants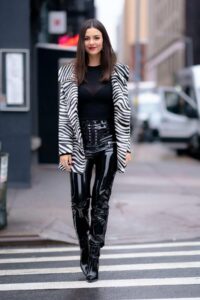 For a sleek 90s style, pair your wide-leg imitation leather pants with a leather blazer and perhaps a simple shirt. Simple accessories will complete your style. This style has such a 90's bossy vibe about it that you should also wear your goggles to complete the look. Wide leg bottoms are wide and give you a traditional vibe and look, so don't forget to bring your tiny bag with you. Choose a jacket in a larger size, as a tight-fitting blazer will not appear as stylish with leather pants.
Leather pants with a tube top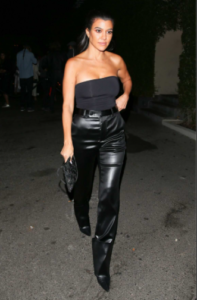 Now Kourtney Kardashians is a great inspiration for this look as she paired a jet black tube top with leather pants and it looked classic. You can also play with colors as per your preference, As you no longer have to adhere to the basic black color you can buy plenty of colored leather pants and that too in prints. You can add a chunky neck chain if you like to accessorize your look.  With a tube, the top bun looks great. Although for the comfort you can open and curl your hair too.
Leather Pants with a fur coat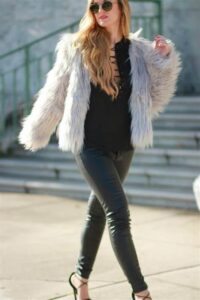 Fur coats are the comfiest ever and if you want to stay warm yet look trendy on a winter day. Without any second thought just pick up your fur coat and pair it up with your leather pants. You don't need to add any accessories with this look as it would look too hefty then. Just keep your hair open and pair it with your boots and you are good to go.
Sequin top and leather pant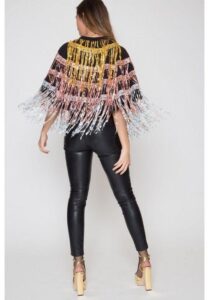 In the era of fashion and styling, you cannot stop taking risks. It might sound a little too extra but just try it out and you won't regret it. Pairing your sequined top with leather pants is just a chic thing and you must start this trend. With this look, you should pair your pointed heels with leather pants. This look is a complete party look. And without a doubt, people will compliment your deadly combination.
Leather pants with a cardigan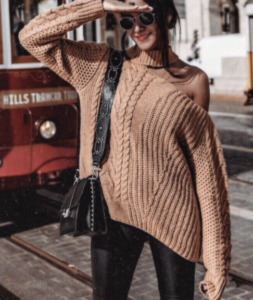 Wearing your leather pants with a gorgeous cardigan is also a great combination.
You can wear a lightweight cardigan on such transitional days. When the weather becomes colder, a thicker knit cardigan is the way to go.
We enjoy wearing our leather pants with knit cardigans because they instantly elevate a casual look. This is a fantastic alternative for the fall season!
Please follow and like us: