Everything You Should Know About the Hair Color Trend "Gray Blending"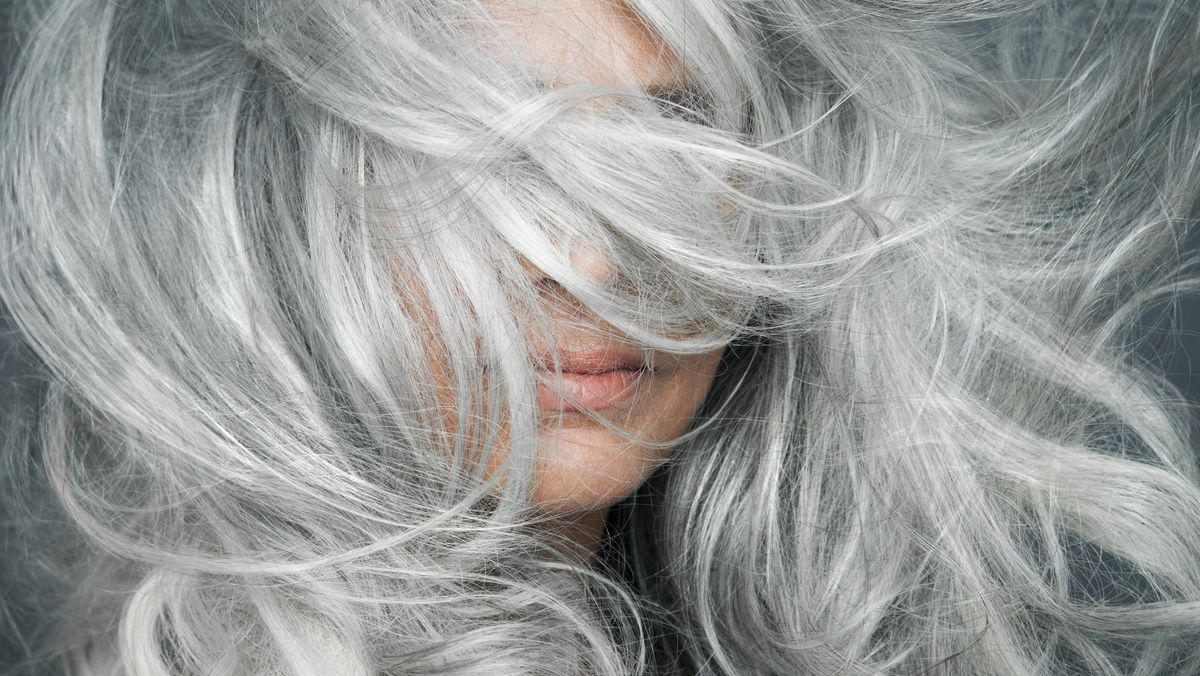 Gray hair does not appear anywhere. Melanin production (the natural pigment that gives color to our skin, hair, and body) has been destroyed over time, giving manes a more translucent, greyish tone. It's a visual indicator of the passage of time, and in the past, many people's instinct was to hide greys. However, as a result of the body positivity trend, more women are going toward a natural look. What is the hair motto for 2022? With little subtle highlighting, embrace what you have naturally. Enter: The new hair color trend of "grey blending," which allows for a smooth transition to silver hair.
How do you include the "grey blending" trend?
Gray blending is a hair color technique that alternates between highlights and balayage. The colorist will brighten vast portions of hair with a light balayage, then amplify the effect on a few finer strands to mix in the grey hair that is naturally there, similar to a game of chiaroscuro. The result? The contrast between lightened strands and hair that is still saturated in color appears more natural, adding depth to the mane in harmony with grey hair streaks. The benefit is that it can be done on any original hue, whether it's a dark brown, a warm red, or a bright blonde. As an added plus, the coloring is pretty light and takes minimal care, so frequent appointments to the salon are unnecessary.
"Gray blending," which is ideal for boosting silver tones, enabling you to move to grey hair smoothly and can be strengthened as the hair fiber fades over time. This new hair trend is here to stay since it is easy to manage, respects the integrity of the hair, and, most importantly, sends a powerful message of self-acceptance.
The idea is that by incorporating more highlights and balayage, you may counteract or accentuate your grey strands for a more natural, low-maintenance style that will last the duration of the pandemic. "With the continuous constraints, there has been a shift in attitude and a need for flexible solutions. "I've been using a lot of gray-blending methods on my clients—and I love it!"
What may have begun as a necessity, many people now prefer the look over the costly care and periodic touch-ups of the past. "Many women no longer want to go for block coverage, and we've accepted that they're seeking for other techniques to disguise their grey hair.
The process, like traditional balayage, creates light and shade throughout your hair. To break up color blocks and make hair look multidimensional, sweeping areas of highlights are blended effortlessly in among other strands. The distinction here is that the highlights' tones are purposefully chosen to either blend away or highlight greys.
For example, ash grey and cool-toned blondes can transform greys into a tonal masterpiece that reflects light away from the face.
Is Gray Blending the Right Choice for You?
Gray blending is becoming a popular hair color trend as more women and men accept their grey hair and use it in their style rather than trying to cover it up or hide it. Because your natural hue influences the ultimate look, your stylist can assist you in developing a color and style that is both unique to you and on-trend.
A grey blending service is ideal for individuals who:
You might not be ready to go grey.
Don't want full grey coverage or all-over hair color?
They like the natural tone of their grey but want it to be more dimensional.
Looking for a low-maintenance color?
Want to make the shift from heavily colored hair to something more natural-looking?
Advantages of Gray Blending Techniques
Blending grey hair rather than hiding it is an excellent hair coloring service to try at the first indication of grey hair. The technique has several advantages, including:
Lines of demarcation that are more delicate or less evident as roots grow out
Fewer salon visits for touch-ups
Gray coverage is less than that of all-over permanent color.
The finished style demonstrates sheen and depth while also producing color movement and contrast.
Less upkeep than other mixed coloring procedures such as balayage, highlights, or lowlights.
If the desired color is the same level or darker than the natural hair color, it can be done with semi-permanent or demi-permanent colors. This is a less damaging alternative for hair cuticles, as it protects the natural protein of the hair.
The Drawbacks of Gray Blending Techniques
There aren't many disadvantages to blending grey hair, but it can be expensive if coloring services are utilized, and it's only temporary, as with any hair color treatment. Gray blending simply conceals grey hair; it does not cover it up. If you're used to frequent all-over color treatments, it may take several sessions to convert to a grey blended look. Gray blending is probably not the ideal solution for you if you are allergic to hair coloring products.
Please follow and like us: