Dress Code for a Casual Wedding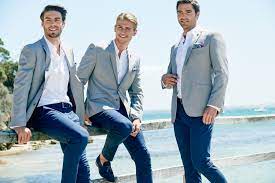 Sometimes it's simpler to start with what not to wear when deciding what to wear. Unless the invitation clearly states otherwise, stay away from jeans, shorts, tank tops, and tennis shoes. Sandals might be tough since some people might think they're too informal for a formal occasion like a wedding, while others might argue that they're perfect for a laid-back beach wedding. Once more, let the invitation serve as a guide for you.
What is Comfortable Wedding Clothing?
Simple, easy-to-dance-in apparel qualifies as casual wedding attire; avoid anything elaborate or garish. Since outdoor weddings are the norm, this kind of outfit ought to be appropriate both during the day and at night.
In the fall, you can wear either a non-tie casual suit or a dark coloured jacket and dress pants. A midi dress made of silk or chiffon for women. Feel free to layer on a sweater if it's cold. To make your casual outfit more distinctive and a reflection of your individual taste, experiment with quirky fabrics, patterns, and accessories.
Micro prints
Although we adore large patterns (more on that to come! ), smaller prints will finally get their due in 2021 and 2022. One of the most wearable trends on our list, teeny small designs instantly elevate a groomswear ensemble. They can be found on anything from jackets to ties, waistcoats to trousers. Keeping the rest of your outfit minimal is essential for this style. A microprint jacket, for instance, looks great with a block-color waistcoat and a pair of pants.
Year-round tweeds
We adore tweed groomswear designs for the colder months, but on a warm Spring or Summer day, neither the weighty fabric nor the prickly surface of a typical tweed is comfortable to wear. Instead, choose a jacket or waistcoat in a textured fabric to achieve the same high-end, rustic vibe that looks wonderful at a venue decorated like a country house wedding but is still a delight to wear.
Larger checks
With your wedding suit, checks are a terrific way to create a laid-back atmosphere while still looking sophisticated. These days, the bigger the check, the better! If you're planning a casual, bohemian wedding, oversized check prints are a surefire pick that looks amazing both in person and in photos.
Burgundy, red wine, and wine
While the safest pick for grooms is undoubtedly a suit in a shade of blue or grey, wearing a red or burgundy suit is a proven way to stand out on your wedding day. However, a two or three-piece suit in a deeper shade of wine, maroon, or burgundy is simpler to match with the other parts of your day. Recently, we've seen a lot of genuine grooms try pinks and reds. Combining different red hues is also a great idea, especially if you alter the texture, such as adding a red velvet bow tie to a wine suit.
A Tailored Fit Grooms
Still prefer slim-fit suits, and in 2022, it will all be about the tailored fit. We're talking about a form-fitting fit that is snug but comfortable and slightly tapered at the waist and ankle. The result has a clean, modern, yet slightly retro aesthetic; picture Don Draper from Mad Men, and you'll get the idea.
Beige, Off-White, and Cream
Summary colors of cream, beige, and stone are quickly gaining popularity in casual clothing, so it makes logical that they would show up in groomswear as well! Light-colored, neutral suits look great in summer or at destination weddings, but with the appropriate styling, they can be worn year-round. You may achieve a similar effect by wearing an off-white jacket with traditional blue pants and a waistcoat if you're unsure that you can keep a light-colored suit looking pristine for the whole of the day (you will, after all, be surrounded by glasses of red wine!).
Button contrast
Black tuxedos still look smart today just as they did when they originally appeared in the late 1800s, but if you want to update this timeless appearance, a contrast-button shirt is an easy way to do it. This one works especially nicely if you plan to wear a bow tie on your wedding day.
An eye-catching waistcoat
You can follow trends and play it safe, so don't worry if you're conflicted. Try combining one of the styles from our list by wearing a traditional jacket and pair of pants with a striking waistcoat in a contrasting color or print.
Complementary Accessories
Precise color matching is now again in vogue, giving off a sleek, professional appearance that harkens back to the golden age of tailoring! It used to be a trend reserved for the wealthy, who could afford to have their accouterments dyed to match, but suddenly it's within the reach of contemporary grooms, thanks to companies like Benetti Menswear.
Please follow and like us: