2022 matte eye shadow palettes on Amazon under $100
No high-end makeup look can be completed without eye makeup and for that, you need pigmented eye shadow palette so that you could play with colours on your eyes without running your foundation which happens with non pigmented eye shadows. Usually, people apply lipsticks or blushes on their eyes but that's not a good practice as it might irritate your eyes especially if your products are not organic and the same goes for low-quality palettes.
Although, eye shadow palette is indeed an investment that is often costlier than other basic makeup products it is worth it for your sensitive and beautiful eyes to appear even more elegant. Matte eye shadows are considered best because they give depth to your eyelids without calling emphasis to any lines and wrinkles, which is extremely significant for ageing skin. While matte eye shadows don't have the same sparkle and glitter as cream eye shadows, they possess greater pigmentation, which means good coverage and a softer blend.
Now matte makeup looks are trending so in 2022 you can witness matte makeup looks more than ever as no person loves subtle and softer looks than glittery ones. Also, you can add glitter over your nicely pigmented eye shadow with a good base. So for the 2022 makeup adventures that you want to explore we have mentioned below the matte eye shadow palette on Amazon under $100.
Too Faced Gingerbread Extra Spicy Eyeshadow Palette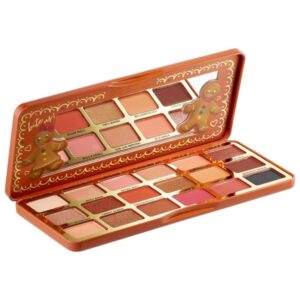 The Too Faced Gingerbread Extra Spicy Eye Shadow Palette is an 18-pan eye shadow palette based on the rich flavours and hues of freshly baked Christmas delicacies. This gingerbread palette bakes with warm, sultry, smouldering tones to turn up the heat. With 18 hues that smell like scrumptious gingerbread cookies, you can create rich and spicy everyday looks, piping hot evening looks, and everything else in between.
Also Read: 18 SLIPPERS OF VARIOUS TYPES (TYPE, COLOR, DIFFERENCES, APPEARANCE)
For a range of stunning styles, choose from sheer to highly saturated hues. For a one-swipe payoff, this lipstick is highly pigmented. The creamy texture blends and wears beautifully. It smells like delicious gingerbread. Shades that are devoid of cruelty.
Bobbi Brown Luxe Metal Rose Eyeshadow Palette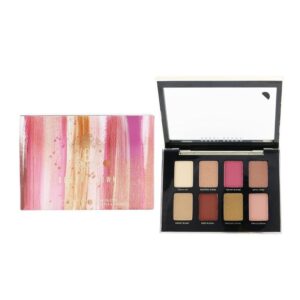 Eight smooth shadows with creamy-matte and metallic finishes and luxury, multi-textured effects are included in this palette.
Pure mattes enable you to create and mix for a multitude of rosy-hued looks, while a bouncy, creamy texture gives high-impact, diversified shine in a single swipe.
Chanel Les Beiges Healthy Glow Natural Eyeshadow Palette – Light Women 0.16 oz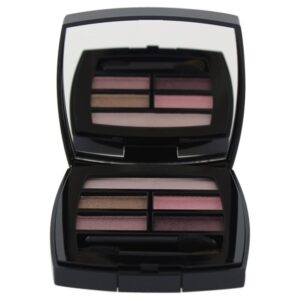 A neutral-toned makeup palette with versatility. A soft-hair brush applicator is included for a smooth, even application. From gentle to powerful, there are five smudge-proof, long-lasting colours to choose from. The colours range from matte to sparkle. Colours can be used as a base, highlighter, or liner.
Rare Beauty Discovery Eyeshadow Palette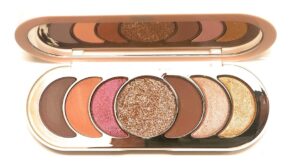 The Rare Beauty Discovery Eyeshadow Palette contains seven various colours, allowing you to create a wide range of looks by mixing and matching them. Whether you like matte, glitter, metallic, or mixed finishes, this eyeshadow palette has you covered.
Enjoy vibrant hues that endure a long time and don't fade. Each shade is crease-resistant and will not fade throughout the day or night. The Rare Beauty Discovery Eyeshadow Palette contains seven various colours, allowing you to create a wide range of looks by mixing and matching them. Whether you like matte, glitter, metallic, or mixed finishes, this eyeshadow palette has you covered.
Enjoy vibrant hues that endure a long time and don't fade. Each shade is crease-resistant and will not fade throughout the day or night. Vegan, cruelty-free, paraben-free, and, most importantly, dermatologist-tested and skin-friendly.
Urban Decay Naked2 Basics Eyeshadow Palette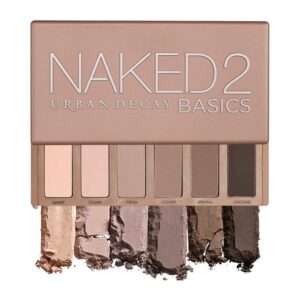 The Urban Decay Naked2 Basics eyeshadow palette is a compact, travel-friendly palette with six neutral matte shades that complement a wide range of skin tones, from cool and olive to richer hues. Skimp, Stark, Frisk, Cover, Primal, and Undone are among the cruelty-free colours in the Naked2 Basics palette.
This eyeshadow palette is great for producing simple eye looks or as a base for rich colourful eyeshadows and dramatic eye looks, with six ultra-versatile taupe-hued nudes. Our unique ingredient blend provides velvety texture, rich colour, and excellent blend-ability in every shade in our paraben-free, sulfate-free, and phthalate-free eye shadow palettes.
Huda Beauty The New Nude Eyeshadow Palette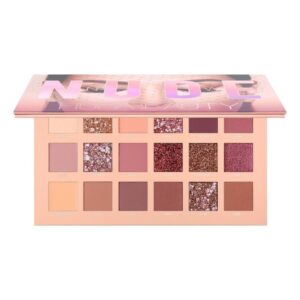 Also Read: 10 FASHION TRENDS THAT ACTUALLY STARTED IN PUNJAB
The New Nude Palette by HUDA BEAUTY is adaptable and wearable in equal measure, reinventing nude so you may experience it like never before. This unusual palette encourages you to experiment, empower yourself, and express yourself in whatever way you want.
Sigma Beauty and Disney Cinderella Eyeshadow Palette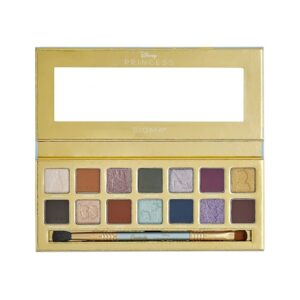 Buildable, blendable formulations in 14 pigmented colours. A handy mirror is included for touch-ups on the fly. CLEAN FORMULA is also devoid of animal testing, vegan, gluten, and lactose. This palette is part of Sigma's Clean Beauty Program, which ensures that our products are free of the 70+ harmful chemicals that other brands regularly utilise. CINDERELLA, DISNEY'S FAMOUS CLASSIC, SERVES AS AN INSPIRATION! Shades are named after your favourite songs, people, and moments.
Pretty Vulgar Throwing Shade Eyeshadow Palette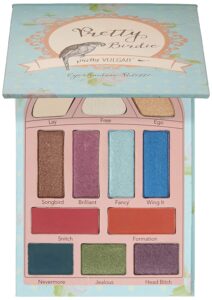 The extremely pigmented, vivid colours with a combination of matte and pearl finishes are included in this eyeshadow palette. Cruelty-free and cruelty-free Long-lasting Blendable The texture is soft and creamy. pigmented a lot Matte colour palette. To achieve a colourful, enticing look, use Pretty Birdie eyeshadows.
ZEESEA Egypt Eyeshadow Palette Pyramid Collection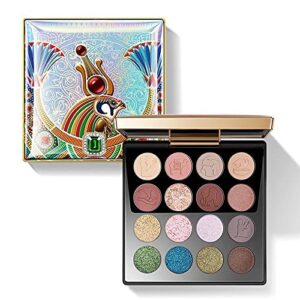 The texture is super creamy, velvety soft, matte, and silky smooth. It's simple to use and pleasing to the eye. The richer colour combination is ideal for dramatic grey-black smokey eye makeup, ranging from natural beauty to wild, highlighting the eye contour and making you the centre of attention at any event.
The eyeshadow gloss glides on smoothly and evenly without being sticky or smearing, and it lasts all day. High-quality, ultra-micronized, richly pigmented waterproof eyeshadow pigments and the purest mineral oil was used to create this product. All types of skin can benefit from healthy and safe components, as well as high quality.
JAPONESQUE Japonesque Palette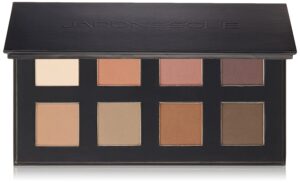 The JAPONESQUE Velvet Touch Eye Shadow Palette is a silky, ultra-light formula that maintains eye shadows crease-free and true to colour. With buttery rich neutral pigments, create a variety of eye styles.
A collection of 8 rich eye shadow hues that range from light to dark and last all day. Use a dry eye shadow brush to blend and layer, or a dampened makeup brush for more intensity.
Jacob and Eli 18 Super Pigmented Top Influencer Professional Eyeshadow Palette All Finishes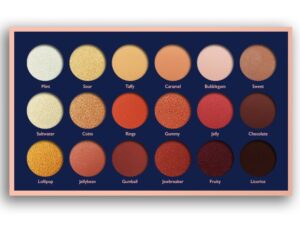 From every day to smoky evenings, this highly pigmented eyeshadow palette should not be missed from your cosmetic bag if you're seeking quick, entertaining ways to add colour, intensity, and passion to your looks. This eyeshadow palette is the way to go for everything from a simple daily look to gorgeous smokey eyes.
Hassle-free blending with hardly any fallout get rid of your uneven eyeshadows and invest in this cosmetics vlogger palette. Our intensely pigmented eyeshadow palettes are a hit. All you have to do is grab a brush and pat your lids because it's highly pigmented and flexible.
Mymart Morphe Jaclyn Hill Eyeshadow Palette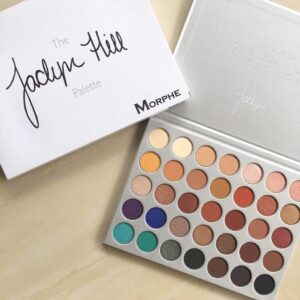 This palette has been a two-year love affair for me. 35 -New, unique eyeshadows created, designed, tested, re-tested, and refined by Jaclyn. They were designed to have the highest colour payoff as well as an outstanding application. Mattes, shimmers, satins, foils, and glitter have all been meticulously pressed. Just as Jaclyn had wished. Her dreamy hues are now a reality for you. So whether you're short on time or have plenty, this palette will become your new best friend.
Makeup Revolution SophX Ultra 24 Eyeshadow Palette
14 matte and 10 shimmer eye colours in the perfect balance to produce everything from a gentle daytime look to full glam. Whether you're looking for light shimmers, warm browns, rich golds, rusty oranges, dark smoky hues, or even a flash of colour, the 24 varied shades give you all you need to achieve your look no matter what time of year it is.
Smashbox Cover Shot Eye Shadow Palette, Smoky, 0.27 Ounce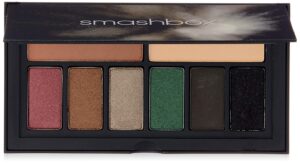 A set of seven travel palettes inspired by studio trends, ranging from matte to metallic to bold. Smoky (simple and contemporary): These mid-to-dark tones, which include a mix of matte, low-shimmers, and high-shimmers, are ideal for creating a smokey eye. For countless eye styles, These purse-sized Cover Shot: Eye Palettes swipe on incredibly pigmented, beyond blendable colour.
Qing Beauty You're So Chic Eyeshadow Palette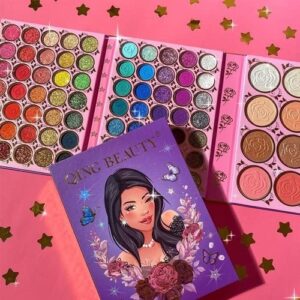 Chic Palette is available in a variety of out-of-this-world hues that are suitable for all skin tones. Your outfit will surely be Galaxy Chic, with everything from daily neutrals to brilliant hues. There are 117 completely new shadows in rich, vibrant colours, as well as brilliant highlighters, with a blend of shimmering metallics.
Palladio Silk FX Eyeshadow Palette, Debutante
The skin is wrapped in a thick, velvety duvet of illuminating crystals thanks to our unique liquid-to-powder composition. With day and night colour options, it's specially intended to bring out the best in your eyes.
Also Read: SWEATERS FOR MEN: THESE STYLISH WOOLEN SWEATERS ARE OFFERED AT A VERY LOW PRICE AND WILL PROVIDE COMPLETE COMFORT IN THE WINTER.
Shape and define your eyes in just five simple stages (all-over, lid, crease, highlighter, and liner), or blend matte and shimmering colours to suit your unique style. When used with an eyeshadow primer, the formula lasts for 8-12 hours.
e.l.f. Cosmetics Matte Eyeshadow Palette
With these perfectly curated 10 matte eyeshadow shades, you can create both beautiful bold and subtle everyday eye looks. This Color Palette Is Perfect For Shading, Highlighting, And Defining Your Eyes. For an expertly contoured and blended look, use the Satin Matte Shadows as a liner, on the lid, and in the crease of the eye.
L.A GIRL Beauty Brick Eyeshadow, Neons, 12g
L.a. Girl's beauty brick eyeshadow collection features four exquisite must-have eyeshadow palettes filled with a dozen highly pigmented colours ranging from incredibly wearable looks like nudes to bolder looks like neons, giving you the best of all colours to create amazing looks! These intriguing palettes are incredibly adaptable, going from a daily look to a night out, thanks to the variety of colours and textures, which include shimmer and matte tones. Each look comes with its luxury glossy book, which includes a double-ended brush and mirror.
Colorbar Pro 12 in 1 Eyeshadow Palette, Just Nude, Multi, 18 g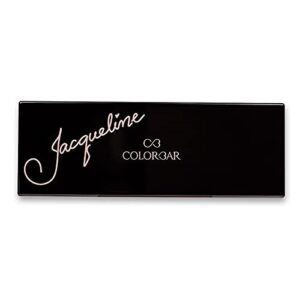 Shades that work together to create a variety of styles, from a dramatic, smoky eye to a sultry slash of colour and everything in between. With shades ranging from the palest, shimmering pink to the deepest black matte with crimson micro-glitters, it's the ideal excuse to pamper and be creative. Ultra-smooth mattes, stunning pearls, and glistening metallics are among the four exquisite finishes and diverse classic textures available in this palette to create new combinations. Our Just Nude palette has a silky texture, intensely pigmented colour, and serious blend-ability thanks to the main excellent and rich formula. A vegan and cruelty-free double-ended eyeshadow brush is included.
Morphe Original James Charles Artistry Palette – 39 Eyeshadows and Pressed Pigments – Crazy Colorful, Deeply Pigmented Shades – Matte, Metallic, and Shimmer shades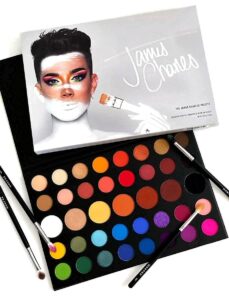 JAMES CHARLES X MORPHE Bring Out the Artist in You James Charles is serious when he claims you can make anything. For. Real. With this whole range of 39 dialled-up, richly pigmented colours, the fun never stops. You'll be ready to take on any look you can imagine up with four rows of gorgeous colour combinations and one row of super-sized colours. So go ahead and do it. Also, don't be shy.
Tartelette Clay Matte Eyeshadow Palette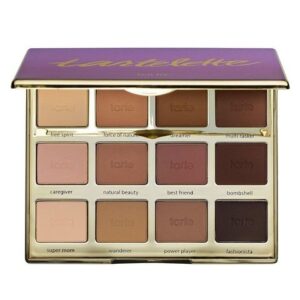 This makeup palette contains no substances that raise red flags. This quality palette is packed with matte shadows we love, and it's made with Tarte's distinctive Amazonian clay, vitamin E, and mineral pigments. It comes in 12 various hues, allowing you to create a limitless number of looks ranging from everyday neutrals to extreme smoky eyes. It's the perfect mix of brown nudes.
Please follow and like us: