20 Latest Salwar Suit Designs Trending In India
Salwar suit is an Indian attire that comes under ethnic. All Indian Northern women wear suits for functions and even at home. Although that doesn't mean others can't wear suits. Suits are getting popular enough and in every other region, salwar suits are getting modified a little bit as per the preferences and traditions. There is no end to what suit can be modified into. Sleeveless, Palazzo, Full sleeves, different neck designs, capes, Half jackets all such accents completely change the look of a salwar suit. Even salwar are of various kinds nowadays like dhoti salwar, Patiala salwar, pleated salwar, and more.
Here we will have a look at 20 latest salwar suit designs trending in India:-
Patiala salwar suits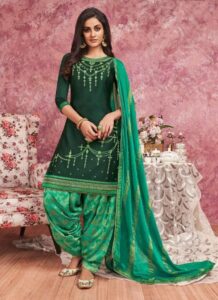 These are comfy and practical clothing for housewives, professional and college-going girls, or women amongst all of the traditional attire. Patiala salwar is a traditional Punjabi dress for women. As a result, the Patiala salwar form is a loose, comfy salwar with a broad inflating form that shrinks down at the bottom. You can get fabric of your choice and get it tailored. Patiala suits are evergreen and will never be fading anytime soon so you must have one in your closet.
Anarkali suit
Since the Mughal era, Anarkali outfits have always suited the timeless beauty of Indian ladies. Long pleats with an umbrella-like flair around the legs. They're ideal for weddings or festive occasions since they give you such a lovely flowy look while also making you appear taller. This can now be personalized with your preferred fabric. You can choose a printed one for everyday use and an embellished one for weddings.
Churidar Suit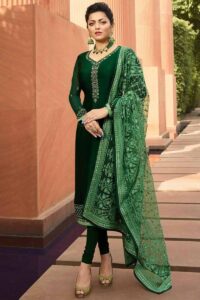 Churidars are a reimagined version of the Salwar Kameez, a traditional Indian outfit. Churidars and salwars are nearly identical, with the exception that churidars are fitted to your thighs, knees, and quads to show off your leg shape, whereas a salwar is a loosely sewed saggy pant with a drawstring.
Straight cut salwar kameez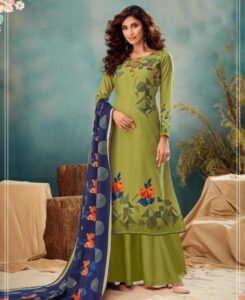 Typically, a simple ruffled silk texture salwar kameez is worn. It gives me a sense of liberation when I'm completing home chores. The grey Kurti and grey churidar have basic designs. This simple suit design for the latest girl's fashions features long sleeves and a round neck, making it comfy and ideal for everyday use. Girls nowadays like a basic suit with a printed contracts dupatta to achieve an abstract effect, which is certainly lovely to try out.
Jacket Salwar suit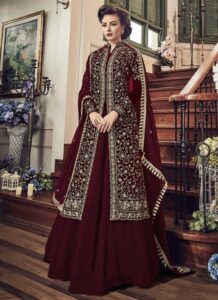 The three-piece jacket design salwar suit includes a short or long jacket. The kameez and salwar are plain materials with a decorative border on the hemline in this design. As a result, the jacket features exquisite golden embroidery that looks fantastic. This unique salwar pattern is ideal for festivals as well as wedding receptions. For everyday use, choose a printed jacket, while for weddings or special occasions, choose embroidered or embellished jackets for a glam look.
Heavy sequin work suit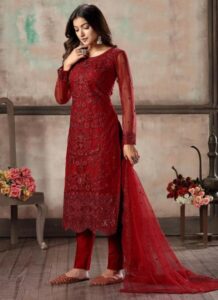 This is the most recent salwar suit pattern, and it is a floor-length double-layer suit. It features a two-layer neckline with stones and sequins all around the neck section and is pretty with sequined work. Wearing this at a function will make you stand out. The styles combine the most recent salwar designs motifs or kameez patterns, for example, to create a unique look.
Sharara Suit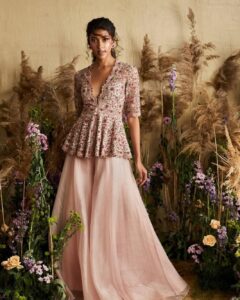 A traditional sharara outfit consists of a short embellished kurta and flared pants. A sharara suit resembles but is not identical to, a gharara. Shararas is an ethnic garment worn by Asian ladies for decades. The Mughals were the first to bring the garment to India. With minor modifications, it is now known as sharara and is best suited for wedding celebrations. It's been popular recently.
Velvet suit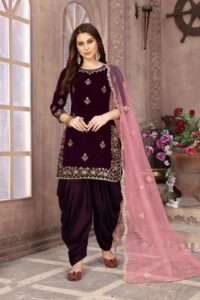 Velvet salwar suits are a simple and traditional method to show off your trendy and cool style while also maintaining modern feelings. Velvet has made a comeback, whether in the form of sarees or suits. It has a royal appearance and is incredibly attractive. Velvet outfits are ideal for winter weddings.
Floral suit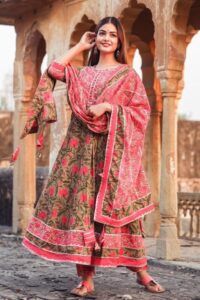 Floral design suits are just the perfect bet for summers. They give you such a breezy and feminine look. You can get fabric and get it stitched as per your choice like Anarkali, salwar suit, or palazzo set but Anarkali goes best for florals. This is amongst the most loved patterns lately.
Bandhiani Suit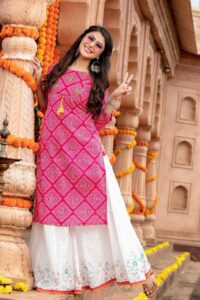 The Bandhani outfits are made using a technique called bandh. As a result, the fabric used here is dyed with a tie-dye technique. This style, also known as Bandana or Bandhini, is predominantly performed in the Indian states of Gujarat and Rajasthan. They are very attractive, especially in pink, so if you are planning a vacation to Jaipur, grab one for yourself.
Chikankari suits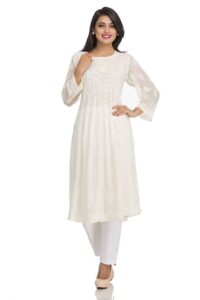 Chikankari Kurtis, created by masters, was popular in Lucknow. Chikankari Kurtis is unique and adds a touch of elegance to special occasions, parties, and festivals. You can wear these with either jeans or salwars, depending on your preference.
Georgette Long asymmetrical suit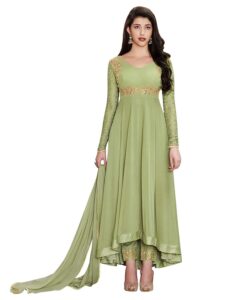 Designs speak a language that is both elegant and comfortable. This gown was created with the current trends in contemporary casual fashion in mind. The kurta is a unique combination of cultural and contemporary fashion that lets you stand out from the crowd. This color, in particular, is new in town and should be tried.
Green yellow flared palazzo suit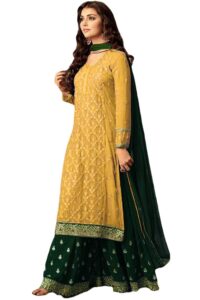 This georgette flared palazzo suit set is perfect for Mehendi as well as Haldi function. This deadly combination has been trending and loved by many. Particularly on newly wedded girls, this combination looks perfect.
Cotton Printed Straight Kurti with Palazzos Set
The salwar suit, also known as the Indian attire that may compliment your style, charm, and mood, is widely worn nowadays. It provides unrivaled comfort and style, and its adaptability allows it to be worn all year. This ensemble, which traditionally consists of a pair of salwar trousers and a tunic known as the kameez, can be adjusted and worn with jeans, skirts, or even palazzos for variety.
A-line suit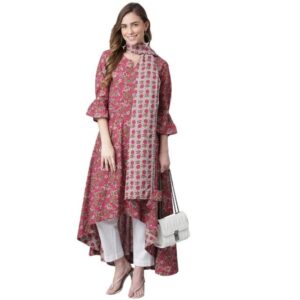 This is an ideal buy for office-going girls as it gives casual look not too traditional and also makes you feel comfortable on hot summer days. The most amazing modest look you can achieve with this suit set.
Kurta with Peach afgani Salwar
<Here comes yet another suit which is perfect for college-going or working women for regular days. It is more western than ethnic and will be comfortable enough for you.
Dhoti pants and jacket suit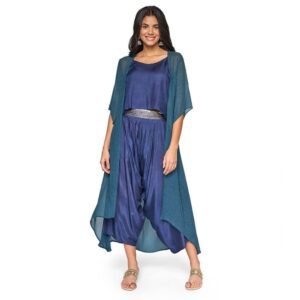 Dhoti pants with a patterned belt and a long shrug with a glittering dotted print on the front and back. Wear it with golden flats and earrings for a look that will draw all eyes to you.
Layered palazzo suit
This layered kurta set is perfect for layering. The captivating jacquard print and the incredibly stylish and feminine rose pink color. The interior features a frilled hemline and a dotted gold design. Its beauty is enhanced by the long jacket with a front button and three-quarter sleeves. To finish the look, put on your golden flats and jhumkis.
Kaftan suit set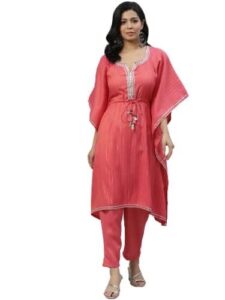 Soft kaftan dresses are a joy to wear and enhance your appearance. Our kurta will provide your body with a smooth and pleasant feel. It establishes a new benchmark for softness and breathability. These plush garments are a dream to wear and will enhance your appearance. Our kurta will provide your body with a smooth and pleasant feel. It establishes a new benchmark for softness and breathability.
Handblock suit
This Hand Block Print Cotton Suit Dress Material is appropriate for casual, office, and daily use, as well as special occasions and festivals.
Metallic silk suit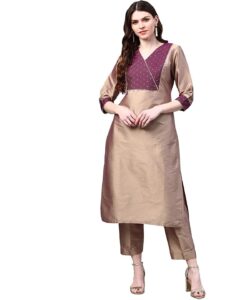 For any ethnic wear lover, this is a treat. It will look best for post-wedding functions or festivities. Especially this metallic finish is too glammed.
Please follow and like us: