15 Tips For Looking Fashionable On a Budget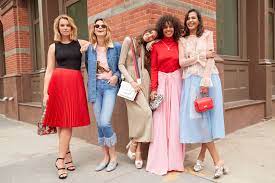 Make Basic Wardrobe Purchases
Purchasing clothing essentials is the next item on the list. This is another excellent method for maintaining your look trendy while keeping it simple. Start with timeless pieces like a stylish blazer, a beautiful pair of trousers, and heels. Add your preferred outerwear next, like a classy leather jacket or a trench coat. You can never go wrong if you add chic finishing touches, like the ideal pair of sunglasses.
Conduct an Audit of Your Closet.
It's time to go through every piece in your wardrobe once you've streamlined it with basics and cut back on the number of items. An audit of your closet is the first thing that needs to be done if you're seeking to cut costs on clothing. You can accomplish this on your own or even enlist the aid of a friend. To do this, go through each thing and consider whether or not it fits into your lifestyle. If not, you might want to think about getting rid of it. Of course, some people will find this simpler than others, so only discard the clothing that you do not need or want.
Avoid buying on a whim
Avoiding impulse purchases is an excellent method to save money on clothing. Never consider shopping to be a leisure activity when you go. It should be seen as a chance to supplement your wardrobe with essential items that match your demands and current style. You don't need to buy anything additional if your closet is already filled unless it meets these requirements. Impulsive purchasing results in a disorganized closet and blows your budget for things you need or love. If you have a plan for your closet and style objectives, maintaining your sense of fashion on a tight budget is simple.
Configure Sale Alerts and Search for Coupons
Setting up sale notifications and searching for coupons are wonderful ways to cut costs on clothing. If you enjoy shopping, it may be simple to develop a routine of making a new purchase each time you leave the house. But if you're not careful, this can mount up.
Set up sale notifications for the items you desire but can't quite afford right now to prevent overspending.
Avoid using credit cards
It is a good idea to avoid using credit cards when you are shopping for trendy items to reduce your overall cost. This may be more difficult than you anticipate, especially if your account is linked to incentives or offers discounts based on the type of card you have.
However, it is recommended to avoid using your credit cards when shopping for clothes because it will be a slippery slope if you want to save money over the long term. A pair of pants comes first, and then you say that you deserve the Chanel Boy bag.
Spend sparingly and learn to buy used
Purchasing used items and becoming a thrifty shopper are two more fantastic ways to locate stylish stuff without spending a lot of money. These days, there are numerous possibilities for this, including your nearby thrift shops, The Goodwill, Depop, eBay, and even Etsy.
Additionally, you can attempt various online clothes marketplaces like Thredup, Thrilling, Poshmark, and even Facebook groups.
Online storefronts
Online outlet sites are another fantastic resource for fashion cost savings. It's crucial to have choices while purchasing clothing. Outlets can help in this situation. Numerous designer items are available for a fraction of the cost on websites like Nordstrom Rack and Saks Off Fifth.
Swap clothing
Consider holding a clothing swap if you want to experiment with different looks but don't want to spend any money. You can do this with your pals or even at your workplace. In essence, everyone brings their old clothes and spreads them out on a table for others to browse. Then you can take the parts that appeal to you and leave the rest for other people. Everyone returns home after the event with brand-new clothing.
Sell the Items You Don't Wear 
Going the additional mile and selling the items you no longer wear is another strategy to save money on clothing. Even while it requires more work than giving your items to a good cause, it's worthwhile when you consider how much money you could make. Creating a free Poshmark account or using the Facebook marketplace are two ways to do this.
Mix the high and low pieces.
It's simple to feel limited and constrained while purchasing clothing on a tight budget. However, you may create your distinctive appearance without spending a lot of money if you combine premium and low-end pieces. The Row and her label are just two examples of high-end goods that Victoria Beckham frequently pairs with timeless, low-cost essentials like gap denim.
Avoid purchasing from costly brands
Although it may seem obvious, many people believe that investing in expensive goods will give them a wonderful sense of style. On the contrary, when you don't know much about fashion, you do that.
Avoid shopping for pricey apparel if you want to dress effectively on a budget. Although it's a straightforward concept, it might be challenging to fight the impulse to blow your monthly budget on expensive goods.
Spend money on necessities
Simple fashion aesthetics are beneficial for the environment, your wallet, and your eyes. To maintain a simple and distinctive aesthetic, invest in timeless and classic pieces.
Less is frequently more. Choose parts that you may readily mix to create various looks. Over time, it will help you develop your sense of style.
Employ brand directories
For more information about factories, materials, policies, and values, visit the websites of each brand. Try to learn more about the fabric and sustainability of their clothing. Alternatively, use one of the many resources that review fashion brands and make it simple for you to look great on a budget.
Prefer quality to quantity
Avoid buying apparel that is quick fashion or poorly manufactured. Instead, go for stronger, better-made items that not only look lovely and feel cozy but also last longer. Consider carefully how you allocate your budget for clothing. Instead of purchasing several items that you only wear sometimes, take a step back and spend your money on a smaller number of high-quality products.
Since well-made clothing lasts longer than cheaper, lower-quality options, you will eventually spend less money on clothing overall.
Verify the fabric's quality.
To ensure that new garments are well-made, always examine the fabric quality before purchasing them. Choose high-quality organic and natural materials like linen, hemp, jute, and ramie, or recycled materials like rPET, recycled cotton, recycled nylon, and cellulosic fibers like lyocell, modal, and cupro.
Please follow and like us: