16 Best Engagement Couple Dress Ideas This Wedding Season You can try for 2022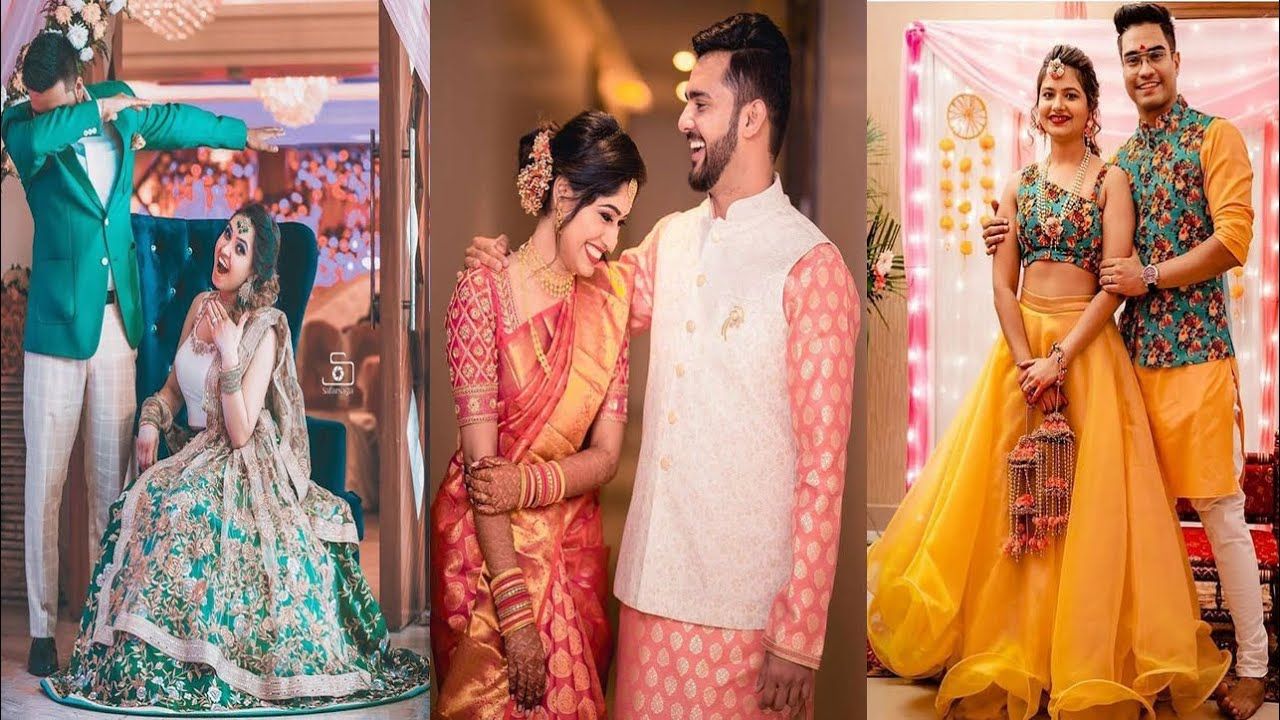 Engaged couple matching dresses Indian, that's too much to remember, isn't it? But this concept is prominent for Indian couples these days. Let the duo style their best with colors that match their outfit, theme, and mood.
Pastels – new
After Neha and Rohanpreet's grand wedding in Italy, pastels have become a must-have outfit for at least one wedding event. Engagement dresses in this theme can have beautiful pastel colors like pink, peach, blue, etc. Such traditional engagement dresses for couples are perfect for daytime events.
Because the Blues Rise The Blues
How about indigo blue? This is one of the royal combos that has been admired since the days of Madhuri Dixit in the 90s movies and is still trending. So, blue-colored men's and women's engagement dresses for a couple are the one outfit that will make no one deny how amazing you both looked.
Yellow Mellows
The color yellow represents happiness and this color at the wedding represents how happy they are together. So the combination of the yellow dress of the engaged couple will never go wrong. It will be especially great if you have planned a happy beginning dance.
Flower fiesta
Floral designs started ten years ago and still have a position for fashionable engagement dresses for couples. Try white or pink floral couple dresses with the right combination of solid colors and floral designs for the perfect couple.
Cheers Wine
An engagement couple dress combination that everyone would love. It's the ultimate burgundy color with sequins and patterns that simply accentuate the grace of the color. The duo can have great wine and stir up the aura with smoky makeup. In this, the couple will bring a true Valentine's Day theme to the engagement party.
Start with Gold
As they say "Golden Glory". The color gold is simply the color of sophistication and class that will never, ever go bad. For your big day, gold will be the best color to make your night prom with traditional engagement dresses for such a couple. Dark green jewelry would also complement the theme beautifully.
The color of love – red
When it's a wedding, how can you skip red? Apart from red only for your wedding day, you can also wear red for your engagement dress. Something as pretty as a burgundy lehenga or close to a burgundy gown and contrast kurta for men, do you feel like getting engaged too? Jump in and don't hesitate with red, ever!
Heart-melting colors
Be energetic, bold, and in a way that no one can match. For this, you can try less used colors like vibrant sky blue. Such a man-woman engagement couple matching dress can be a great idea to dress up. All you need is the right combination of colors and the right coordination of your makeup to avoid overdoing it.
A minimalist thing
Some people like simplicity over depth in jewelry. A minimalist engagement dress for a couple can do wonders with it. Choose clothes with more flair and less embroidery. Engagement dresses for a couple will give positive feelings and all the loving vibes. In addition, light make-up and messy hairstyles are becoming a trend nowadays.
Similar shades of dresses for couples
Following an ongoing trend like color coordination is sure to suit your style. Pairing your ethnic wear like a bridal lehenga with a designer kurta can make you stand out from the crowd. This kind of similar ring ceremony dress looks amazing on your engagement ceremony portrait.
Beautiful pastel dresses for a couple
Pastel shades are the most charming shades for a couple's outfit. Pastel dresses are considered the best dresses for engagement. Wearing pastel shades like pink and ivory is the new trend at Indian engagements. Pastel sherwanis and bridal lehengas are really elegant choices for a big event.
Marvels Couples Floral Dress
How about a floral print engagement dress? The beautiful couple wore a floral blazer and printed dress for the perfect engagement look. Choosing a floral engagement dress is undoubtedly a timeless choice. All you need is a passionate and candid wedding photographer in Kolkata to capture the mesmerizing beauty of your glamorous engagement look.
A magical golden pair of clothes
We can't take our eyes off this gold designer outfit worn by this adorable couple. While the brides look elegant in her designer lehenga, the groom looked dapper in his gold and ivory blend embroidered sherwani. This couple's engagement look shows how happy they are together.
The Heart Melting Ivory Shades Couples Outfit
The shade of ivory is simply a color of class and sophistication that will add the perfect glamor to your engagement. A simple ivory engagement dress is the best choice for a minimalist couple. You love simplicity, so this soothing ivory outfit is a must-try to turn heads at your special event.
Blissful Lavender Shades Couple dresses
A solid color lehenga and lavender jacket is a beautiful combination for a ring ceremony. This beautiful color can change the look of your engagement event in ways you never imagined. The soft shade of lavender is the perfect engagement dress for the bride and groom.
Shiny blue outfit for couples
A couple who wear the same color on their engagement day looks amazing in their engagement photos. A beautiful blue dress and a blue suit and pants are the main goals of a couple that will make you look charming and beautiful together. All in blue coordinated engagement outfit ideas for couples offer more richness and royalty in your engagement look.
Please follow and like us: