Torturous Heels Are Back—But Why? Mutiar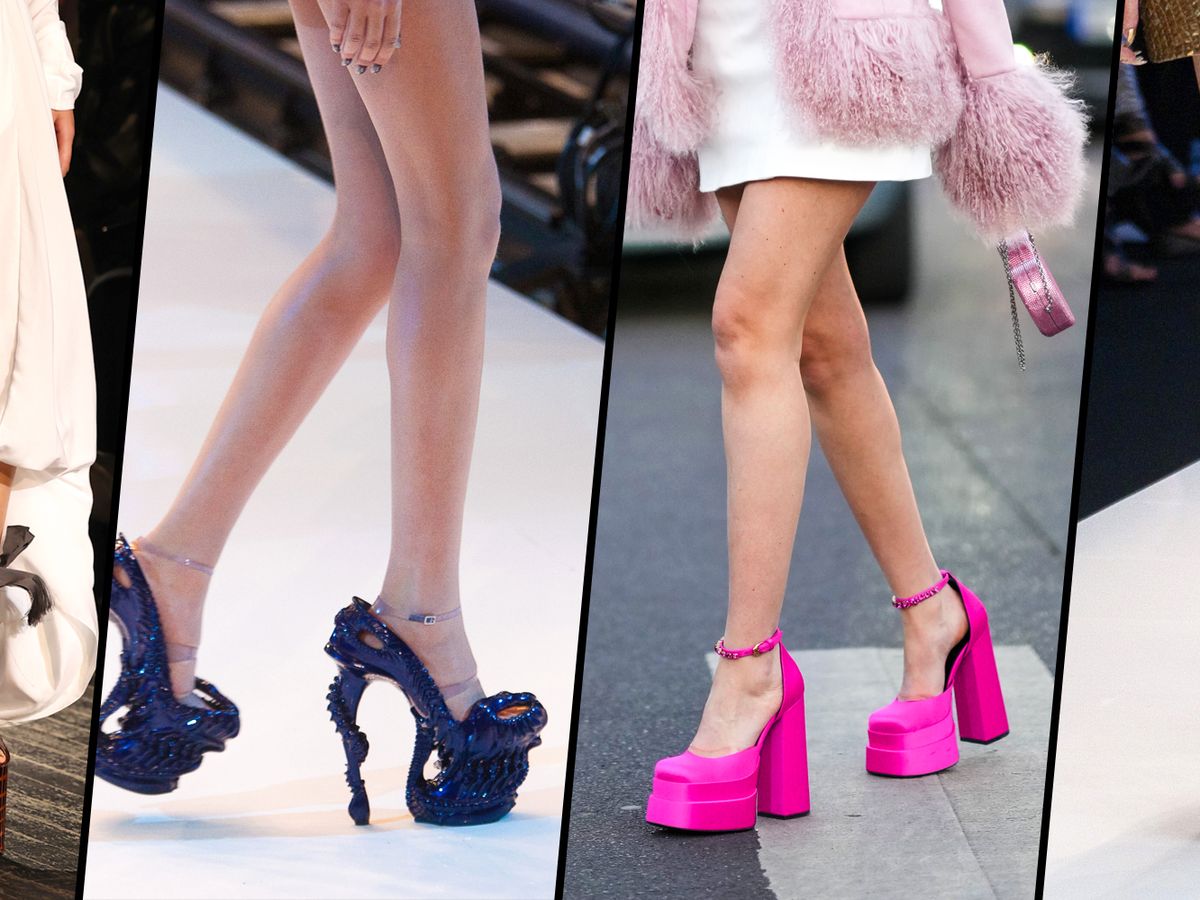 Precarious heels are the newest craze on the runway, which is why models are falling, kicking off their heels, and crying while reaching out for assistance. Who is the worst offender? Perhaps Valentino, where several models suffered serious injuries on the spring 2023 runway, as well as haute couture, where veteran supermodel Kristen McMenamy was visibly upset as she collapsed and subsequently struggled to stand. Afterward, when she marched on with her head held high, she hurled the shoes across the catwalk.
These heels are not only extremely high but also downright hazardous. All of a sudden, they are as common on the runways as sneakers are on the streets. Sky-high heels have been a staple of the fashion industry for years, but after seasons and seasons of designers favoring ballet flats and kitten heels, several of the major houses have gone all-out in support of frighteningly dangerous footwear. The Medusa Aevitas platform pumps from Versace's spring 2021 collection may have been the catalyst for everything. Models were seen holding and removing the gigantic platforms from Fendi's spring 2023 collection while Balmain's models teetered in enormous, rock-like shoes. Another model collapsed while sporting extremely high platforms at Vivienne Westwood.
Why now, though? Fashion is cyclical by nature, and the 2010s are making a strong comeback with brands like Celine and Saint Laurent capitalizing on indie sleaze and other 2010s themes. The aughts were also marked by a lot of death-defying heels. With their extreme height, dome-like shape, and teeny-tiny heel, Alexander McQueen's alien-like shoes from his spring 2010 collection were otherworldly. In contrast, Prada's spring 2009 collection was renowned for its slick, perilously high heels with a teeteringly tall shape that caused many models to fall. Off the runway, Isabel Marant's wedge sneakers and Jeffrey Campbell's Litas had a legendary impact at the time. Of course, the early 2000s continue to be a crucial point of reference for fashion today, and the influential footwear includes classic Vivienne Westwood heels and Bratz Dolls platforms.
Similar to how we've seen throughout history during turbulent times that led to casual clothing, fashion historians believe the new wave of torturous heels has much to do with the post-pandemic need to dress up. According to historian Einav Rabinovitch-Fox, "the notion is that you ought to dress like you are going to the Oscars after two years in pajamas." "The fashion industry needs to turn a profit, so this is not a surprise move, but we have also seen it before. There is always a counter-reaction that brings back the impractical after a period of pushing towards comfort and functionality. There were times like that in both the 1920s and after World War Two.
Perhaps the thought of shoes designed more for fashion than for walking contributes to our increased screen time as a society and our fixation with internet virality. Fashion shows these days are all about buzzy moments, with brands competing to outdo one another and gain the most social media views, as we saw with Coperni's spray-on outfit. It has become a joke to watch Naomi Campbell fall at a Vivienne Westwood show in 1993 while sporting the designer's Super Elevated Gillie tall heels. The video still exists, but given that the shoes were 12 inches high with a four-inch front platform, it's understandable why she lost her balance. She then admitted that some designers had questioned her ability to fall on their runaways.
Are the supertall heels from 2023 only a publicity stunt? It's simple to stand out when the shoes—and the models falling—eclipse the attire. But let's face it: watching women fall and maybe sustain injuries one after another is demeaning and demoralizing. Sadly, that is also what receives a lot of online attention. Humans enjoy being amused for others' sake.
It's also important to remember that gender hasn't always been associated with unpleasant footwear, except the fact that women and young girls have typically experienced the worst effects. Consider heel wear throughout the Renaissance in Western civilizations as well as foot binding in Eastern ones. Both sexes wore heels, although women typically wore the more extreme sky-high heels, according to Rabinovitch-Fox, who cites the 20-inch-high chopines worn by Venice courtesans in the 16th century as evidence. Geishas in Japan donned a style of platform shoes known as Geta in the East. These resembled the conventional getas, which were an older style of a flip-flop, but geishas wore them on a platform. Given that these shoes were not intended for walking but rather for drawing attention, there is a relationship between the footwear worn by geishas and courtesans.
Another thing to consider is that, even though there are fewer female-led fashion businesses generally speaking, the majority of these extreme heels are coming from companies with male creative directors (although Westwood has been co-led by her partner Andreas Kronthaler since the 1990s). Yes, the proper pair of exceptionally high heels may completely change your appearance and give you a confidence boost. But it's crucial to distinguish between shoes that seem expensive but is wearable and those that experienced models with years of experience can't even attempt to walk in for a short while. According to Rabinovitch-Fox, "high heels in general have been associated both with oppression and with feminist empowerment throughout history." She adds that they are comparable to other current popular trends that can be interpreted in either way, such as the naked dress, micro-minis, and underwear as outerwear.
So, if you're dressing for the male gaze, are high heels a sign of empowerment or a warning? One could debate both views for a lifetime. Yet regrettably, fashion is regressing in many respects at a fast pace. Brands' rejection of body variety on the spring 2023 runways, and now the fall/winter 2023 runways, says volumes. Shoes with barely wearable heels? As evidenced by some of the comments on McMenamy's experience at the Valentino show, it places the women who wear them in the position of inert dolls who are destined to fail and set up to be disparaged online if they can't deliver.
Please follow and like us: