Top 20 Outfit Traditional Ideas To Look Gorgeous For Bhai Dooj
Dressing in style is one of the most exciting parts of any celebration. Dressing up with fancy traditional costumes is a great way to get into a festive mood. So, don't try to think about how you can look beautiful this holiday season because here are a few tips on what to wear this Bhai Dooj.
The Bhai Dooj Festival is a celebration of love between sister and brother. On this occasion, the sisters anointed tilak on the forehead of their brothers and prayed for their long life. If there is any confusion about your dress in this celebration for your siblings, then here are many ideas for traditional clothing.
Sari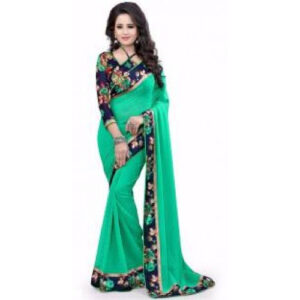 For many women in India even today, the first thing that comes to their mind when it comes to wearing a sari. There are a huge variety of saris to choose from like Banarasi Sari, Kanjivaram Sari, Silk Saari, Net Sari, Patola Sari, Pochampalli sari, and many more. Saris looks great and can be the perfect outfit for almost any occasion.
Lehenga Choli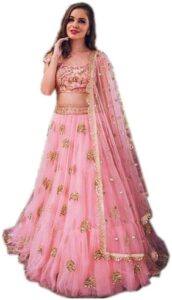 Lehenga Choli, also known as Ghaghra Choli is one of the most popular outfits for any occasion that requires a person to give a racial look. The design of these lehenga has changed dramatically over the past decade and the dress is one of the most iconic pieces of Indian style today. This dress is available in both versions, simple and embroidered.
Sharara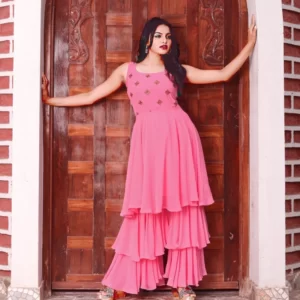 The Sharara is very similar to the Lehenga Cholis. The only major difference between the two is that the Lehenga bottom is a skirt, and the bottom of the Sharara is a skirt. Shararas is very comfortable and has been on the move for the last few years now.
Salwar Kameez / Churidar Kameez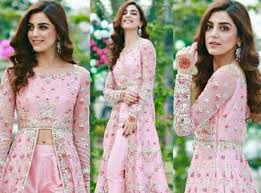 This is a three-piece Indian dress. Includes a matching set of kurta, leggings, and dupatta. This popular dress is well received all over the country and can be worn to any event, whether you are going to the office or going to a friend's birthday party. When it comes to a holiday event, there are different types of Salwar Kameez available in a variety of styles to choose from.
Anarkali
Anarkali is a type of Salwar Kameez, the only difference being that the texture of the garment. In Anarkali, the length of the Kurti is almost to the ankle, giving no space for the lower part to be shown at all. An Anarkali-like frock coat is often paired with a thin-fitting bottom. The dress can be suitable for any body type and can be worn at a ceremony like Bhai Dooj.
Kurta
The traditional Kurta-Pajama is very popular with young people, who prefer to wear it to their casual social gatherings, with the basic idea of ​​maintaining their unique style.
Pink Printed Baby Kurta With Gold Print Skirt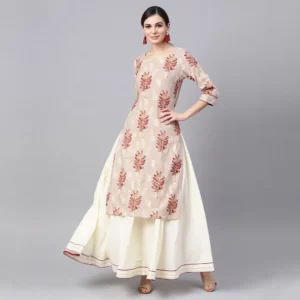 Our baby printed baby kurta has a boat neck and comes with full, detailed sleeves, and a white gold printed skirt. This is a very comfortable dress when it comes to visiting your brother's place or going out together.
Camel Khadi Gold Print Kurta Set With White Dupatta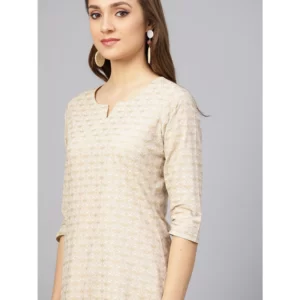 Our camel gold print kurta has a round V-neck, and comes with three-quarter sleeves paired with a set of pants & dupatta that includes cuffs. This is a small dress of hidden color that is comfortable for your daily outings and celebrations.
Gold Print Anarkali Kurta
Our gold print Anarkali kurta comes with a closed Chinese collar with three-quarter sleeves, detailed, and an ankle-length kurta with a flaming hem. You can buy this Anarkali kurta online at our Anarkali kurta heavy but comfortable and at the same time wear it all day for celebrations.
Kurta Printed Black Gold Kurta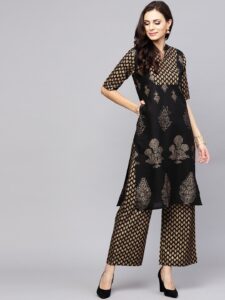 This black gold printed kurta has a three-quarter round V-Neck, and comes with a detailed Gota, as well as printed palazzo pants. A simple and comfortable kurta set for your Bhai dooj celebrations. The sleeves on this kurta set are unique and in style these days that will give you a different look.
Black Solid Rayon Kurta Set With Nude Art Silk Dupatta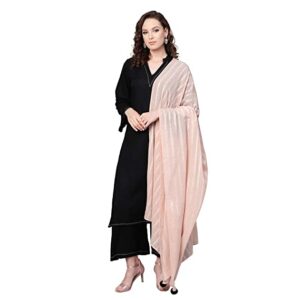 This rayon Solid black Color Kurta comes with V Neck Mandarin Collar, Full Sleeves, and Thread Detailing as well as a pair of Palazzo Pants and Silk Dupatta nude with a detailed blush. This is not so difficult but a traditional printed kurta with a set of palazzo can be worn at your festivals that only includes visiting your brother.
WHAT BROTHERS CAN WEAR ON BHAI DOOJ
Dhoti Sherwani
Men can choose this traditional property. A beautiful silk dhoti and a bright embroidered sherwani can be a great combination for Bhai Dooj.
Kurta pajamas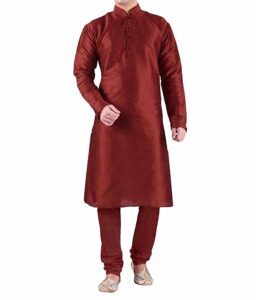 Look you are running in the season of old kurta pajamas. You can try with asymmetric kurta style if you like.
Nehru Jacket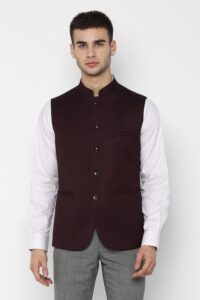 A richly decorated Nehru jacket can go well with Bhai Dooj.
Bandhgala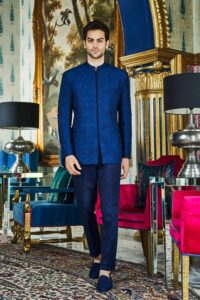 Another great dress you can choose to wear to look dapper.
Phulkari Dupatta and Plain Suit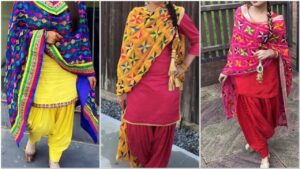 If you have a Phulkari dupatta, then on this day you can wear it with any clear suit. Its perfect look will come out of the plane. If there is no pulse dupatta it will also work for a chunari, leariya, or multicolor dupatta printer.
Banarasi suit or saree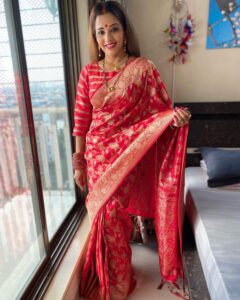 Banarasi silk is full of energy too. It gives a very good and high-quality look. You can wear a Banarasi suit or saree for this event. Both are ready for the event.
Kurti in a skirt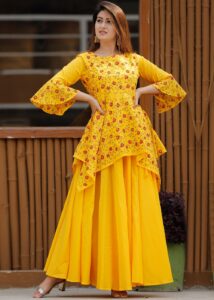 Today it is customary to wear a Kurti with a long skirt. This is a way to make yourself stand out from the crowd. You can also try this idea at this military event. Kurti with a skirt looks great on those with good length. If your height is too short you will need to carry heels as well.
Kurti in dhoti pants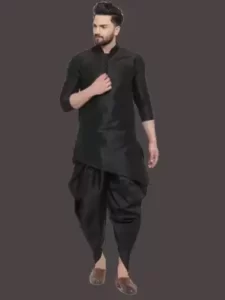 You can also pair a Kurti with dhoti pants to create a traditional and modern combination. Wear a short Kurti with dhoti pants, so that its look is completely out of place. If you like, you can also treat the top with it.
Please follow and like us: