The Top Wedding Trends for 2022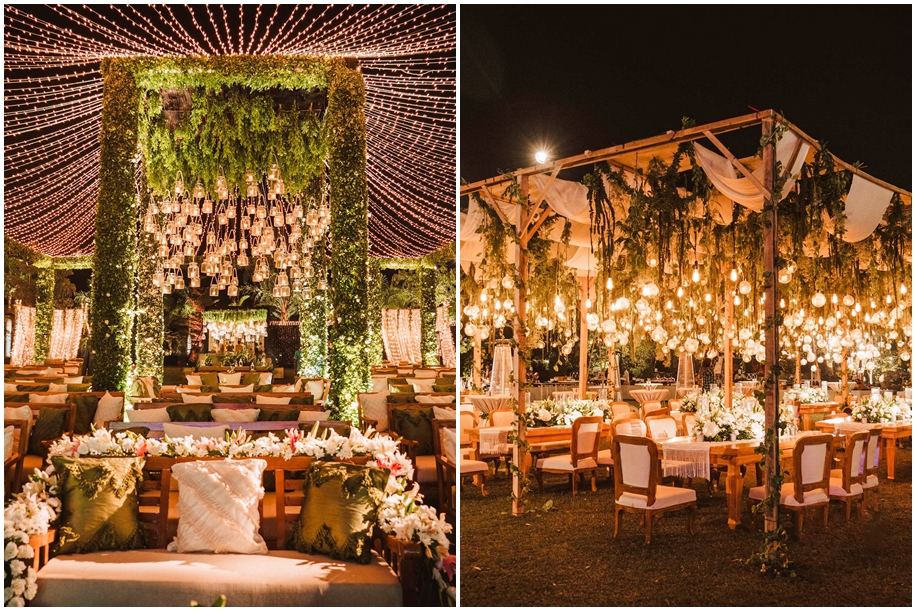 The wedding boom is here, and couples are prepared to have the biggest wedding celebrations ever in 2022. Larger guest lists, destination weddings, and significant design moments are making weddings more like they once were, yet there are still some limitations.
This year, we are also observing that couples are usually being more intentional with everything, putting more emphasis on the guest experience, producing more customized elements, and spending more money per guest to make them feel truly engaged in the experience.
Against Convention
Tzo Ai Ang of Ang Weddings and Events says, "With the forced adjustments to events these last two years (for example, mini weddings followed by larger parties), I have seen more couples choose to do things in a more nontraditional fashion, and I welcome the change. Weddings are increasingly more personalized to the couple, with reception-only parties, elopements, and a bold design all becoming more popular.
We adore the 'anti-trend' trend, says event planner Tory Smith of Smith + James Events. We support the shift away from cookie-cutter weddings being made by the entire industry. Unexpected locations, culinary delights, and crescendo moments are what works for us.
Relaxed Luxury
Even the most extravagant weddings will become less formal in the upcoming year. While the traditional black-tie wedding will still exist, Amy Shey Jacobs, owner and creative director of Chandelier Events in New York, predicts that a more laid-back atmosphere will increasingly dominate weddings. "We're finally here, so maybe it's the outdoor effect or the mindset. In 2022, my team predicts an increase in weddings with a casual luxury vibe. Because of this, there is less bother made about the customs and more pleasure." Couples are eschewing overly formal, black-tie events in favor of cocktail parties, food truck gatherings, dance parties, and other unconventional wedding celebrations.
Modern Etiquette
The sector has recently seen the development of contemporary etiquette. For instance, more informal invitation phrasing, which is nevertheless official and essentially guest-driven. Additionally, the term "wedding party" is becoming more commonly used than, for example, "bridal party." The slang used in wedding planning, such as "groomsmaid" and "man of honor," has also acquired regular usage. Traditional pomp and circumstance are being replaced with a more considerate, contemporary decorum. According to Jacobs, "it's all about being together in every manner imaginable." And the parties will take that into account.
Experiences Across Generations and Over Several Days
In keeping with the idea of putting the needs of the guests first, some couples are going the extra mile by creating multigenerational experiences just for their family members. Some soon-to-weds are now having multiple celebrations the week before the wedding for various groups of guests as a result of events being shifted throughout COVID. From pool parties to Sunday family brunches, there is an event for everyone from the grandparents to the nieces and nephews. Darling continues, "Couples are being more careful about experiences for visitors. "Experiences are valued and given greater importance than before."
New or hybrid wedding formats
Big or small, weddings are once-in-a-lifetime occasions. While preserving everyone's safety is the top priority, the current choice seems to have changed from large, elaborate events to a variety of smaller ones, such as huge physical weddings and hybrid weddings. In essence, hybrid weddings mix physical and digital components. It enables families and couples to plan the wedding of their dreams with their loved ones in attendance while adhering to the social distance rules.
WedTech-powered weddings:
The emergence of WedTech was at the heart of the Pandemic's revolution in how Indians experience weddings and the wedding preparation process. With WedTech, couples and families discovered that everything can be done online in one location, from choosing a Mehendi wala to narrowing down locations. This realization caused them to realize that they may considerably cut the amount of time and work needed throughout the planning process.
Customizations and personalizations
We have seen over the past ten years how important customization has become for weddings. The number of couples choosing personalized decor, hashtags, or customs is rising every day. This is just going to get worse as 2022 approaches. particularly the hashtag craze. In today's social media-driven society, it has experienced tremendous growth and is nearly considered a wedding tradition.
Weddings at nearby locations (vicination weddings)
The past few years have seen a huge increase in the popularity of destination weddings. Jaipur, Udaipur, Mussoorie, Agra, and Lonavala are a few of the well-known locations. Vicination weddings—destination weddings that take place close by—are an intriguing trend in the world of destination weddings. Since the epidemic, it has seen a huge increase. The primary motivating reason is the mandated safety procedures and travel restrictions. For instance, a Mumbai-based couple might decide to get married in Goa or Lonavla. Similar to this, a Delhi-based couple can decide to have a destination wedding in Rishikesh or Jaipur, which are both reasonably accessible places.
Sustainability as a central tenet-
Couples are considering sustainability at the top of their priorities list when discussing weddings or large-scale Indian celebrations this year. Couples in their twenties are leading the charge for sustainability in today's society. They encourage their friends and family to adopt healthier lifestyles because they have become more cognizant of their own lifestyle choices. This year, shoppers as well as designers place a significant priority on wearing sustainable clothing. As there has been a significant change in the bride and groom's sartorial preferences, this is redefining post-pandemic wedding fashion trends. They are now choosing sustainable clothing that is versatile and stylish rather than developing a small collection out of typical heavy apparel.
Please follow and like us: