The Go-To Airport Outfits from 5 Fashion Experts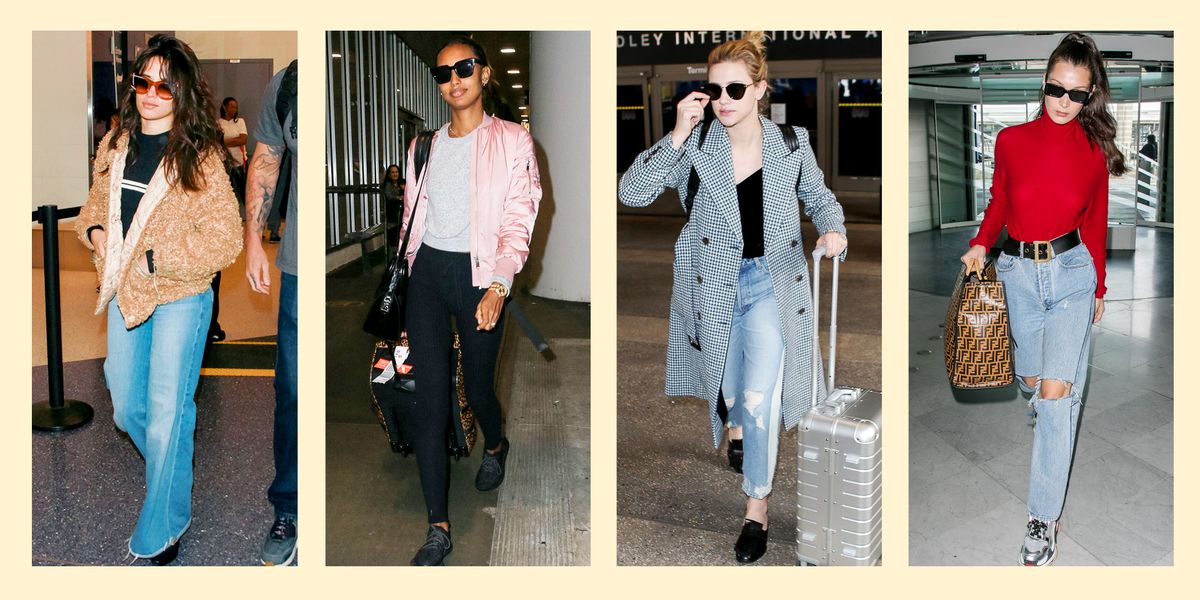 Another airport fashion tip is to always, always, always layer up. "Not all airports are made equal in terms of climate management," Hamilton says, adding that if you have many layovers, you won't be assured the same temperature settings from one location to the next. Plus, planes are often chilly, so it's always a good idea to take a cardigan or sweater (or both) in your carry-on to be prepared.
While accessories can make any outfit stand out, they can sometimes make traveling difficult, especially when going through customs. Rather than stacking on your favorite bangles or necklaces, Hamilton recommends swapping your jewelry for embellished or patterned tops or bottoms, features that help an item stand out on its own. It's not always easy to get ready for the airport. Comfort is important, but does it have to imply sweatpants? Are you going somewhere hot yet leaving somewhere cold? Do you dare to wear the heels you wanted to bring but couldn't fit in your carry-on? While numerous aspects contribute to an airport look, celebs appear to have it down pat when it comes to traveling in style. Take a cue from Bella Hadid and Rosie Huntington-Whiteley, who make in-flight fashion appear effortless. With holiday travel just around the corner, now is a wonderful time to upgrade your airport attire. What's worse than flying home for the holidays and meeting an old buddy in a sloppy airport outfit? It's easier than you think to achieve the perfect travel appearance. The top priority on my list is to be comfortable, especially if I'm going a long distance. I used to swear by a sweatsuit and shoes as my go-to airport outfit, and while I still enjoy a good matching pair, I figured it was time to step up my airport style a notch. As previously stated, comfort is essential, but adding a pair of jeans or cargo pants dresses things up a bit.
Comfortable meets practical
Yolandie Hamilton, Personal Style Coach and Founder of Hamilton Styling is the expert.
The Tip: Hamilton's airport uniform is composed of elastic-waisted, wide-leg black jersey slacks, a bright blouse, and an easy-to-stow cardigan with slip-on shoes.
"If necessary, I can remove [my shoes] on the plane. The remaining components of my wardrobe all allow me to manage how warm or chilly I feel in any setting, as well as limit any physical squeezing or restriction — such as binding denim waistbands — when sitting for an extended period."
Essentials and a Blazer
Ali Mejia, Co-Founder and Chief Creative Officer of Eberjey
The Tip: Mejia tells InStyle that if she's going anywhere, she'll probably wear an Eberjey jogger or a roomy vintage Levi's with a lightweight cotton shirt. Layers are also important, she says, so she'll tie a warm sweater over her neck and throw a pair of socks in her backpack just in case the plane gets cold. But what is the missing item that completes the look? A boyfriend blazer that is big. "The mix of slouchy and polished seems elegant but uncomplicated."
What is your favorite statement piece?
Stylist Ashley Pruitt is the expert.
When it comes to airport attire, one stylist believes that less is more. "I usually stick to my fundamentals," Pruitt says, naming a fantastic pair of not-too-tight denim (her favorite is the AGOLDE relax crop bootcut), a vintage leather jacket, sneakers, and a classic T-shirt. In terms of accessories, she considers her travel bag to be the star. "I've had a leather LANVIN tote in my closet for seven years." I can beat it up, and it never goes out of style when I'm running."
Elegant Loungewear
Wardrobe Stylist Gabbi Maragos is the expert.
The Tip: When it comes to airport outfits, Maragos is all about comfy bottoms. "You can dress [joggers] up or down, and they are designed for comfort," she tells InStyle. "I can wear a set with my Chanel espadrilles or shoes, a tank, and a small bomber or denim jacket." The choices are limitless, and the end product is always fashionable.
Anything that is wrinkle-free
Kate Bock, model, and entrepreneur, is the expert.
The Tip: Do you have wrinkles? Sitting on a plane for hours is going to cause some bending in your clothing, which Bock prefers to prevent. "My favorite pieces for summer travel are lightweight, wrinkle-free long pants like the Anine Bing Billie Pants," she says. "They appear put-together but are quite comfy."
6. Rosie Huntington-Whiteley Huntington-Whiteley-Whiteley-Whiteley-Whiteley-Whiteley-Whiteley Whiteley is recognized for her chic style, and she doesn't miss a beat when she arrives at the airport. A button-down, slacks, and a wide blazer keep it fitted without becoming overly formal.
Kendall Jenner
The model achieved the ideal balance of style and comfort by wearing a jersey knit ensemble with snakeskin booties.
Bella Hadid
Bella Hadid dressed up her streetwear with a tight turtleneck and waist-cinching belt.
Please follow and like us: