How To Style A Sharara In 7 Different Ways?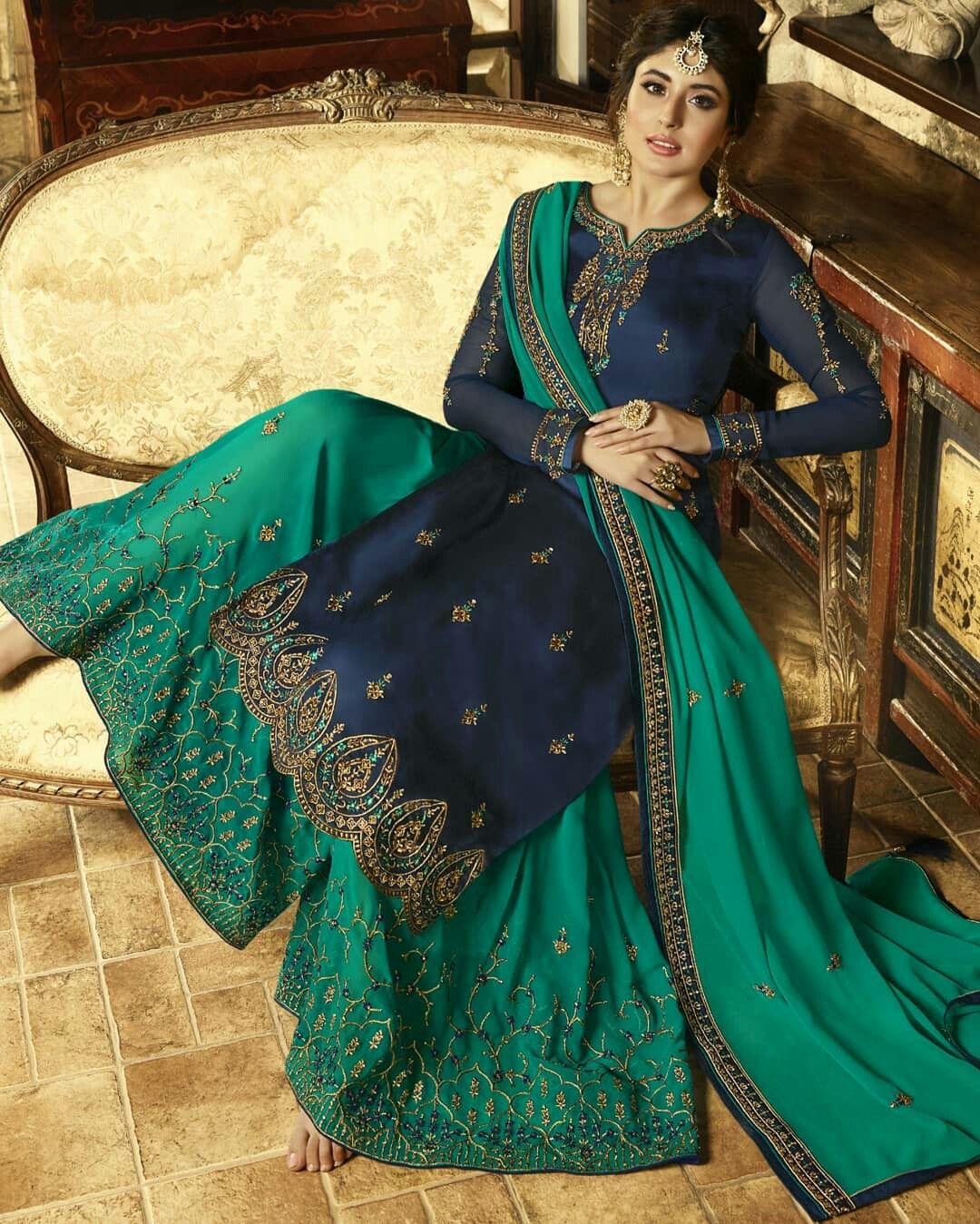 The exquisite sharara trousers are trending yet again after so long and have already been seen in the wardrobes of a number of celebrities. These are some of the favorite features of everyone about sharara pants is how customizable they are and how many various ways they could be dressed. For a stylish look, you don't have to acquire the most recent sharara patterns. You can quickly update your sharara and add some flair to your look. Shararas are a godsend for newlyweds and attendees who are tired of wearing cumbersome lehengas.
Shararas have given the bridal dress closet a fun touch. They're classic, elegant, and everlasting bridal gowns. It's a terrific shape with a lot of adaptability because it's so easy to wear. Brides and bridesmaids who really are tired of wearing hefty lehengas, trust us when we say that shararas are here to save the day. You may wear a sharara in a variety of ways to achieve a comfy yet stylish look for your event.
Sharara outfits are very fashionable ethnic clothing that a majority of ladies prefer. A sharara dresses topwear is slightly shorter to accommodate the flare and flowing look of the sharara pants. Sharara designs can be styled in a variety of ways, all of which are relatively easy. Given the ornate and elegant nature of the sharara suit, a little embellishing would go a fair way. However, there are very few frequent styling blunders that individuals make with this dress. It's really about the pattern with some current sharara styles as well as acessories.
Let's have a look at 7 sharara styling in different ways:
Straight Kurti with Sharara Plazzo Dress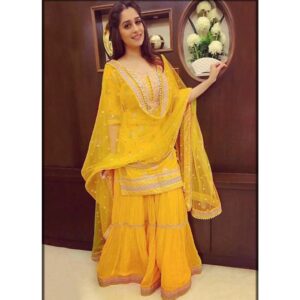 Sharara with basic short kurti and gotta work is something vibrant yet classy look one can own and that too in yellow will be the best ever. This is designed according to the new fashions to keep you in step with high fashion and will keep you comfy all day long at weddings and other occasions. The weight is light. Kurtis for daily wear and working wear will be gentle on your skin. Its gorgeous colours, prints, and patterns, as well as its simple and original design. This women's kurti is stitched in a standard fit to keep you comfy all day. In this Kurtis, the front design is fantastic. It can be worn at a get-together, an evening function, a Haldi ceremony, or a party.
Peplum Sharara Look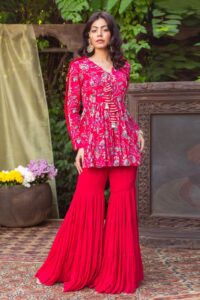 If you've opted to wear a sharara costume to the marriage, match it with a peplum top. Furthermore, an embellished peplum sharara dress could transform you into a Diva in an instant. Also, this style with the ornate tie-up design is the most beautiful. Additionally, mix it with soft colours to create a delicate effect. For ultimate glam, pick a good peplum-style sharara with floating embroidery. Just a pair of heavy jhumka's and you are ready to rock the occasion.
Crop top with sharara bottoms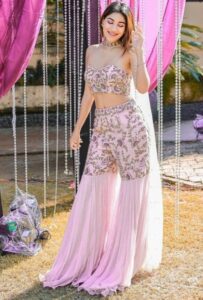 You may complete your style with a beautifully embellished crop top sharara suit and dupatta. A pre-stitched dupatta is also an option for the feminine lady who wants a strong style. A short cape can be worn over the bustier and sharara to complete the outfit. Don't you think it's a more modern look than a traditional one?
If you have a sharara in your wardrobe, it will look great with a plain or embellished crop top. Also, when worn with a single or multi-tiered sharara bottom, contrasting coloured crop tops appear fashionable. Furthermore, the printed sharara and patterned crop top provide the wearer an attractive appearance. A halter neck, sleeveless, off-shoulder crop top is ideal for this.
Sharara saree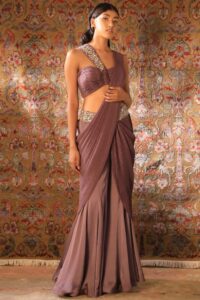 The ideal clothing to wear with a saree is the sharara. Furthermore, the flared sharara bottom adds beauty to the saree. You can use plains and prints for this. Floral designs and pastel colours are popular in sharara saree outfits nowadays days. Play with this look and use the statement belt to cinch in your waist. Choose among these styles to add a touch of dignity to your outfit. Also, choose the most recent neck and sleeve designs.
Cape top & Sharara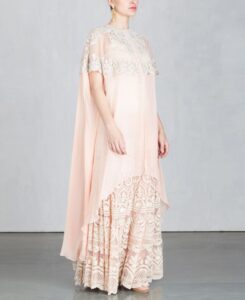 A sharara dress in the manner of a cape is appropriate for celebrations and weddings. Furthermore, the combination of a traditional sharara with a western top would help you stand out on special events. You could even use a one-shoulder cape with this style for a really stunning effect. In the summertime, we could wear this style of fashionable kurta to an evening party. The most appealing feature of this suit is that it is based on an indo-western motif, allowing us to wear it comfortably in our daily lives, particularly during the summer.
Jacket with sharara look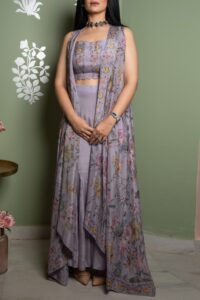 A new trend in sharara sets with a jacket style creates a strong look. A three-piece sharara suit is included in this design. Jackets are also available in a variety of lengths. Jackets like these look great with a sharara and a crop top. Peplum jackets are really popular these days. This silhouette has a more modern appearance than the previous one. Jackets with prints or embroidery can also be worn with the sharara pants. Also girls are loving it because of it's comfort and contemporary look. You should add beautiful accessories with this dressup like earrings and bangles or watch. Don't forget to keep your hars open.
Straight kurti and sharara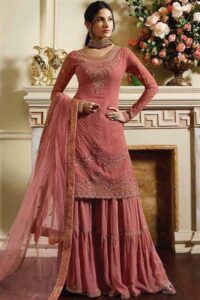 Salwar suits abound in women's closets, but a classy shorter sharara suit has its own elegance. The combo of a layered gharara and a sleek short kameez is unique. A flared sharara and a tailored short kameez will bring back memories of "Pakeezah." A backless short kurti with quarter sleeves, on the other hand, exudes a traditional atmosphere. Silk embroidered sharara outfits are in high demand these days for weddings and festivals..Most graceful yet elegant attire to try on this wedding season.
Please follow and like us: