Best Affordable watch brands in 2022 for Men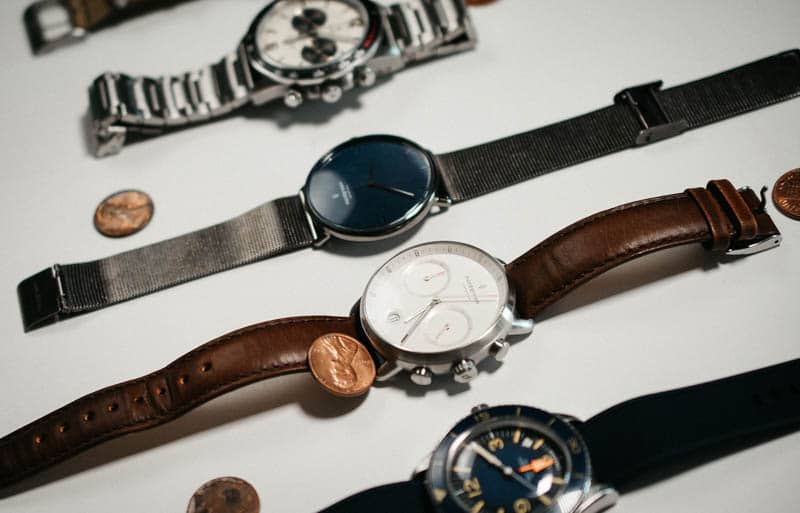 Victorinox
The market leaders for Swiss army knives also provide a wide range of high-end, quaintly mid-range watches. Victorinox watches are renowned for their durable construction, clean, appealing design, and straightforward functionality. They are equally as tough in construction as they appear to be because they are constructed of lightweight titanium.
Alpina
Since 1883, Alpina has been producing timepieces. They provide a wide variety of anti-magnetic, anti-shock, and water-resistant timepieces and are known as the inventors of contemporary sports watches. They are renowned for their creative and quality-driven approach to horology and produce all of their designs in-house.
Nomos Glashütte
One company that has distinguished itself from the competition is Nomos Glashütte. Every choice can be accommodated by one of their celebrated superb mechanical timepieces, which come in styles ranging from casual and sporty to elegant and classy. The brand was established in 1990 in Glashütte, Germany, by Roland Schwertner. The company's dedication to perfection has grown over the years, and its timepieces are now recognized as some of the best value watches in the world.
Seiko
Seiko sells Rolex-style watches at a fraction of the cost. Seiko, one of the most popular brands in the world, offers a variety of watches with dials and hands that are similar to those of high-end retailers but have a more relaxed appearance. The Japanese company manufactures everything in-house and grows its quartz for its battery-operated clocks.
Stuhrling
Perhaps the most striking timepieces offered by Stuhrling to date. Therefore, if you want to stand out from the crowd, this label is for you. They are dedicated to producing original, ground-breaking designs and offering them at even more innovative pricing. This Brooklyn-based company uses no showy advertising and instead lets its goods do the talking.
Casio
From dress watches to outdoor digital watches, Casio specializes in them all. Choose from their assortment of gorgeous leather strap watches or their chic steel smartwatches. Casio's broad selection of products surely delivers quality and aesthetics for one of the most reasonably priced brands on the market.
Tissot
In 1853, Tissot unveiled the first pocket watch with dual timezones to the world. Additionally, they invented the first mass-produced pocket and anti-magnetic clocks, as well as timepieces made of wood, stone, plastic, and mother-of-pearl. Tissot watches are stylish and of the highest caliber, and they have a reputation for innovation.
Triwa
Four friends who wanted to, well, revolutionize the watch industry formed Triwa, which stands for "transforming the industry of watches." Triwa developed its brand of reasonably priced, stylish yet modern, and edgy Scandinavian watches after growing tired of the elitism in the watch industry. The company sells timeless styles with trendy coulis and adjustable straps.
Voter
At a fraction of the price of high-end designers, Citizen is known for making the most precise timepieces ever manufactured. Another environmentally conscious business, they even introduced a range of timepieces with batteries powered by sunlight or artificial light.
G-Shock
G-Shock by Casio is the brand for you if you like to spend time outside and are looking for something a little more robust. G-Shock watches are made to be durable because they are both shock and water-resistant. Its sturdy design and soil composition have earned it the moniker "unbreakable watch" from engineers.
Timex
Some of the most appealing, functional, and affordably priced casual timepieces are available from Timex. They are also chronographs, look great, and have replaceable straps, so you can get first-rate functionality and style for a lot less money.
Movado
In the village of La Chaux-de-Fonds, the national epicenter and birthplace of fine Swiss watchmaking, Movado was established in 1881. Since its inception, they have concentrated on providing Swiss historical timepieces with cutting-edge designs and pricing.
Mondaine
The renowned red second hands of Mondaine timepieces make them instantly identifiable around the globe. Apart from that, they are renowned for their plain Swiss railroad watches with clean, uncomplicated dials. Mondaine aims to produce creative, minimalist clocks at competitive pricing.
Junghan
For more than 150 years, the German company Junghans has offered stylish, high-quality watches. They work to build a reputation for innovative ideas and fine craftsmanship. You know you are receiving high quality without spending top price because of the label's longevity.
Tsovet
Tsovet, another California-based company, employs creatives from a range of disciplines to assist in the engineering and design of their clocks. The result is distinctive watches with breathtaking design, contemporary yet timeless features, and cutting-edge technology. Tsovet produces beautiful, long-lasting watches at affordable costs.
Guess
Guess watches are easily recognized because of their unusual designs. They have long been prominent players in the designer timepiece market, and it is simple to understand why given their cutting-edge technology and contemporary designs.
Please follow and like us: