18 Best Blood Pressure Watches in 2022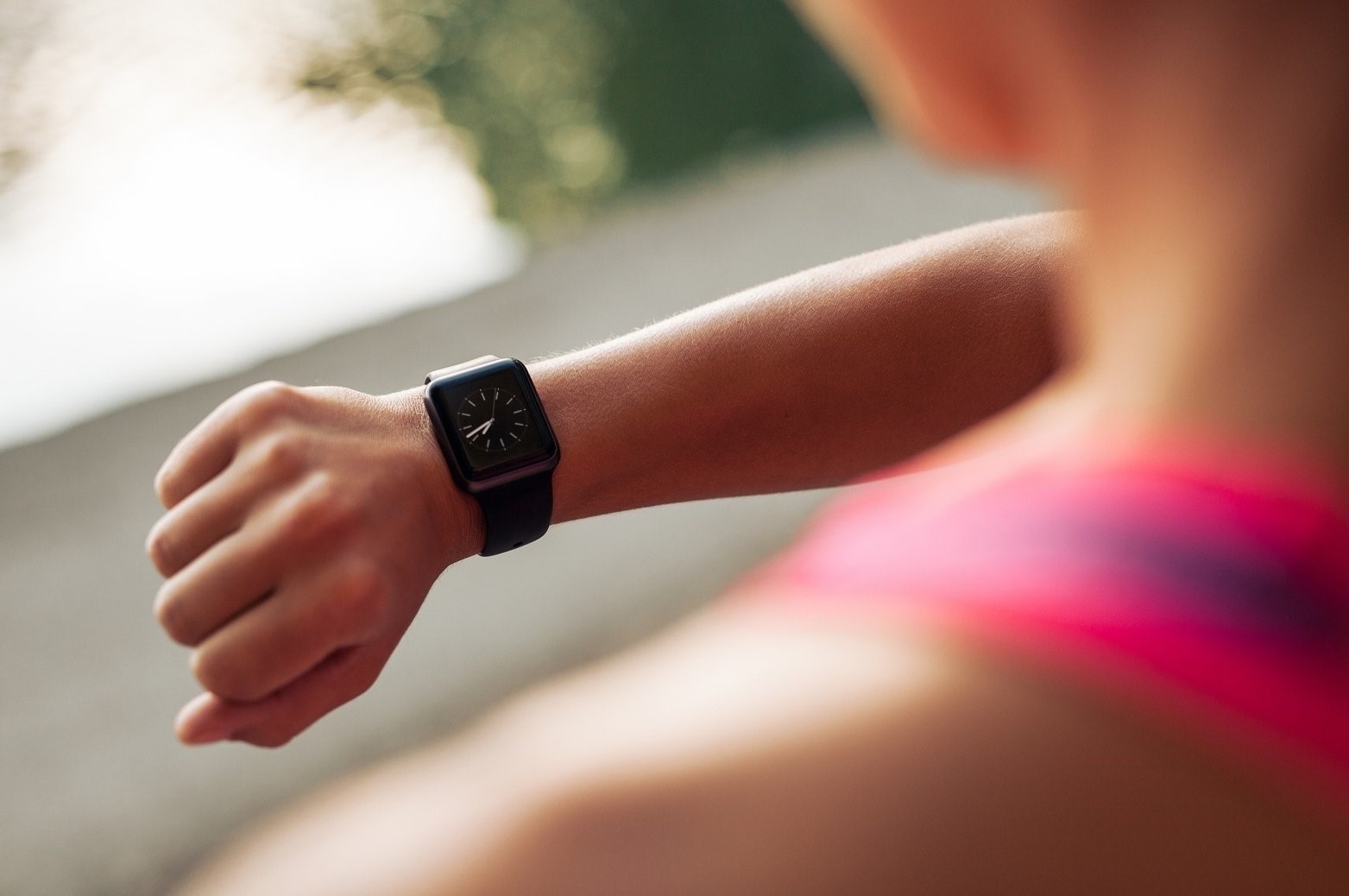 It's never too late to set some fitness goals, and keeping track of your blood pressure is among the most straightforward ways to do so. This is because it demonstrates how a workout benefits your heart's wellbeing. Measuring your blood pressure used to necessitate a trip to the doctor, but now it's as easy as putting on a fitness tracker or wristwatch. In this blog, we have mentioned the best and most reasonably priced blood pressure watches to aid you in your fitness goals.
Let's have a look at the 18 best blood pressure watches in 2022:
Timex Fit 2.0 smartwatch with Bluetooth Calling, SPO2, and Blood Pressure Monitor, Metal Body, Continuous Heart Rate Monitor, and 200+ Watch Faces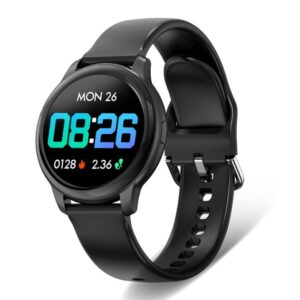 The Timex Fit 2.0 has a built-in microphone and speaker for making Bluetooth calls. You may use the watch to dial and answer calls without having to take your phone out of your pocket.
SpO2/oxygen measurement, blood pressure, and dynamic heart rate tracking are all built into the Timex Fit 2.0. It detects deep sleep, light sleep, awake, and off bedtime in sleep mode to keep track of your sleep routine.
This Smartwatch comes with a selection of unique dials that can be swapped out at any time. With Timex Fit 2.0, you may change watch faces to suit your mood.
boAt Xtend Smartwatch with Alexa Built-in, 1.69" HD Display, Multiple Watch Faces, Stress Monitor, Heart & SpO2 Monitoring, 14 Sports Modes, Sleep Monitor & 5 ATM Water Resistance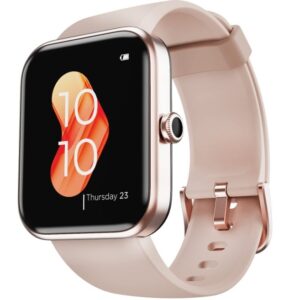 Alexa has a built-in Voice Assistant that can set reminders, alarms, and answer questions about everything from weather forecasts to live cricket scores. The watch has a stress monitor that measures your HRV (Heart Rate Variabilities) to determine how stressed you are.
Your heart rate and SPO2 (blood oxygen levels) are also monitored by the watch to keep track of your overall health.
With the sleep tracking feature on the watch, you can track all stages of sleep and keep an eye on your sleep health every night.
Fitbit Sense Advanced Smartwatch with Tools for Heart Health, Stress Management & Skin Temperature Trends, White/Gold, One Size (S & L Bands Included)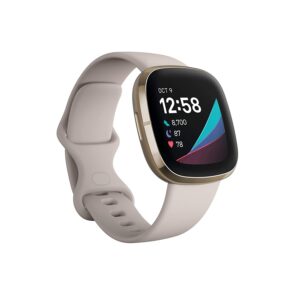 The Sense EDA Scan app detects electrodermal activity, which may indicate your body's stress response, allowing you to better track and manage it.
Each night, Sense records your skin temperature to show how it differs from your personal baseline, allowing you to track trends over time.
Because your resting heart rate is an important sign of your health, Sense notifies you when it looks to be abnormally high or low.
Creative dizayn D116 Plus Smart Bracelet Fitness Tracker Screen Smart Watch Heart Rate Blood Pressure Pedometer Sleep Monitor Black
The GPS can track all of your training routes, lengths, and physical status throughout exercise, allowing you to enhance your health and fitness objectives by optimizing workouts and detecting health trends.
Heart Rate Monitor, Blood Pressure Monitor, and Blood Oxygen Monitor: Monitoring your heart rate allows you to calculate calories burned as well as check your cardio zones (Fat Burn, Cardio, and Peak) to determine the intensity of the activities that are best for your goals.
Fire-Boltt 360 Pro Bluetooth Calling, Local Music and TWS Pairing, 360*360 PRO Display Smart Watch with Rolling UI & Dual Button Technology, Spo2, Heart Rate – Silver, Large (BSW017)
The built-in speaker and microphone on the Fire-Boltt 360 Pro allow you to make and receive calls directly from your watch. This smartwatch has a dial pad, the ability to check recent calls, and the ability to sync your phone's contacts.
To use Bluetooth calling, first make sure it's connected to a compatible app. After you've connected, go to your phone's Bluetooth settings and link it manually.
LIGE Smart Watch, Bluetooth Calls Voice Chat Fitness Tracker with Blood Pressure Heart Rate Sleep Monitor,1.3″ Full Touch Screen Activity Tracker IP67 Waterproof Pedometer for iOS Android
This fitness tracker has automatic heart rate monitoring that runs 24 hours a day, seven days a week. At any time, you can monitor your heart rate. The smart watch's sleep monitoring feature can also record your sleep status to assist you to comprehend sleep data and give you reference numbers for daily health analysis to aid in the development of a healthy lifestyle.
This smartwatch allows for two-way communication. After connecting to the APP Dafit, you can phone and chat with family and friends at any time and from anywhere.
Women's Smart Watch Menstrual Tracking, Heart Rate, Blood Pressure, Sports Mode, Pedometer, Water Proof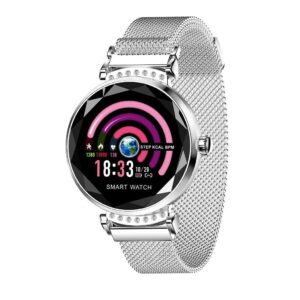 This wristwatch for women features a 1.04-inch OLED display, an alloy sandblasting laser highlight, and a ceramic casing with a trendy and elegant disc design that makes any lady appear stunning.
Reminder for female menstrual cycle, countdown, step count, 24-hour continuous blood pressure monitoring, 24-hour continuous heart rate monitoring Sleep monitor, blood oxygen, Waterproof, pedometer, many sports mode.
It can tell you when you'll get your period when you'll ovulate when you'll be safe, and when you'll get pregnant. Give you more thoughtful attention.
OPPO Health & Fitness Smart Watch(WiFi) 46mm, Heart Rate Monitor, Exercise Tracking, Dual-Curved Display, Up to 21 Days Battery Life(in Saver Mode), 4.85 cm (1.91″) AMOLED Display, in-Built GPS(Gold)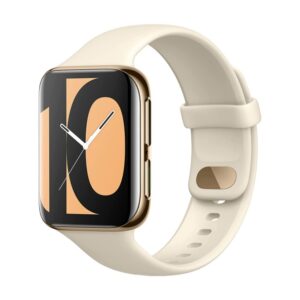 1.91-inch AMOLED display Dual-Curved Flexible In Power Saver mode, the display can last up to 21 days, and in Smart mode, it can last up to 24 hours.
With clever information management tools, you can track your health and fitness, monitor the weather, and stay up to date.
Location services using GPS and GLONASS Plan your route and prepare for a 50-meter water-resistance test. While swimming or braving the elements, 5 protects your watch.
The OPPO Watch can be worn in the shower, the pool, or at the beach.
Smart Watches for Women Heart Rate Monitor Blood Pressure Call Message Reminder Sport Modes Smartwatch for Android iOS Female Function Music Camera Control, white, fitness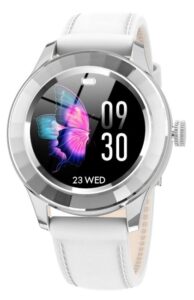 Regularly monitoring your heart rate allows you to study your data immediately from the bracelet sensor. Estimate the maximum oxygen update automatically to remind you and present health data.
Female physiological cycle function with a built-in reminder, which predicts and reminds the physiological period. Taking care of your health and giving you an intimate encounter
During your physical activity time, it is handy to control your phone's music APP via a wristband.
iP68 Waterproof Smartwatch 1.3 inch Display Fitness Tracker & Health Device Step Call Remainder Push Message Reminder Heart Rate Monitoring, Blood Pressure, Sleep Monitoring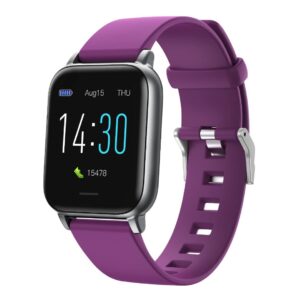 Professional Sensors and more Accurate Heart Rate and Body Temperature Data, 2.5D Plexiglass 10.2MM Ultra-Thin Body Assemble Silica Gel from the same Huawei provider, link phone with RUNMIFIT App, connectivity- Bluetooth 5.0/BLE Compatible Operating System Android 5.0 or higher and IOS 9.0 or higher.
It's a smartwatch fitness tracker that's advanced. 170mah battery capacity, charging time 2 hours, use time 8-13 days, charging method USB magnetic charging.
GOQii Smart Vital Plus 1.57" Full Touch HD Display with SpO2, Body Temperature, Blood Pressure, Heart Rate, Women Care and 3 Months Personal Coaching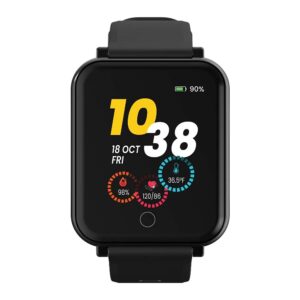 SPO2, Body Temperature, Blood Pressure, Step Count, Sleep Patterns, and More are all monitored by this trusted device.
Subscription to personalized coaching For three months, you'll receive interesting fitness activity and nutrition coaching courses, as well as doctor consultations and other benefits.
It offers automatic sleep tracking and heart monitoring 24 hours a day, seven days a week. You can also track all of your daily activities, such as steps, distance, calories burned, and active time, which makes it superior to any smartwatch.
KOSPET Smart Watch for Men/Women Full Day Heart Rate Monitoring Blood Pressure/Sleep Monitoring/Women's Menstrual Cycle Reminder Android Smartwatch Magic 4 with 20 Sports Modes 5ATM Waterproof-Pink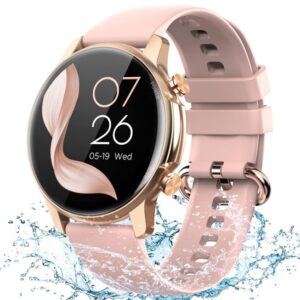 24H Comprehensive Health Monitoring: continuous monitoring of blood pressure, sleep, and heart rate, as well as easy-to-understand health statistics, will teach you more about your body, encourage you to improve your workout routines and keep your body and mind fit.
The Magic 4 Smart Watch also collects calories, heart rate, and other complete workout data for your various exercises, in addition to data such as exercise time, distance, and several steps. Improve the effectiveness of your workout.
Fitbit FB507GYSR Versa 2 Health & Fitness Smartwatch with Heart Rate, Music, Alexa Built-in, Sleep & Swim Tracking, Stone/Mist Grey, One Size (S & L Bands Included) (Stone/Mist Grey)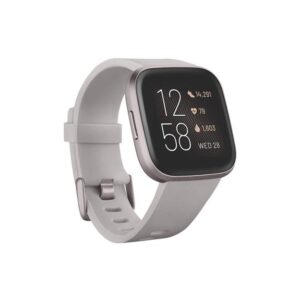 In the Fitbit app, you can use 24/7 heart rate tracking to better measure calorie burn, workout effort, and see your resting heart rate patterns and cardio fitness level.
With a battery life of 5+ days, it can be used around the clock. Variable depending on usage and other factors
Your information is always a fast glance away with a bigger display and an always-on option. The constant-on display necessitates more frequent charging.
BT Call Function Smartwatch Blood Pressure Smart Watch GPS Fitness Bracelet and Wireless Earphone TWS Earbuds 2 in 1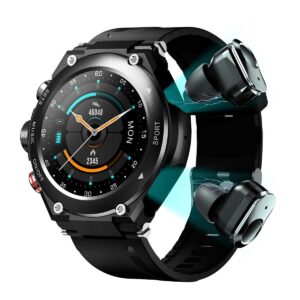 Local MPS music is played on the Watch.
The timepiece Connect to your phone and start listening to music.
Earbuds from TWS I'm connected to my phone and I'm listening to music.
Earbuds from TWS Music can be played while connected to a smartwatch.
Kimnix Smart Watch, 1.72 in HD Full Touch Screen Smartwatch Pink Fitness Tracker with Call/Text/Heart Rate/Blood Pressure/Oxygen/Sleep Step Tracking, Fitness Watch for Android & iOS, Men Women
1.72 Inch HD full touch fitness watch with Bluetooth Call, Information Push, Bluetooth Music, 7 Sports Modes, Fitness Tracker, Sleep Monitor, Pedometer, Heart Rate Monitor, DIY Watch Screen, and more.
You can make or receive phone calls directly from the smartwatch if you connect it to your phone via Bluetooth. It would also be nice to have a Bluetooth high-fidelity speaker to listen to music while walking, running, cycling, or climbing.
CrossBeats Orbit Bluetooth Calling Smartwatch with Metal Body, Full Touch Bright HD IPS Display, SpO2, Continuous Heart Rate, Blood pressure, Sleep Monitors & Multisport Modes with 10 Day Battery Life (Graphite Black)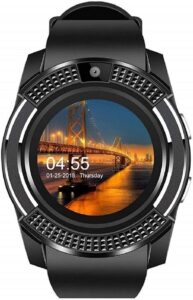 With an in-built mic and speaker, the Cross beats Orbit allows you to make and answer voice calls directly from your wristwatch. You may use the dial pad to make calls or access your favorite contacts that have been synced to the watch.
Health and Fitness Monitors: We have a heart rate monitor, blood pressure monitor, SpO2 level check, women's health tracking, and a sleep monitor for you.
OLICOM Android Smart Watch for Men V8 Pack of 5 | BT 3.0 Support SIM and TF Card Camera Android Watch for Facebook, TikTok, and Whatsapp Message Compatible with All Android and iOS Phone -Black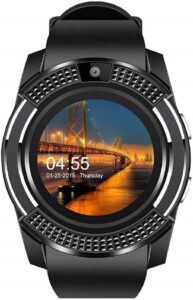 Monitoring your sleep, A pedometer, a sedentary reminder, and a pedometer Anti-theft / tracking phone, Phone camera with remote control, Sound recorder, alarm clock, and calendar
The smartwatch is always there when you need it during your daily routine, with a battery life of up to 380mAh. Furthermore, with its unique design, this unisex watch allows you to exercise and work out in style.
CanMixs Smart Watch for Android Phones iOS Bluetooth Smart Watches for Men Women IP68 Waterproof Sports Smartwatch Fitness Tracker Heart Rate Sleep Monitor Touch Screen Compatible Samsung iPhone
Blood pressure watch men women may track your real-time heart rate all day and measure Blood Pressure & Blood Oxygen sp02 thanks to the advanced latest built-in optical sensor. Stylish Lady's watches may monitor your sleep status throughout the day and analyze your sleep quality (deep sleep, light sleep, and wake-up time), allowing you to better understand your health and make appropriate lifestyle changes.
Please follow and like us: