Playful with Colors: Adding Vibrancy to Your Summer Wardrobe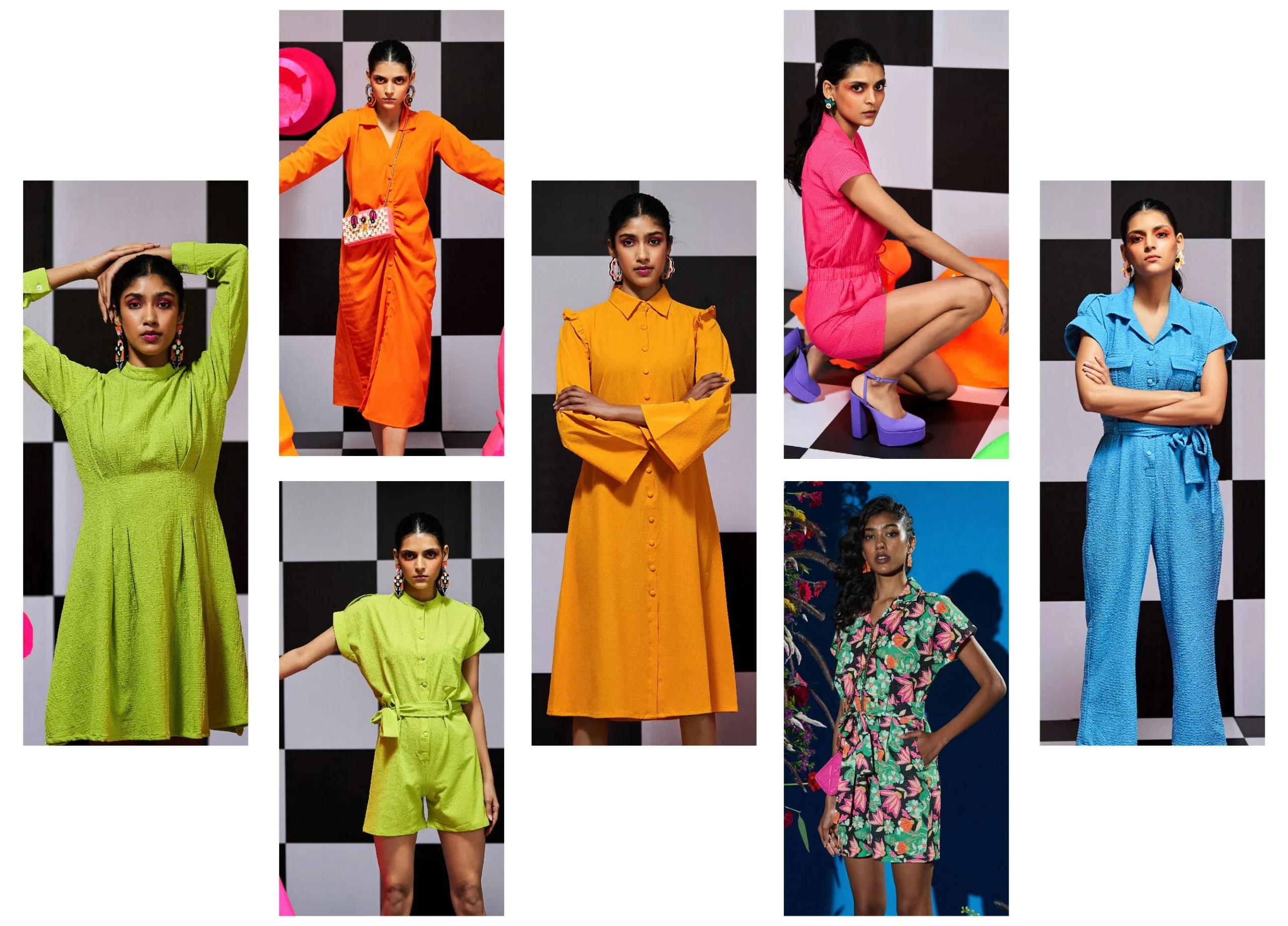 Summer is the perfect time to experiment with vibrant colors and inject playful energy into your wardrobe. Whether you prefer bold hues or subtle pops of color, incorporating vibrant shades can elevate your style and make a statement. In this article, we will explore ways to add vibrancy to your summer wardrobe, from incorporating colorful accessories to mixing and matching vibrant pieces. By embracing the power of color, you can create eye-catching and joyful outfits that reflect the vibrant spirit of the season.
Experiment with Colorful Accessories
Accessories are a great way to introduce vibrant colors into your summer wardrobe without overwhelming your entire outfit. Consider the following options:
Statement Handbags: Opt for handbags or totes in vibrant shades like electric blue, sunny yellow, or coral. A colorful bag can instantly elevate a neutral or monochromatic outfit, adding a fun and playful touch.
Bold Sunglasses: Rock a pair of sunglasses in a bright or unusual color, such as red, turquoise, or fuchsia. Not only do they protect your eyes from the sun, but they also become a standout accessory that adds personality to your look.
Colorful Scarves: Tie a colorful scarf around your neck, wrist, or purse handle to instantly add a pop of color to your outfit. Choose scarves in vibrant patterns or solid shades that complement your summer attire.
Mix and Match Vibrant Pieces
Creating vibrant outfits can be achieved by mixing and matching colorful pieces in unexpected ways. Here are some ideas:
Color Blocking: Embrace the trend of color blocking by combining solid-colored pieces in contrasting shades. For example, pair a bold orange blouse with vibrant purple pants or a turquoise skirt with a sunny yellow top. Color blocking creates a dynamic and eye-catching look that exudes confidence.
Printed Separates: Play with printed separates in vibrant patterns like floral, geometric, or abstract designs. Pair a colorful printed top with solid-colored bottoms, or mix and match printed pants with a bold solid-colored blouse. This adds visual interest and a lively touch to your summer outfits.
Contrast with Neutrals: Add pops of color to your neutral outfits by incorporating colorful accessories or statement pieces. For example, pair a white blouse and beige shorts with vibrant red sandals and a turquoise statement necklace. The contrast between neutrals and bold colors creates a striking and balanced ensemble.
Embrace Bright Summer Dresses
Summer dresses are the epitome of effortless style, and opting for vibrant options can enhance your warm-weather wardrobe. Consider the following:
Maxi Dresses: Choose maxi dresses in vibrant shades like coral, emerald green, or cobalt blue. These long, flowing dresses create a statement on their own and are perfect for casual outings or beach days.
Sundresses: Sundresses are versatile and can be found in a wide range of colors and patterns. Opt for sundresses in vibrant prints, such as tropical motifs, stripes, or polka dots, to bring a cheerful and playful vibe to your summer looks.
Colorful Wrap Dresses: Wrap dresses in vibrant colors, such as fiery red, vibrant orange, or hot pink, to create a flattering silhouette while adding a bold touch to your summer wardrobe. Pair them with neutral accessories to let the dress be the center of attention.
This summer workout attire is perfect for sculpting, yoga, or pilates, especially when worn with wrist weights to subtly increase the burn. The OXB range of jewelry designed to wick away sweat is the best option if you like to wear jewelry while working out.
Fiery and Passionate Reds
Red is a great color for the summer if you like to make a dramatic statement. Red, which stands for passion and vigor, can give your clothing a fiery edge. For a summery twist, choose bold hues like coral or watermelon. You can become the center of attention on any summer occasion by wearing a red sundress or a pair of red statement heels.
The calming and cool blues:
Blue is your go-to color for escaping the summer heat. This color conjures up feelings of serenity and freshness in a variety of shades, from calm baby blue to vivid turquoise. Darker blues like navy can give a sense of sophistication to your evening dress, while lighter blue tones are ideal for casual outings and beachwear. For a cool and breezy style, experiment with various blue hues and include them in your summer clothing.
Conclusion
Infusing vibrancy into your summer wardrobe is a delightful way to embrace the joyful spirit of the season. Experiment with colorful accessories, mix and match vibrant pieces, and embrace bright summer dresses to create playful and eye-catching outfits. Whether you opt for bold color blocking, lively prints, or the contrast of neutrals and pops of color, adding vibrancy to your summer style allows you to express your personality and elevate your fashion choices. So go ahead and have fun with colors, as they have the power to uplift your mood and make a statement all summer long.
Please follow and like us: