Dressed to Impress: Sophisticated Summer Looks for Men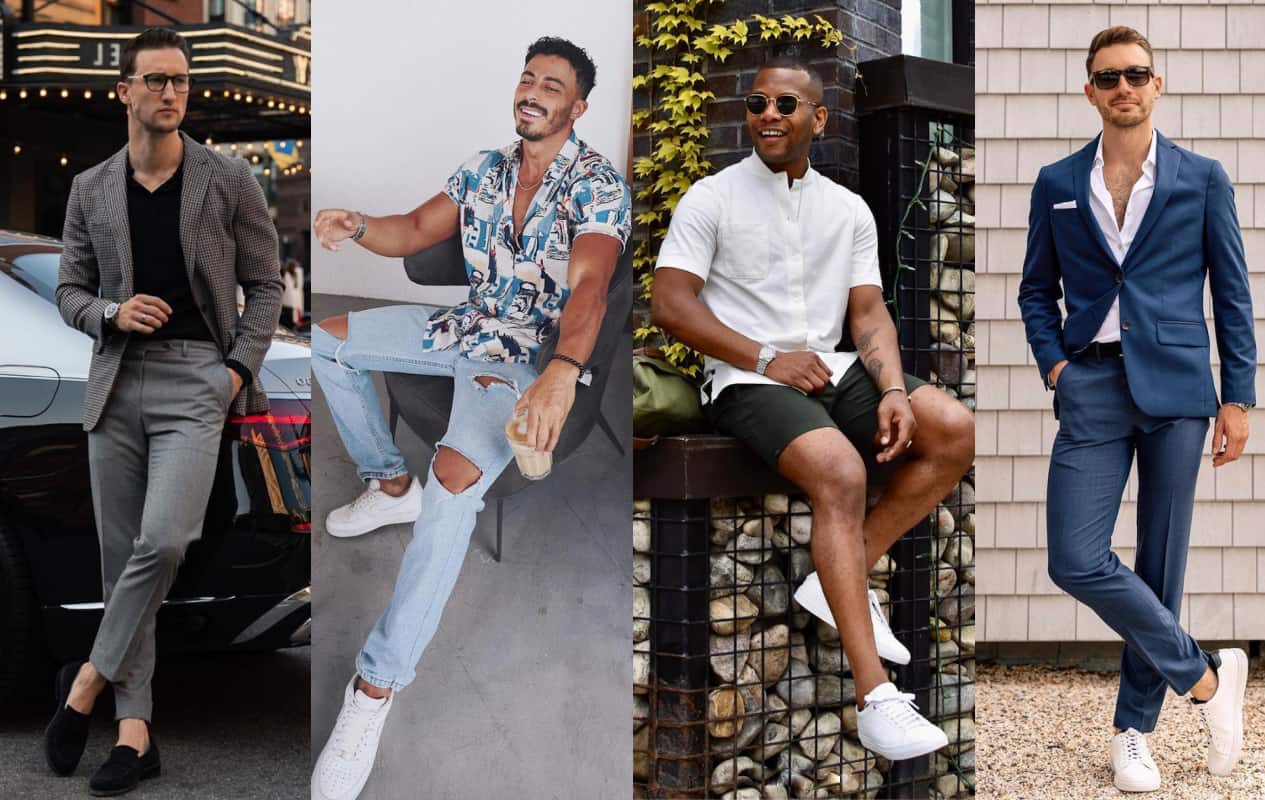 Summer is a time of vibrant energy and endless possibilities. Whether you're attending a rooftop party, a beachside wedding, or simply strolling along the city streets, it's important to dress to impress. In this article, we'll explore sophisticated summer looks for men that strike the perfect balance between style, comfort, and elegance. From tailored suits to relaxed ensembles, these outfit ideas will ensure you look dapper and confident during the warmest months of the year.
Lightweight Linen Suits
When it comes to summer suiting, lightweight fabrics are essential. Opt for linen suits in light colors such as beige, light gray, or sky blue. The breathable nature of linen will keep you cool and comfortable while exuding an air of sophistication. Pair your linen suit with a crisp white dress shirt and accessorize with a silk pocket square and a slim tie in a complementary shade. Complete the look with leather loafers or suede oxfords for a polished finish.
Smart-Casual Blazers
For a more relaxed yet sophisticated summer look, consider incorporating smart-casual blazers into your wardrobe. Opt for unstructured blazers in breathable fabrics like cotton or a cotton-linen blend. Choose versatile shades such as navy, khaki, or light gray, which can be easily paired with various bottoms. Style your blazer with tailored chinos or slim-fit trousers in a complementary color. Complete the ensemble with a patterned shirt or a lightweight polo and suede loafers for a refined touch.
Stylish Short-Sleeve Shirts
Short-sleeve shirts are a versatile staple for summer, providing both style and comfort. Opt for shirts in lightweight fabrics like linen or cotton with subtle patterns or vibrant prints for a playful touch. Pair them with tailored shorts in complementary shades or with slim-fit trousers for a more formal occasion. To elevate the look, add a braided leather belt, boat shoes, or loafers. Roll up the sleeves slightly for a relaxed and confident vibe.
Tailored Shorts and Polos
For a sophisticated yet casual summer look, opt for tailored shorts and polo shirts. Choose shorts in lightweight fabrics like cotton or linen, in classic colors such as navy, khaki, or olive green. Pair them with a well-fitted polo shirt in a complementary shade. Ensure the polo shirt is of good quality and has a clean silhouette. Complete the outfit with leather sandals or boat shoes and a woven belt for a touch of refinement.
Linen Shirts and Trousers
Linen is the epitome of summer elegance, and incorporating linen shirts and trousers into your wardrobe can elevate your style game. Choose linen shirts in classic colors like white, light blue, or soft pink. Pair them with well-tailored linen trousers in a coordinating shade for a monochromatic look or opt for contrasting colors for a more dynamic ensemble. Complete the outfit with leather loafers or espadrilles for a sophisticated finish.
Accessorizing with Panache
Accessories play a crucial role in enhancing your summer looks. Opt for lightweight and functional accessories that add a touch of sophistication. Consider a straw fedora or a linen flat cap to protect yourself from the sun while looking stylish. Invest in a quality leather belt, a classic wristwatch, and a pair of stylish sunglasses to complete your ensemble. Don't forget to pay attention to the details, such as matching your belt with your shoes for a polished appearance.
Breton With Chinos
France has made many contributions to fashion, but the Breton top is among its most enduring and adaptable creations. This striped pullover was first made available as a French Navy uniform in 1858 and is now considered a wardrobe need. The Breton provides a more subdued method to experiment with prints and is offered in both short- and long-sleeved variations. A cuffed blue chino will always be a suitable ally, worn with either basic leather trainers or Derby shoes, depending on the occasion. Keep supplementary clothing simple and understated.
Heatwave at work
When the weather starts to heat up, the office isn't usually the most hospitable place to be. However, a few seasonal wardrobe adjustments might make working at the office throughout the summer a little bit more bearable. Rule number one is to get rid of anything unneeded. To immediately create the atmosphere cozier, start with the tie and belt. Fabric is the next stop; use lightweight fabrics like poplin and linen instead of bulky winter materials like wool and Oxford cloth. If you're looking for a custom shirt, you may even ask for the back panel to be made of voile fabric to increase breathability.
Conclusion
With these sophisticated summer looks for men, you'll be ready to make a lasting impression wherever your summer adventures take you. From lightweight linen suits to smart-casual blazers, stylish short-sleeve shirts to tailored shorts and polos, and linen shirts and trousers to well-curated accessories, these outfit ideas will help you exude confidence, elegance, and effortless style throughout the season. So embrace the summer spirit, dress to impress, and make a sartorial statement wherever you go!
Please follow and like us: