12 Best Kendall Jenner flip flops sandals in 2022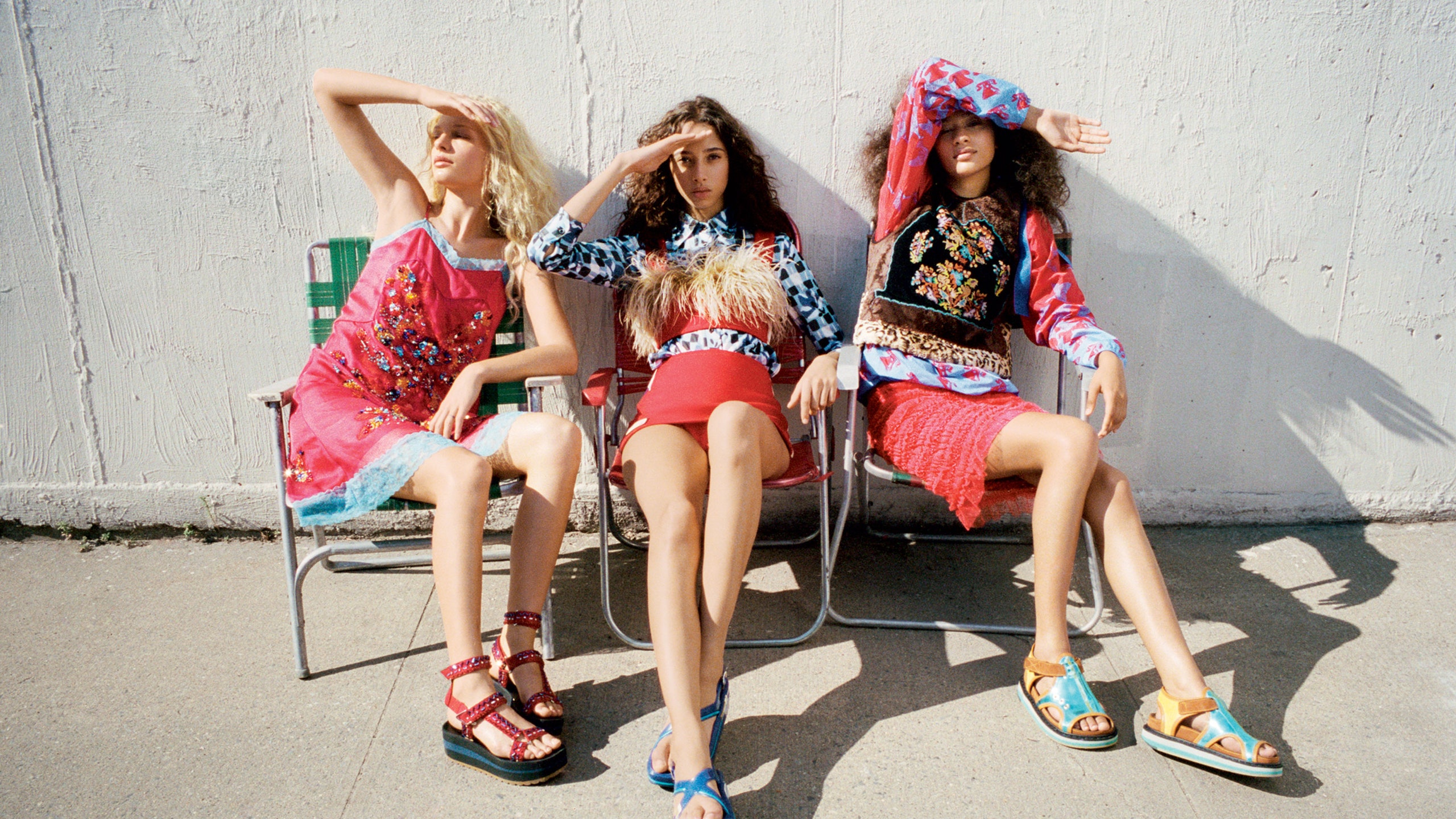 Kendall Jenner is an American supermodel who has a great following for her fashion and styling. And being a supermodel she sets the trends that are followed by everyone else known for her iconic street styles as they often are very comfy yet stylish. She has seen wearing flip flops, flats, and even crocs with her designer dresses and sometimes as a casual look for the street, and without a doubt, she rocked them all and changed the definition of flip flops which are often considered to be worn in house or for boring sessions. Herein today we will discuss Kendall's flip-flops sandals which are classic and worn by her in various ways that even you can follow in your styling in 2022.
Black Flip Flop sandals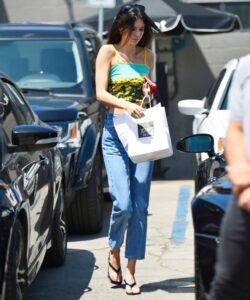 Kendall wore these prettiest black flip flops with tiny heels that you must try in 2022. They look extremely pretty you could pair them with jeans like Kendall did it looks such an effortless yet classic way of styling. If you are that tall girl and heels are your obsession then these are supposed to be your go-to sandals. They will make your feet look beautiful and also compliment your complete look. The best part is without hurting your heels you could add a pump to your legs with these tiny heeled Flip flops.
Kendall flat flip flops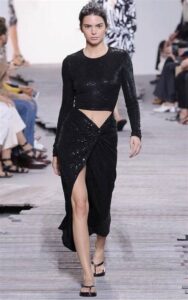 Also Read: HOW TO COVER YOUR ARMS IN A SLEEVELESS DRESS
Who could ever think of wearing Flip flops that are too flat ones with shimmery designer dresses only Kendall could do this and this is your sign to pull off this comfiest styling and look your best in a Kendall way? She walked for the Michael Kors collection and made it trend afterward as heels cannot always be your go-to footwear if you aren't a heel person.
Kendal party Flip Flops
It can't be wrong if we call Kendall the queen of Flip flop's being a tall girl she knows how to compliment her height with perfect pair of footwear. Just have a look at her this party look how effortlessly she wore these black flip flops with white heels along with a mini skirt this is making her legs appear so beautiful this is an ideal way to flaunt your long pretty legs. Now another factor is you must know what hairstyle you must go for with particular dressing and for that also follow your idol Kendall she got your back in 2022 styling.
Also Read: TOP 7 FASHION BLOGGERS/INFLUENCERS: FOLLOW THEIR STYLING TIPS 
Kendall flip flops with leather pants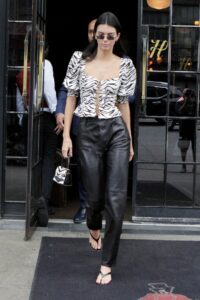 Can you hear through this picture that Kendall says there's no such rule of pairing flip flops with particular attire it is completely up to you? You can pair them with whatever you want otherwise who could even try Flip flops with leather pants. But Kendall proved that it is just our perception that stops us from trying such styling look how elegantly she completed this look follow the details and try it out don't forget to add your shades because you are the boss and everybody must know that.
Yellow Flip Flops of Kendall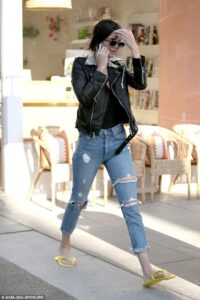 How cute are these fish-like flip flops of Kendall isn't it seem that the flip flop era is back. She wore it for her nail session and now you know what you are going to wear for your next parlor visit. This pairing of flat flip flops with jeans and the bomber jacket is such an amazing idea just try little quirky flip flops to add that extra in your look and of course, opt for vibrant color let your footwear do the talking. Get this casual look inspired by Kendall and rock it as you own it.
After Gym look at Kendall in Flip flops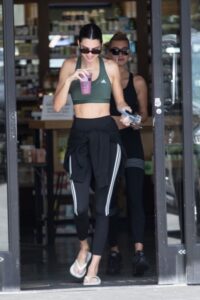 Kendall wore white flip-flops after her gym session to get her coffee and look how feminine it looks. Nobody can imagine that even in gym clothes someone could look this pretty. And here we are getting the message from Kendall that wearing your shoes inside the gym after gym should be comfortable enough while you having your favorite drink so start keeping extra pair in your gym bag from now on It will help you in leg days for sure.
Kendall's satin attire with flip flops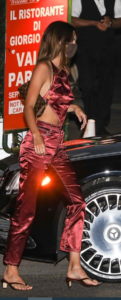 By now you must be convinced with the close-knit affair of Kendall Jenner with her Flip Flops. Just look at this satin attire and pretty matching flip flops they are shouting what we call comfort and fashion together is. Your trouser and tiny heeled flip flop along with satin crop top next outfit for the party so that you can dance out your heart and soul without being fear of falling or feeling pain in your heels after dancing sessions. Does this mean you should add flip-flops of every possible color in your collection? I mean why not they look so classy that to with every other outfit.
Also Read: HAIRSTYLES WITH BANGS 30 OF THE MOST POPULAR
Kendall's Victoria secret Flip flop look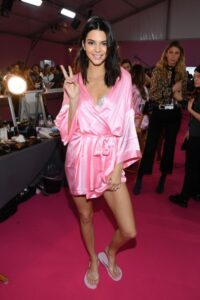 Have a look at Kendall pre look of Victoria's Secret fashion week this pretty satin robe and nude flip-flops aren't they giving major goals. Such a comfy look while showing pretty long legs such an appealing look you need to try this on your next vacation to the beaches and even your daily evening look get these pretty flat nude flip flops right away and plan your vacations super soon.
Kendall wore flip flop sandals with a long dress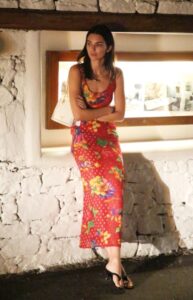 This elegant body-fitted dress and tiny heeled flip flops are major goals you might be getting rid of your pumps and gladiators soon after completing this blog I mean why are they even need them if you got such pretty ideas of pairing flip flops with your dresses.
Pretty Pink look of Kendall Jenner
Pink is a new black got a definition how pretty does she look in this complete pink look with matching flip flops. You should try it for your mall visits I guess so that with such a beautiful yet comfortable look you can spend hours while shopping in a mall.
Flip flops with shorts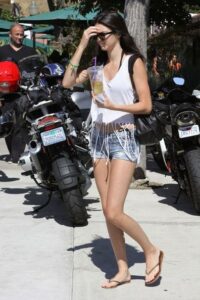 Make notes on how to flaunt your legs perfectly inspired by Kendall styling how elegantly flip flops are defining her legs in this attire you should try this too.
Tights and flip flops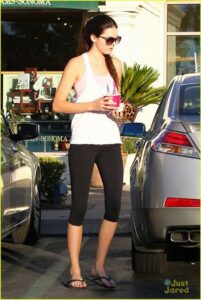 Flip flops with tights and midriff tops never go wrong and Kendall is proving that in such an amazing way. Go grocery shopping with this look.
Please follow and like us: