10 fashion trends that actually started in Punjab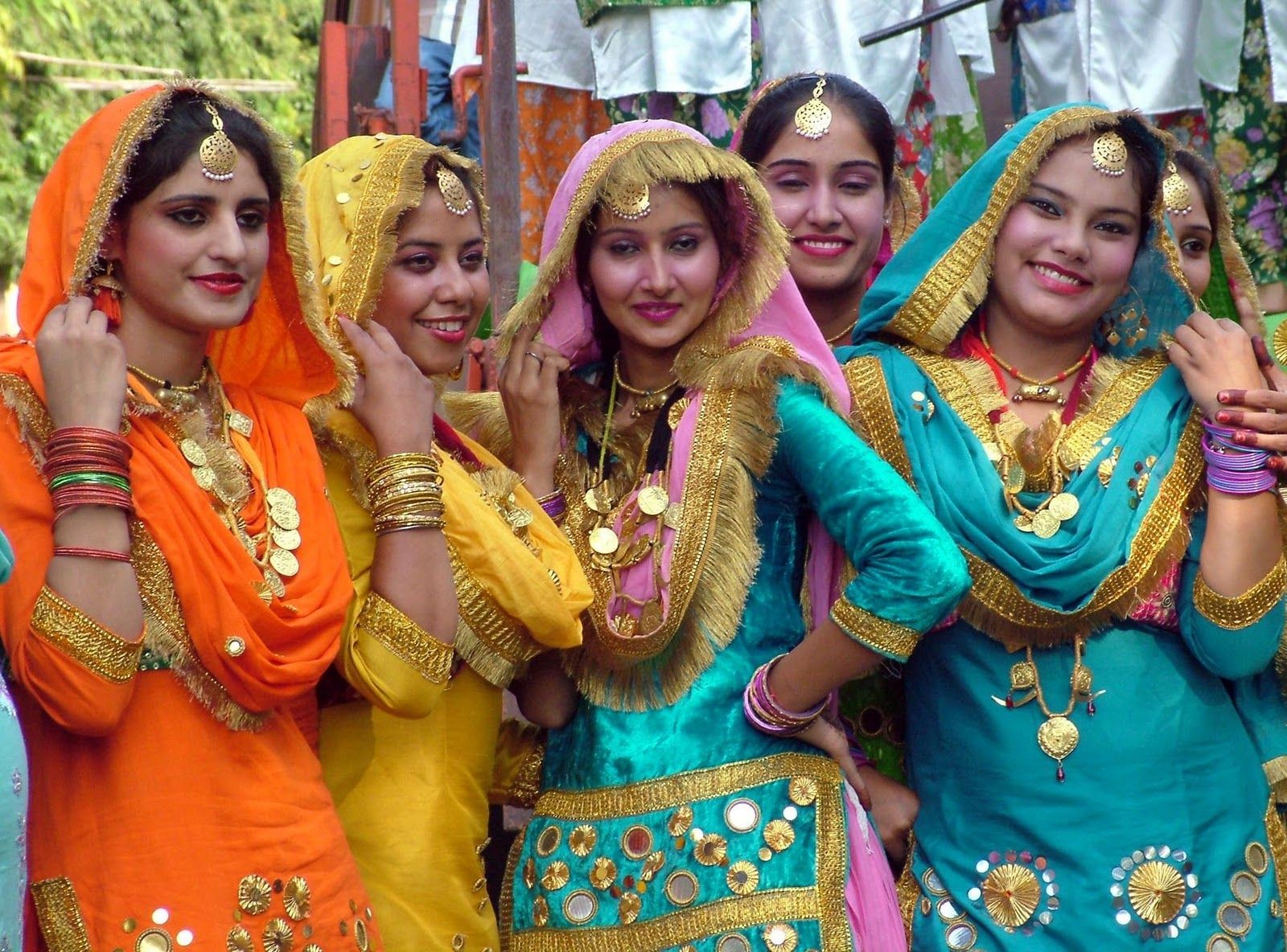 Fashion Trends in India has made great strides from donning those brilliant coloured apparels imprinted with complex designs, small perky hues, and loose-fitting slacks. Crop shirts, iconic patterns, leather pants, wedge heels, and the list is endless.
There's a lot of mixtures in Indian's Fashion trends and reason being different communities and their traditional attires or even new trends with essence of their own state be it south Indian or North Indian every region has their donning different attires so we will talk about Fashion Trends which actually started from Punjab as you already know that Punjab have influenced many people with their fashion and styling.
And, the biggest example is off course Bollywood and Pollywood cinema you could witness number of movies showcasing Punjab community and wearing their attires be it Kurta Pyjama or Salwar suit it all actually started from Punjab.
People wore cotton garments in the Punjab region due to a thriving cotton industry in the 19th and early 20th centuries from prehistoric days. Various types of cotton clothing are created in many locations across Punjab, and the garments reflect the lively culture. With effective efforts, the manufacturing of Punjabi clothing grew day by day. So there's a great history behind P[unjab clothing's which day by day is growing and even other communities are adopting all these stylings as they indeed are appealing.
Let's have a look at 10 such fashion trends which actually started from Punjab:-
Punjabi Salwar Suit with Phulkari Work
Phulkari is a type of needlework from Punjab that refers to flower work. The task has earned the moniker of phulkari perform. This stunning suit features phulkari work in vibrant blue, red, green, and orange. The vibrant colours pop against the perfect bright suit. With a slight occasion, the salwar is brilliant azure. Consider printing a phulkari design on the dupatta as well. The costume as a whole looks fantastic. These outfits are typically worn with a large Phulkari dupatta with vivid coloured thread embroidery, and are typically worn for festivals and weddings. Even if they aren't Punjabis, you can see people wearing such clothes pretty frequently.
Anushka Sharma also wore Phulkari chunni in her movie Phillauri and also Rab ne Bana di Jodi which shows how popular this trend is which is actually the heritage of Punjab.
Salwars with wide legs and lacha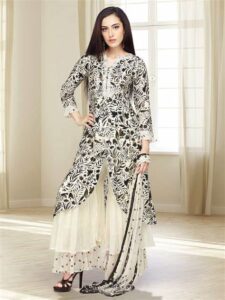 Punjabi culture brought us to lachas and shararas, that have now been blended into palazzos and wide-leg trousers. The fashionable world's traditional perspectives were radically altered by the obsession of wearing long kurtis with ruffled lachas. For centuries, sharara suits have become a staple of Fashion trend. In the kingdoms, women wore it. A sharara, also known as a Farsi pyjama, is a pair of wide pants that resemble a lehenga or ghaghra in appearance. The kurta, wide-leg pants, and dupatta or veil are the three main components of a sharara suit. Today, such outfits are commonly worn at weddings and other celebratory occasions, sometimes ornamented and sometimes simple.
Punjabi Jutti's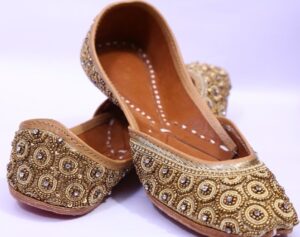 The most loved among girls and even boys now with ethnic attires everyone prefer jutti's which can be found in numerous patterns. Jutti's are one of the most comfortable footwear ever. No heel yet look elegant when paired with salwar suit or kurta pyjama. These Jutti's are actually the most loved trend started from Punjab and even now best and biggest jutti manufactures resides in "Punjab".
Ghungroo design jutti, Mirrored glass jutti, imprinted jutti, pom pom design jutti, chambray style jutti, modern aesthetic jutti, and plenty more are among some of the advanced forms of juttis that have come into the scene to bring a modern or modern style accent to the conventional or ethnical design. You can spot many celebrities wearing such juttis and even for wedding functions brides wear Juttis. Now people prefer customized jutti's to match with outfit.
Bridal Chooda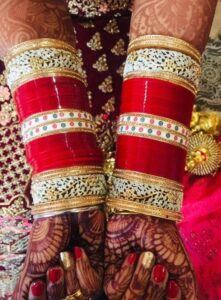 In a Punjabi marriage, the Chooda and Kaleerey ceremony is very important. The chooda is probably the most significant bridal adornment a bride can wear. It is worn for a duration ranging from 40 days to 1.5 years, according on the bride's preference. This is a set of 21 red and white bangles that are said to offer the newlyweds good fortune.
These classic red and white marital bangles represent a woman's marriage and her commitment to her fresh start as a bride. The chuda is an important element of the bride's trousseau, and it is a prominent ritual among Punjabis.
Though this chooda ceremony belongs to Punjab but now almost every Indian has started wearing Chooda after wedding be of for months or year. You must have witnessed many celebrities wearing it too.
Short Patiala salwar Kurti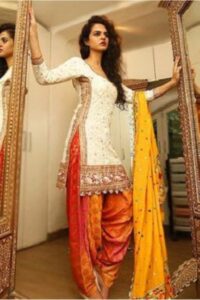 It's simply a combination of western flavours with Punjabi tadka. As a popular choice among the younger generation, it is in high demand. Cotton is commonly used to make crop tunics with additional Patiala plates.
A Patiala salwar could be worn with a variety of shirts, both short and long (kameez). Presently, a T-shirt can be used to create an appearance that is both Asian and Western. A short kameez is by far the most famous traditional top. Punjabi suits, as the names imply, have their origins in Patiala, Punjab's northernmost city.
Kurta Pajamas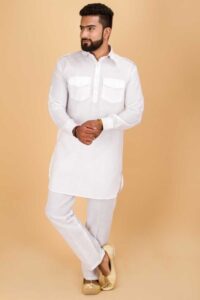 Kurta Pajamas has always been a fashion trend for men in India, and they are worn by men of all ages and faiths. They are elegant and appropriate at any occasion. Kurta pajamas are actually an attire of Punjabi's they pair them with men Punjabi jutti's.
Now for weddings or any festival men often wear kurta pajama's and without a doubt this is one among the most comfortable and dashing attire and almost everyone looks good in it. Although as new trends carries on so now you can find kurta pajama's with little twist like embroidered, printed or with other pattern's and for winters most men add shawl along with their attire and looks good. Even in movies you must have seen actors in kurta pajama looks.
Tikka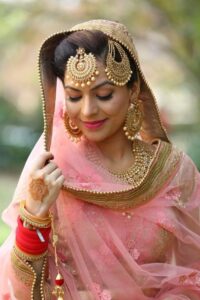 The tikka is a large piece of Punjabi jewellery that is worn in the centre of the bride's head. These come in jewel Kundan styles, pearls or emerald hanging types, and even Polki-based designs.
The Maang Tikka is a single ornament, whereas the Matha Patti seems to be more complex, with two strands joined. When worn, it appears to be heavier and more filling. Nevertheless, both of these options are attractive, and uncertainty may occur while deciding on the best design. Almost every bride, as well as bridesmaids, can now be seen wearing tikkas during weddings.
Kalire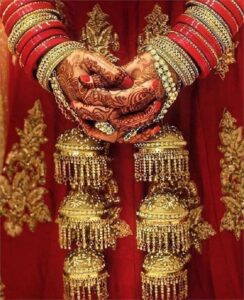 The Kalire is a type of Punjabi jewellery that is designed like an umbrella. They represent joy and everlasting love for the wedded pair. The pair will never go hungry and will always have shelter, as the Kalira's umbrella shape implies.
Churidar Kurti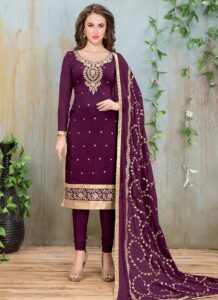 The most prevalent outfit worn by Punjabi ladies is the churidar and kurta. This is the traditional outfit of Punjabi ladies, although it is now donned all throughout India due to its widespread appeal. This is a very comfortable clothing that Punjabi women in both rural and urban areas choose to wear over other styles of costumes like the Indian saree.
Ghagra Punjabi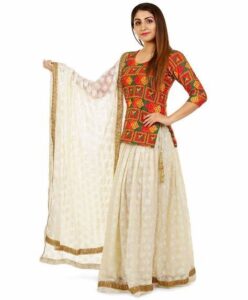 Other traditional Punjabi women's outfit is the Punjabi Ghagra. Women wore the Punjabi Ghagra before the Punjabi suit became popular. The traditional ghagra continues to be worn in some parts of Punjab.
Please follow and like us: