10 Best Ways To Style Winter Suit Outfits This Season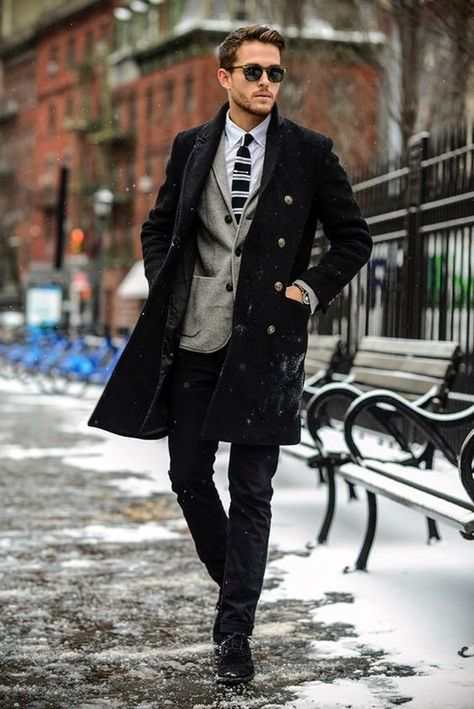 Winters are almost here and by now you must have swapped your summer wardrobe with winter one. Most of the people believe that it's really hard to maintain fashion, style and stay warm at the same time as it doesn't go hand in hand. Especially if you are an office going person then wearing suit that too with a pinch of fashion seems impossible right? But it isn't anymore in this blog you can learn 10 ways to style winter suits outfits to look stylish and feel warm as well. Now you don't need to compromise with anything as fashion is evolving every single day so time has came that you should update your wardrobe as well.
Trench coat over shirt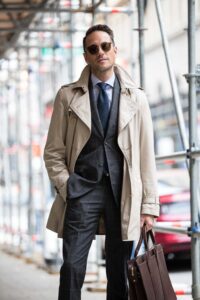 If you reside in colder areas with harsh winters then you must be aware with the necessity of wearing warmer clothes to avoid cold as like schools offices aren't going to shut down for winters. So in such cases trench coat is something you need for sure and things which you need to consider while buying one is the color as you can't just wear any color it might contrast with your suit so choose as per your suit colors like shown in above picture cream will go best with darker suits. Also buy one size larger than your actual size as you have to wear it over your blazer and off course your comfort comes first so take care of that and ace the look.
Blazer over Turtle neck sweater
The most effortless yet stylish winter suit look is turtle neck and blazer and it looks just perfect. You just need to buy a turtle neck sweater or pullover comfy and warmer one best thing is you don't need to worry about color why? Because black is the only color you need of your pullover you are just going to wear it underneath your blazer and it doesn't matter what color your blazer is of black with coordinate with every color possible. Be it your college, office or even wedding ceremony you can pull it off this style anywhere and can rock it too. So now is the time to buy comfiest turtle neck pullovers for your wardrobe update.
Suit with Winter stole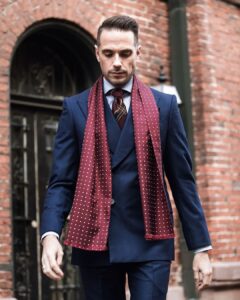 Winter stole with suit is something very unique yet classic style no one could get over like just one stole can change your complete look in a minutes. You just need to pair right color stole with your suit and also as per the venue you are visiting for celebrations you can add something chunky and little extra kind of scarf or else to keep it formal go up with neutral colors. Also you can wrap it up around your neck like a scarf in case of cold weather.
Jacket over suit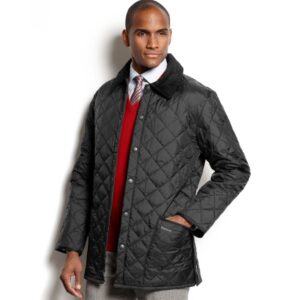 Now there is no such rule that you can't wear jacket over suit like how does it make sense that for fashion you compromise with cold weather? What if you fall sick? Bad idea right ! You just need to find the correct jacket which shouldn't be look to out of the board and in such case black and cream are the best colors to go for now you can choose jacket with cap or normal one that depends on the weather and your comfort. It is suggested to choose thin yet warmer jacket that looks good over suit and feels comfortable too and puffy jackets might cause hindrance during work.
Puffer jacket with suit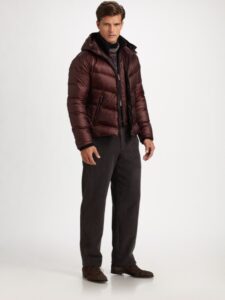 Although for office puffer jacket might not go well but for outdoors or even universities you can go for puffer jackets as they are best in case of coldest weathers and most of them persists cap so it will be beneficial for you both ways and rest is up to you either you can go for long jacket or short one as per your comfort. Color coordination should always be in your mind to stay stylist as you are supposed to look fashionable doesn't matter what weather it is.
Pea coat with suit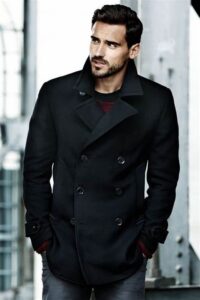 Pea coat along with suit is amongst the best ideas as it looks classy and keeps you warm as well now it doesn't matter if you are visiting office, market or any ceremony it will suit everywhere it gives you formal and sharp look. Fittings could be the issue so it is suggested that you be very keen with the fittings to avoid any kind of problem. Also black color is best for pea coat as you can wear it with any suit or even jeans for that matter.
Top coat over 3 piece suit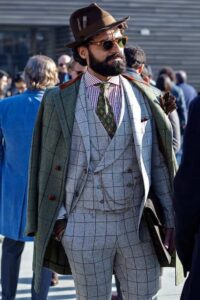 Here comes the most amazing way of coordinating suit with overcoat. Now you have two options either wear it normally or as shown in picture just keep it over your shoulder there is no way you won't look fashionable. Also this look is trending lately in both girls and boys fashion. Rest depends on the accessories you carry as per this picture you can add hat as well but that depends where exactly you are going for office visits just keep it normal i.e. 3 piece suit and overcoat and don't forget to mix and match colors as it matters a lot to complete the whole look.
Suit and leather Gloves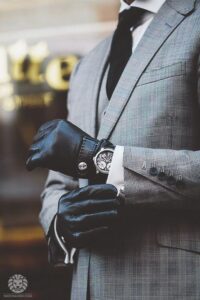 Suit and leather gloves simple sums up royalty if you are someone who loves to be the master be it any field add gloves over your complete formal look and you are good to go. Such little accessories creates a major change in whole look.
Vintage style suit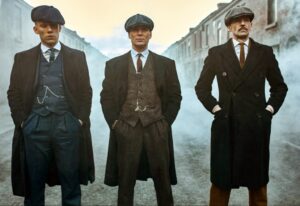 Vintage and suits simply means peaky blinders in this picture also you can see three ways of adorning suit all you need is hat like peaky blinders and your complete vintage look is here. Also if you add chains over your waistcoat then you definitely ace the look.
Suit and sweater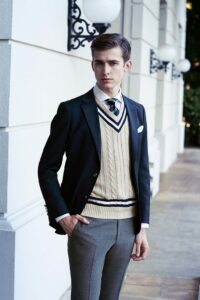 Right sweater and suit over it is something very formal yet amazing look one should try as it gives you tidy look and suits best for offices and universities.
Please follow and like us: